Description


AfroTech Detroit is a one-day AfroTech experience dedicated to highlighting Detroit as a technological hub for innovation and entrepreneurship.
In true AfroTech fashion, guests will enjoy a day filled with panel discussions and fireside chats with top leaders in tech from Detroit and the ability to connect with other future regional leaders of innovation. Designed in partnership with Venture Catalysts and powered by Quicken Loans this event is a must attend for startups and techies in the midwest.
AFROTECH DETROIT SPEAKERS
Delane Parnell CEO, PlayVS
Dhani Jones Executive Vice President, Rock Ventures
Katrina Turnbow Owner and Operator, Kanopsi Social
Melissa Butler Founder and CEO, The Lip Bar
Aaron McClendon Investor, Detroit Venture Partners
Mack Hendricks Co-founder, trainX.ai
Marlon Nichols Founding Managing Partner, Cross Culture Ventures
Nia Batts Co-Founder and CEO, Detroit Blows
Jeff Nelson Chief Technology Officer, Blavity Inc.
Morgan DeBaun CEO, Blavity Inc.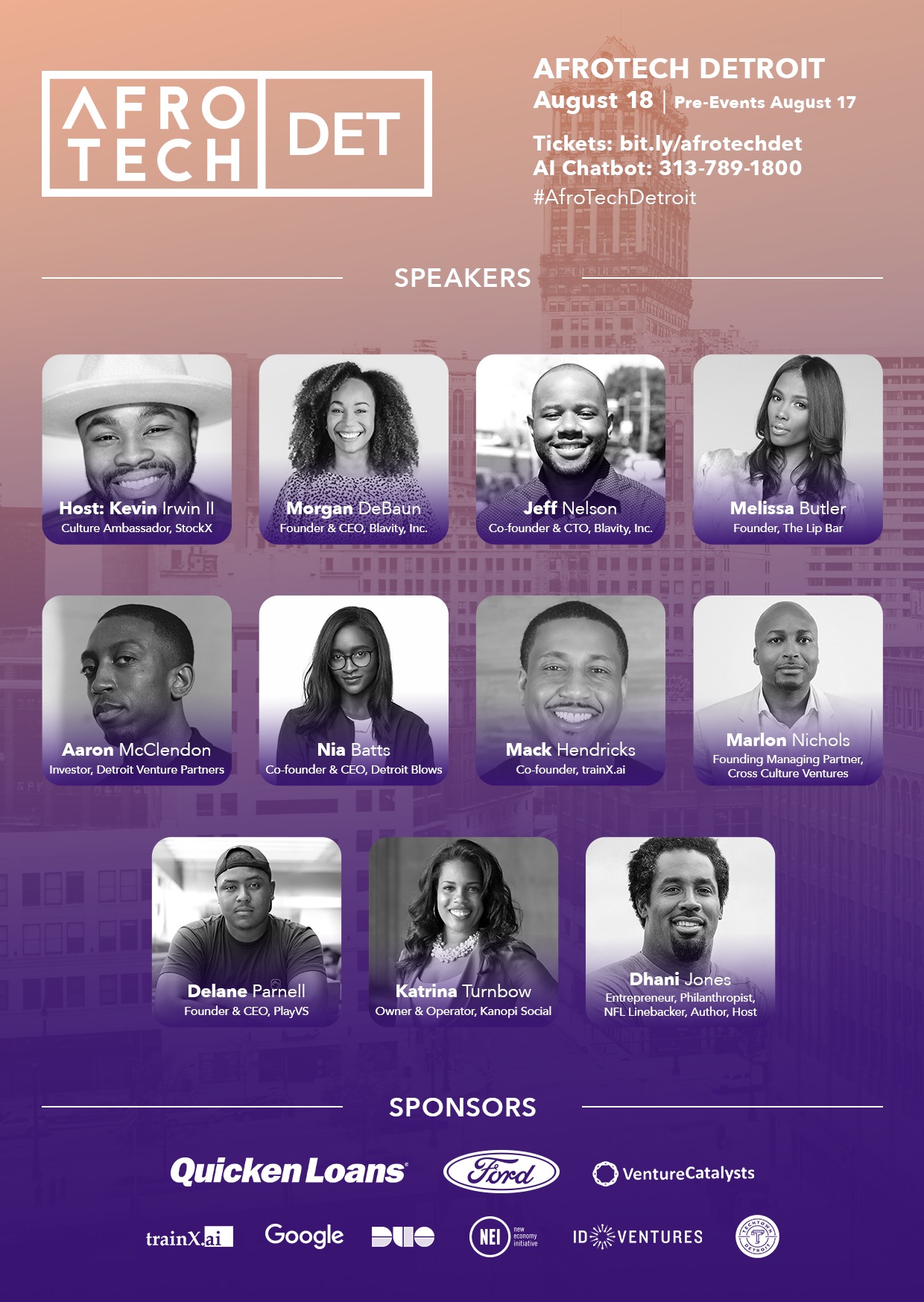 ---
AFROTECH DETROIT SCHEDULE
9:30 AM – 10:30 AM: Registration
10:30 AM – 10:45 AM: Welcome and Introductions
10:45 AM – 11:20 AM What Everyone Ought To Know About Building and Successfully Scaling Business in Detroit
11:20 AM – 12:00 PM Building A Thriving Consumer Business in Detroit
12:00 PM – 1:15 PM LUNCH (Networking and Marketplace)
1:15 PM – 2:00 PM Building For the Future: AI and Engineering
2:00 PM – 2:40 PM Raising Venture Funding
2:40 PM – 3:10 PM Networking Break

3:10 PM – 3:40 PM Fireside Chat on the Intersection of Culture and Technology
3:40 PM – 4:10 PM Fireside Chat on Disrupting Spaces
4:10 PM - 4:20 PM Event Concludes
---
EVENT PARTNERS