Description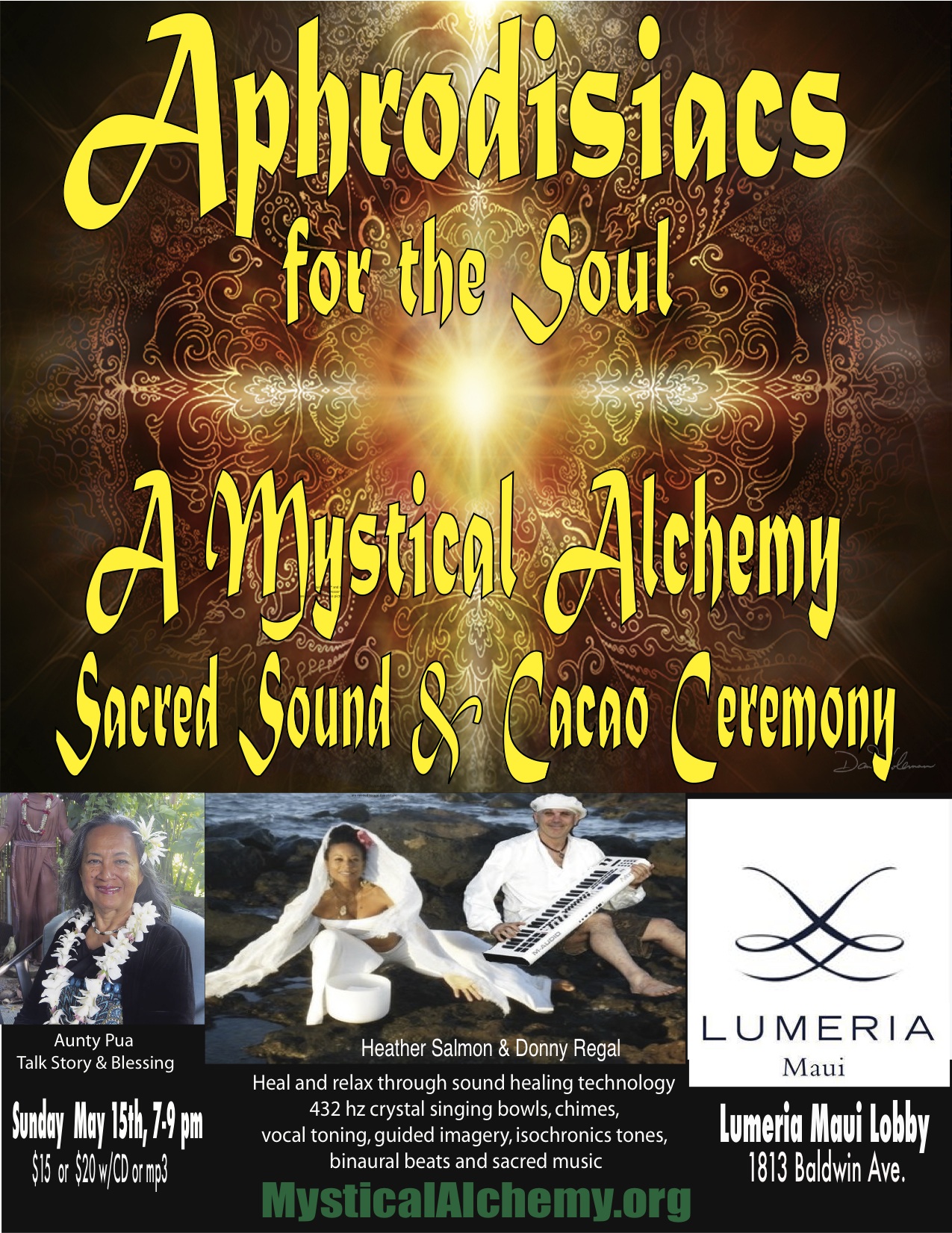 You are invited to the Mystical Alchemy Taurus Moon Cycle activation Sound Healing ceremony with Heather Salmon, Donny Regal & Special Guest Hawaiian Kahuna Aunty Pua Mahoe.

Taurus is governed by the planet Venus and the archetype of the Empress! The Empress is responsible for birthing creation. This time of Spring is so important for reminding us that all life is interconnected and inter related and to live in the knowingness that our bodies are made of the earth, air is our breath, water our blood, and fire is our spirit.

It is through our senses that we experience these relationships and it is through our senses that we experience the vast beauty of the Earth plane. This Mystical Alchemy Sound Journey will offer a feast for the senses, and aphrodesiacs including sacred cacao, aromatherapy and sound to enliven and activate the pleasure we receive through our senses! As we become more sensitively attuned to subtle energies our desire to create more beauty, balance and peace around us naturally arises.

MYSTICAL ALCHEMY SOUND HEALING CEREMONIES
Mystical Alchemy Ceremonies bring sound healing, music and ritual together in an inspiring and transformational way. Innovative visionary mystics Heather Salmon and Donny Regal bring decades of experience as professional prayerformers, healers and agents of change.

Each journey is unique and their sound baths are deeply relaxing and healing for the mind, body and spirit. Mystical Alchemy ceremonies incorporate sacred and uplifting music, as well as the vibrational frequencies of 432 hz crystal singing bowls, chimes, vocal toning, guided imagery, isochronic tones and binaural beats to assist with brainwave entrainment which is believed to affect cognition, stress management, and detoxification on a cellular level.

TESTIMONIALS
Laurie Reyon & Master Cat Puddah
LaurieReyon.com (2016)
Heather Salmon and Donny Regal are amazing alchemists with music. I had the great pleasure of hearing their crystal bowl concert at Lumeria Maui Retreat Center, and I was so moved by the beauty and magic of their presentation. They opened the sacred space with grace and Divine intention and then provided an alchemical and mystical spiritually moving guided meditation. Heather's gifts are truly Divine and her service to Mother Earth and humanity is evident. I am so grateful for the experience and highly recommend their music and events. My partner Master Cat Puddah accompanied me to the concert and truly enjoyed it as well. She offered a message for the group at the end of the concert and acknowledged Heather as a true aspect of the great Goddess Isis.

Marsh Engle ~ OneMillionCalled.com (March 2016)
I believe Sacred Sound to be at the foundation of creating higher success. And the potent qualities of sacred sound is especially powerful when led by two healing artists like Heather and Donny. The transformative environment they create allows us to transcend the boundaries of limited thoughts and move into the place where our creative imaginings can take flight! It's pure ALOHA!

Lumeria Maui Main Lobby
1813 Baldwin Ave
Makawao, HI 96768

$15 at the door
or $20 and receive a CD or MP3

Lastly please note the following:

Promptness -- as we are creating sacred space and it is distracting when people arrive late so we request that you make every effort to arrive by 7:00pm. If you do come in after we have begun, please enter quietly and mindfully.

Children -- we highly value diversity and welcome children who can hold a sacred space. Please be aware that our sound baths are a time of quiet inner reflection and stillness and we like this to be honored without any unnecessary distractions.

Lumeria Maui Grounds -- please be aware that we are guests on the property. You are welcome to enjoy and make dinner or lunch reservations in the restaurant 808-579-8877. Please also note that the Lumeria Spa is reserved for their guests only! As we end our events during their quiet hours they ask that we leave directly afterwards and not doddle or roam the grounds.

For more information visit www.MysticalAlchemy.org or email us at BlackSwanTemple@gmail.com or call 310-415-8821

Mahalo nui for helping to spread the word!