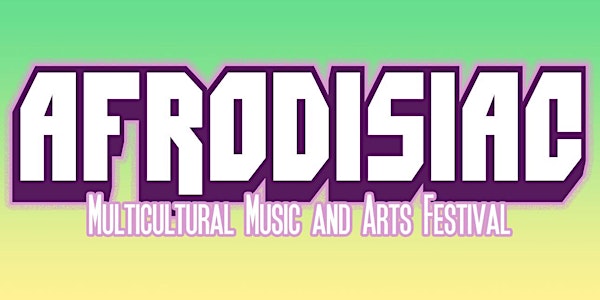 AfroDisiac: Multicultural Music and Arts Festival
Location
Knockdown Center
52-19 Flushing Ave
Queens, NY 11378
About this event
AfroDisiacFest.comAfroDisiac Multicultural Music and Arts festival is an awareness event held on World Humanitarian Day that will expand harm reduction services and relevant health and safety resources to marginalized communities that are typically not reached through mainstream "Electronic Dance Music" events.
It will feature dance genres such as grime & bassline, Jersey club, booty bass, ghetto house, tropical bass, baile funk, juke, and more! This lineup features a balanced representation of ethnic and gender groups.
This lineup features a balanced representation of ethnic and gender groups.
MUSIC
Juliana Huxtable
DJ Deeon
DJ Haram
Boston Chery
Cruz CTRL
The Dance Pit
DIYR
GoodDroid
Jasmine Infiniti
Kush Jones
Love Taps
Nasty Nigel
Ryan Romanski
Winnah Daniels
EDUCATION & AWARENESS
Naloxone Training provided by Harm Reduction Coalition
Drug Checking Demonstration provided by New York DanceSafe
MDMA the Movie Screening provided by DanceSafe
Free health screening and testing provided by Community Healthcare Network
Access to free health and safety resources and peer educators
VISUAL ART
Amarachi Esowe
Club Etiquette
Craig Johnson II
PERFORMANCE ART
Team Circus
Rave Ninjaz
Raiders of Concrete
VENDORS
Her.She.Me by Crown Me Brands
BlackGround Ink Printing
Smurfo Udirty
PHOTOGRAPHY by Eternal Lotus
MISSION
This is a safe space for the marginalized communities to have access to partygoer health and safety information and other related services.
We acknowledge the biases against lower income persons, LGBTQ, or persons of color--taking into mind the risks of being a partygoer in this demographic, that may not only lead to mental health or personal safety issues--but legal issues.
With the Drug Policy Alliance, Harmreduction Coalition, Multidisciplinary Association for Psychedelic Studies, Zendo Project, Paradocs Event Medical Services, and Community Healthcare Network NYC, we collaborate to not only educate, but protect, and/or restore rights to individuals in these communities, who are adversely affected by unequal access to these resources.
For more information about this event, visit: AfroDisiacFest.com