Description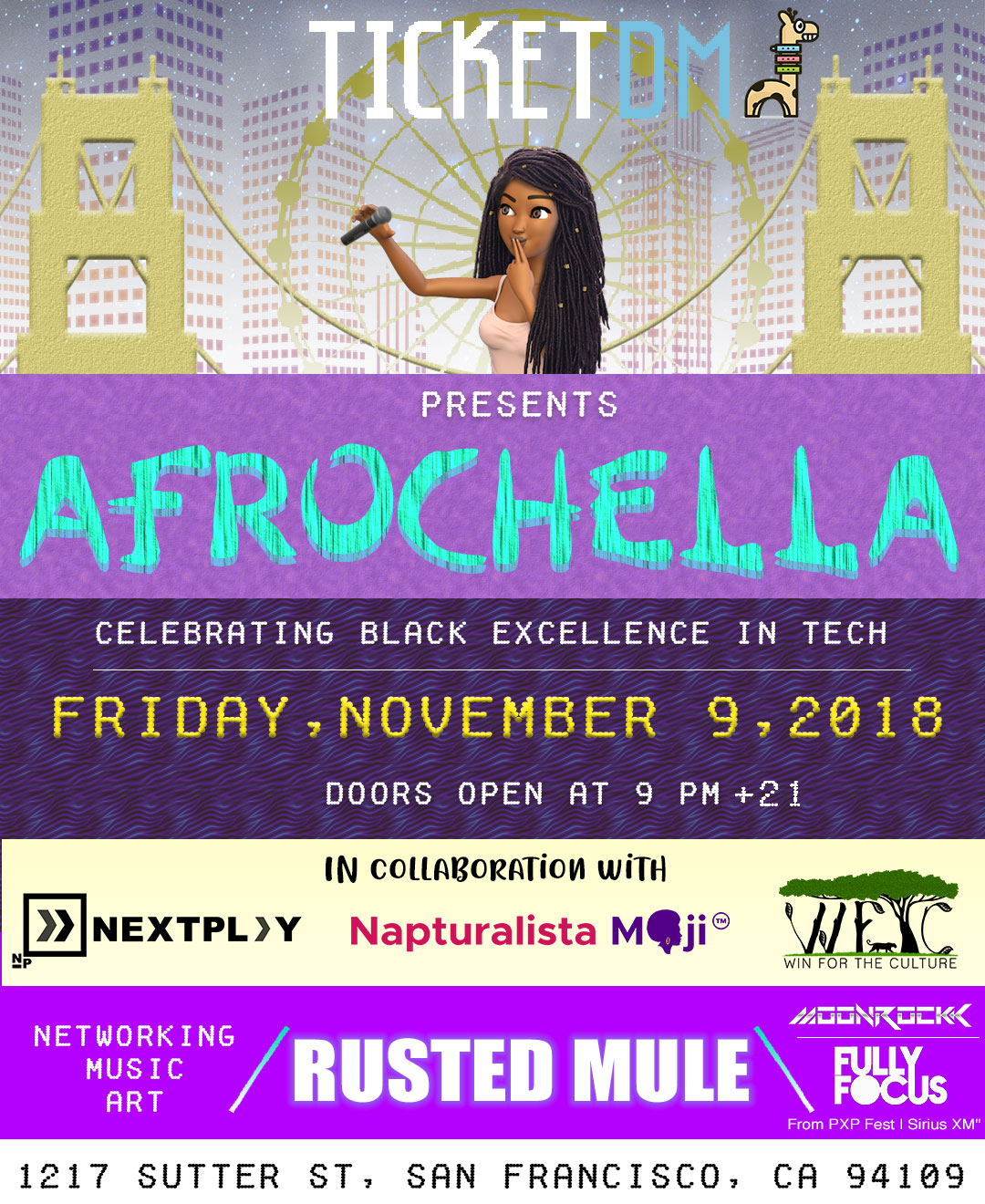 (Afrotech Weekend Kickoff) presented by TicketDM, Win For The Culture and Nextplay Events
Featuring DJ Fully Focus, DJ Moonrockk, and DJ Midnight
Festival Size Surprises
Hip Hop ,Trap, R&B, Latin, EDM, and Afrobeat
In celebration of Afrotech weekend and festival culture, we wanted to blend the best of both worlds to bring you Afrochella, a celebration of black excellence. One of the coolest things about festival culture is free, uninhibited expression and we love to see events where POC feel free to express themselves, fully. If Issa can go to Coachella, so can you! Let's connect with each other through music and dance to create a truly unforgettable experience. Who says you cant network and turn up at the same time?
Tech leaders, euntrepreneurs, socialites, connectors, influencers, and everyone in between will be in the building! #slideinwithus
---
About the Sponsors
TicketDM
TicketDM is a safe, real time, mobile marketplace focused on streamlined ticket exchanges and ticket discovery for the music festival community. We bring mobility, simplicity, safety, and common sense technology to ticket exchange. We also offer exclusive deals, prices and perks to our userbase, direct to consumer.
Win For the Culture
Win For the Culture, is a Lifestyle Brand, Thought Exchange and Multi-Dimensional Social Engagement Platform for Black Millennials. We strive to create the types of things, product, services, digital content, curated events and experiences, to name a few-- that Black folk can be proud to get behind. Win For the Culuture creations include the Tribal Series and Napturalista Moji app and accessories.
Nextplay Events
Nextplay is a growing community of 4000+ Black and Latino professionals of color in tech. We curate cultural events to build community and connect people of color with exciting career opportunities in the technology industry. We connect our community with tech companies through jam sessions and outdoor cultural events which include professional networking, storytelling, live paintings and live performances--singing, dancing, spoken word, visual artists, games etc.