Description
NOTE: Waitlist does not guarantee you entry to the event. No tickets will be sold at the door. If tickets become available, the waitlist will be notified first.

Warm up indoors with a full-plated brunch, grass floor and the down South feel of an upscale, turn up at Afrobrunch - the biggest, blackest cook-in of the year! Curated by Black upStart (instagram.com/theblackupstart), this unique event will re-imagine your favorite backyard BBQ.
It's a Black foodies dream!
WHO'S INVITED?
20 Black owned restaurants, food trucks, food vendors, food brands and Black chefs will host popup food stations featuring Lousiana-style, soul food, cajun style, caribbean, vegan fare + desserts.
WHAT'S THE 411 ON COSTS
Your ticket to Afrobrunch includes one full plate (entree, two sides and one dessert).
Sweet tea, lemonade, coffee will be available at a cash bar.
UNLIMITED MIMOSAS:
Kool-Aid Mimosas, Peach Mimosas, Traditional Mimosas. Sold separately, or with brunch ticket.
NO REFUNDS
ON THE MENU: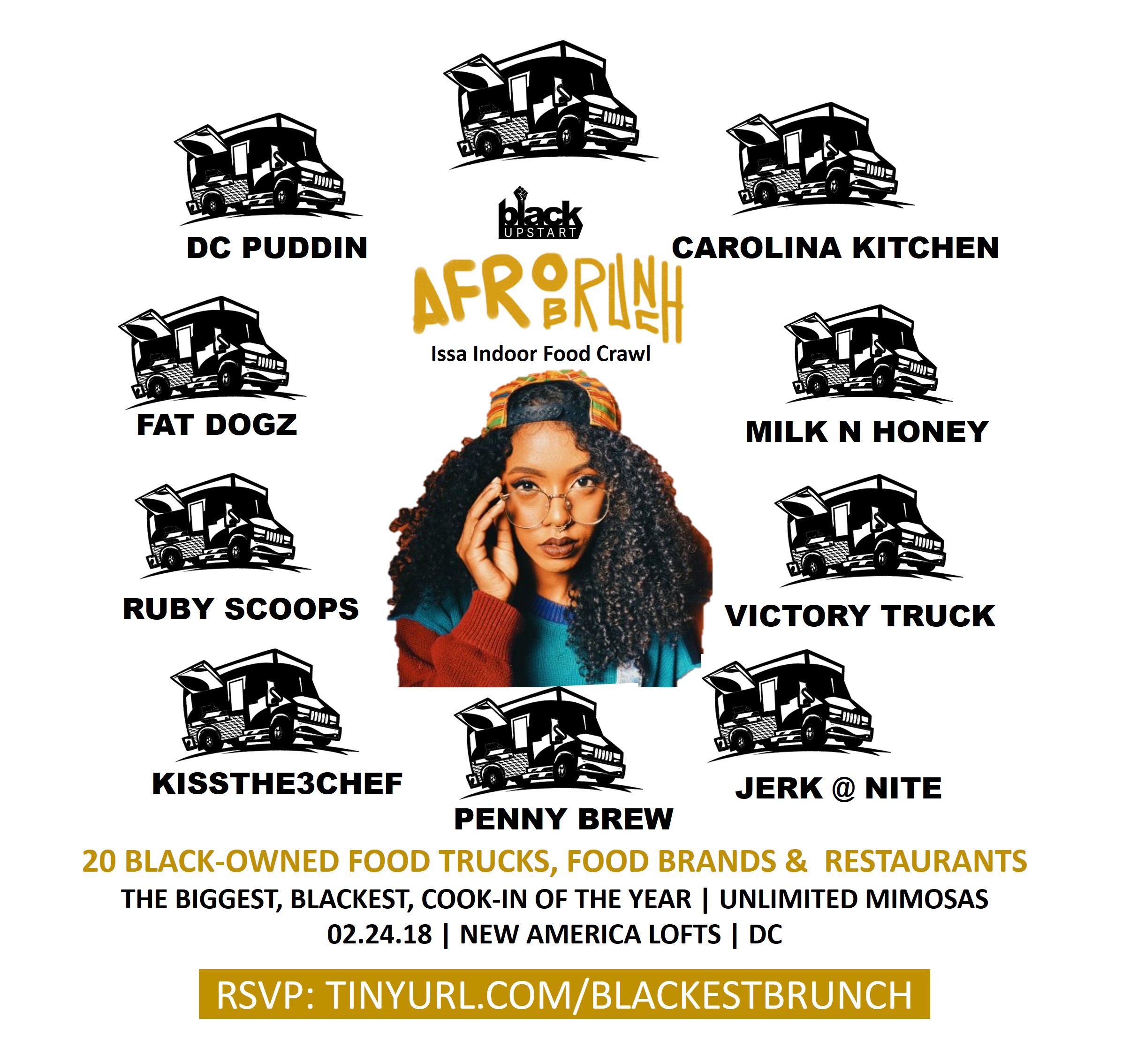 Wild Card Station - Curated Chef Damien @kissthech3f
Red Velvet Pancakes
Blueberry Chili Lime Wings
Braised Collard Greens
Cookout Station - Victory Food Truck @thevictorytruck || Jerk at Night jerkatnitedc.com || Neat Meat DC www.neatmeatdc.com
Fat Dog - Chili, Slaw, Relish, Cheeses
Nacho Dog - Nacho Chips, Cheese, Jalapeno, Red Pepper
Jerk Chicken - Super Spicy Wings, Smothered in Jerk Sauce
Rise & Pees - Simmered in Garlic, Onion, and Scallions
Mac & Cheese - 5 Different Dheese Slow Baked for Award-Winning Mac & Cheese
Southern-Style Station - Milk N Honey Cafe milknhoneycafe.com @milkandhoney2
Chicken Biscuits and Gravy - Deep Fried Chicken Breast Served Over Jumbo Biscuits with Cajun Gravy
Love & Waffles - Buttermilk Fried Chicken and Sweet Potato Waffles Topped with Moet Rose & Jalapeno Maple Syrup
Crab Mac & Cheese - Fresh Crab Baked in Five Creamy and Delicious Cheese
Kale & Strawberry Salad - Fresh Kale, Hand-Picked Strawberries with Signature Dressing
Cajun Style Brunch || DC Puddin Food Truck @dcpuddin
Shrimp - Steamed Shrimp Glazed with a Delcious Southern Style Sauce
Grits - Creamy Parmesan Cheese Grits with Tomato Butter Sauce
Braised Collard Greens
Dessert || Ruby Scoops @rubyscoopsic, Chef Damien
Captain Crunch Cheesecake (Chef Damien)
Banana Pudding (DC Puddin
Berry Lemon Sorbet, Mango Sorbet & Chocolate Coconut Sherbert (Ruby Scoop)
Vegan Brunch || Calabash Cafe & Tea www.calabashdc.com
Jamaican Beef Patty
Blacker the Berry Pie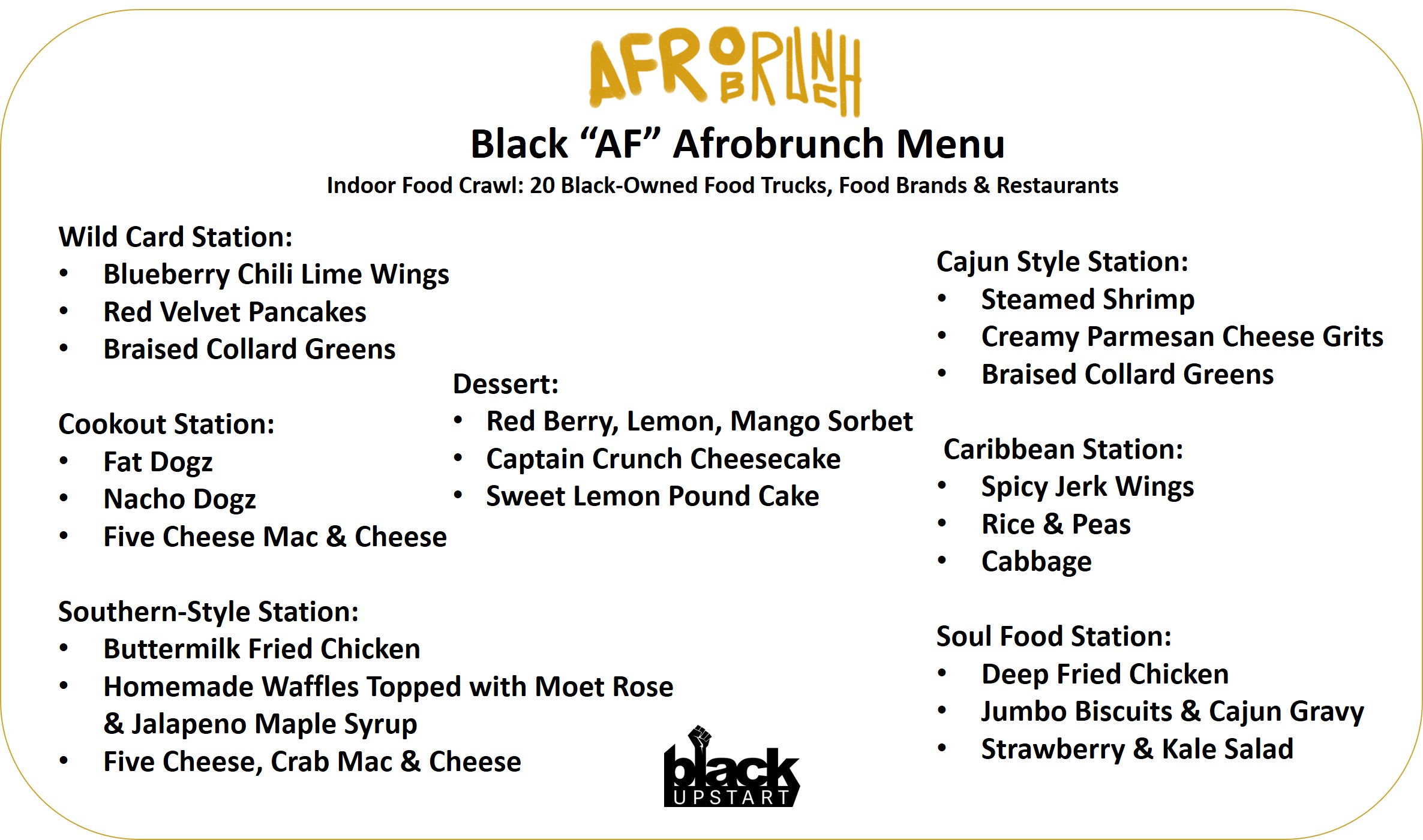 CLOSEST METRO:
2 Block walk from McPherson Square Metro - BLUE & ORANGE LINE
BUT THAT'S NOT ALL...
No reneging! Bring your spades partner and your play cousins because we'll have card tables, as well as jump ropes and other old school outdoor games to play on our grass deck.
BRUNCH THEN BAR CRAWL
The Black Bar Crawl hosted by the WAVE USA will launch at 3:30pm. Support even more Black businesses and get your tickets at www.theblackbarcrawl.com.
**Unlimited mimosas up to three mimosas for guests.