Description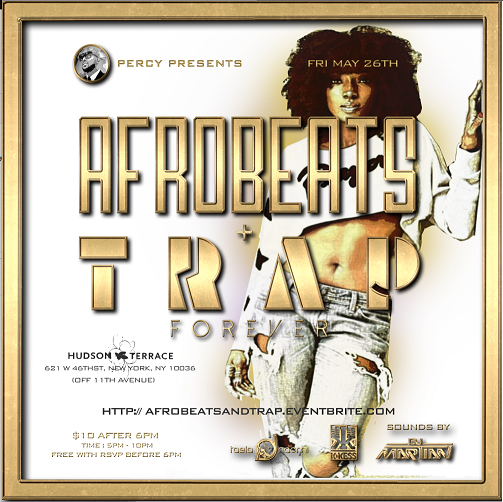 We're back! Sorry for the wait...Join us for this month's installment of Afrobeats & Trap Forever at The Salon & Garden Terrace (at Hudson Terrace located at 621 W 46th St., New York, NY 10036 between 11th and 12th Aves) on Friday, May 26th from 5pm to 10pm. There will be food, drink and bottle specials during the event. There is No Cover before 6pm with RSVP, $10 after 6pm . For ladies, it'll be $10 all night. For fellas, it's $10 til 830pm and $20 after 830pm. Sounds by DJ Martian , DJ Kess and DJ Taela Naomi. For any birthdays, special request or bottles, please contact me via email at afrobeatsandtrap@gmail.com and I'll get back to you as soon as I can.
*As far as dress code, no tanks, sweats and boots (timbs).
Please follow us on our Facebook page ( Afrobeats & Trap Forever) and IG ( @afrobeats_and_trap_forever ) for recent pics, videos, updates, etc.
Check out a brief video from the last one below as well as pics of the venue for the next event.