Description
30 EARLY BIRD PASSES(Limited) - EXPIRES 06/02/19.
REGULAR PRICE $25
AT DOOR PRICE $30


---
Africans In Orlando LLC, producers of "Afrobeats Dance Orlando" is poised every month, to bring you the hottest Afrobeats dance classes and workshops from teachers and choreogaphers from around the nation and world.
The world knows of the Afrobeat styles of Fela Kuti but when you include the letter "s" to make it Afrobeats, then you find yourself in whole new ball game in global pop music.
"The term Afrobeat was coined in the late 1960s by musician-activist Fela Kuti. And while many fans of Afrobeats credit Kuti as the father of the genre, the music's modern incarnation casts a broader net, with hip-hop influences and propulsive electronic beats.
With the rising popularity of Afrobeats music and dance — Rihanna performed the iconic South African Gwara Gwara onstage at the 2018 Grammys; elements of Gwara Gwara appear in the video for "This Is America" - Boston Globe
Come join us as we connect you to Africa and it's dance culture with this modern African dance.
---
ABOUT THE INSTRUCTOR
Ezinne
Ezinne first hit the world stage as the lead member of dance trio, CEO Dancers when they clinched the semi-finalist position in that year's Britain's Got Talent 2013.
Since embarking on her Solo Career as a Dance Artist, Choreographer and Creative Director, Ezinne has continued to trail blaze in gracing World stages such as 02 Arena, The Brits Awards, Mobo Awards, World Music Awards, EMA Awards, Global Citizen DC and SA, BET Experience and many more.
Launching her performance agency and under popular demand, Ezinne has produced projects for the likes of Wizkid, Tiwa Savage, Davido, Tinie Tempah, Fuse ODG, Yemi Alade, Yxng Bane, Kah lo, Stefflon Don, Cosha and other well established names in the Entertainment Industry.
Obviously in no hurry to leave the front stage, Ezinne is embarking on her new Dance Artist project and is truly excited about the future and can't wait to share her love for the music, dance and art with the world.
---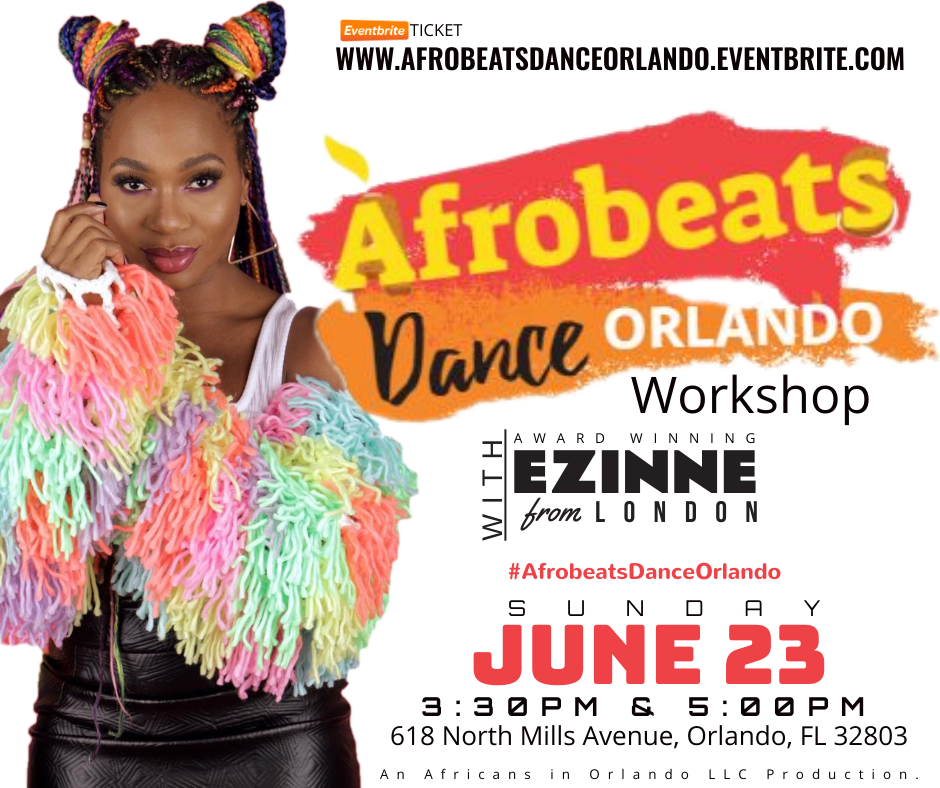 Organizer of Afrobeats Dance Orlando Workshop
THE SOCIO-CULTURAL ENTERPRISE
Africans In Orlando LLC is a socio-cultural enterprise with a vision of being the premiere and signature provider of urban-African experiences in the greater Orlando region of Florida.
OUR BUSINESS EDGE
As you know, building strong business relationships always begins on a personal level. So, whether you're looking to boost sales, bolster awareness or build client relations-- business-to-business growth, thrives on networking within social and professional organizations. At Africans In Orlando LLC, because of our cultural heritage, we understand that forming one-to-one relationships with prospects and customers provides individuals and companies a clear competitive edge in today's cluttered marketplace as people now buy based on what they trust and feel connected to.
Africans In Orlando LLC, provides the ultimate opportunity for truly effective business-to-business relationship marketing. Beyond advertising, exhibits booths and direct mail, Africans In Orlando LLC, delivers relevant interaction with more than 1000 targeted African consumers/clients that builds strong and lasting consumer/client base. Our reach also extends well beyond the African community as African-Americans, Europeans, Americans, South-Americans and Asians are great friends and connect with the African culture and brand, putting our direct numerical reach in the area to tens of thousands.
Signature projects:
- The annual Social Africana Red Carpet party
- The Orlando African Fashion Show
- Orlando African Dance Workshop
- Special Events
.