Description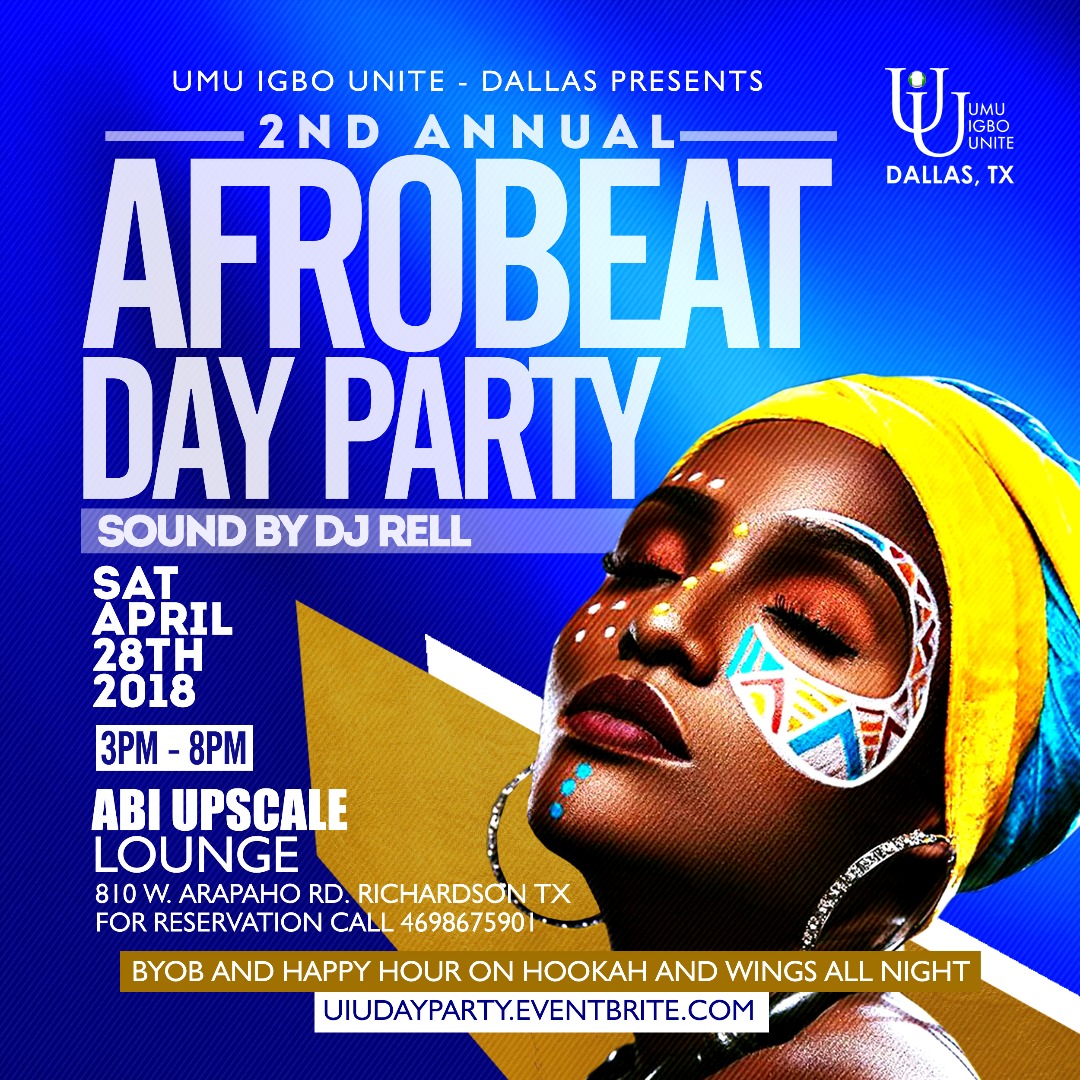 Dallas you ready!?!?
Umu Igbo Unite-Dallas Chapter presents THE BIGGEST AFROBEAT DAY PARTY DALLAS HAS EVER SEEN!!!
WHERE MY WAKANDANS AT!?!!
Come experience and get in tune with your African culture as we celebrate an Afrobeat Day Party to remember!!! This will be one of a kind!!! ANYBODY WHO IS SOMEBODY WILL BE IN ATTENDANCE!!!
THIS EVENT WILL PACK OUT!!
***Oh did we mention that this day party will also be BYOB!?!?!? YES...YOU CAN BRING YOUR OWN BOTTLE/BOTTLES!!! *Abi Lounge will supply the cups for a $5/per charge* Where else in Dallas is that happening or anywhere to be exact!?!?
Hookah will be sold at happy hour prices! (What a deal!)
The hottest Afrobeat, Carribean, Reggae, and Hip Hop sounds will be spun by DeeJay Rell!!! Nonstop dancing!!!
Party will be from 3pm-8pm. EARLY ARRIVAL SUGGESTED!!
What better way to spend your saturday than with UIU Dallas at a day party thats Afrobeat, BYOB, has hookah for the low, and with DeeJay Rell on the 1's & 2's?!?! Come one, come all!! Everybody is welcomed to this event!!
AGAIN...DALLAS YOU READY!? SEE YOU ALL THERE THEN!!!
*PRICES WILL INFLATE AT THE DOOR*
All proceeds will be going to the UIU-Dallas Gala
Follow UIU-Dallas on Instagram @UmuIgboDallas