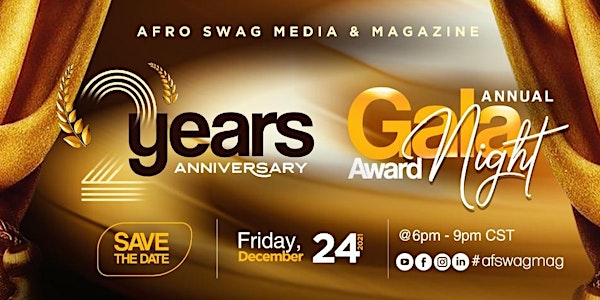 Afro Swag Magazine Annual Gala Night and 2 Years Anniversary Celebration
We are turning 2. Come celebrate with us in the holidays spirit as we honor game changers in the Black Diaspora community of Omaha, Nebraska
When and where
Location
Cross Training Center 5030 N 72nd Street Omaha, NE 68134
About this event
December 24, 2021 will be our first annual gala and awards night. It's also our 2nd year anniversary. The first printed edition of the magazine was published on December 24, 2019. We have featured more than 71 human interest stories, 60 and counting different organizations, and more than 30 events. We are also proud to say that our current graphic designers and writers are international students.
Testimonies from our community especially entrepreneurs, show that the magazine's platform, gave them more visibility and exposures to grow their businesses.
Why December 24? Many in the Diaspora community, being away from home, families, and loved ones, oftentimes find it hard to celebrate the holiday alone, by themselves, isolated, uninvited to homes, dealing with the cultural shock, and the Nebraska cold … etc which is unusual in their respective cultures.
Unfortunately this increases mental health issues- depression - in the diaspora community and among international students.
An event on December 24, will bring them together, especially the international students, to offer them a hot meal among people from their motherland, sharing and enjoying music and food they grew up eating. At the same time, honor those featured in the magazine since it's inception.
Theme of this year: The faces of Afro Swag Media & Magazine 2020-2021. Click here to see who they are https://youtu.be/L9TyD3oGiEc
Come rediscover Exotik Republik led by the one and only Didier Kangbenyi Exotik Republik was created from the necessity to entertain our community. About 11 years ago few friends got together and started brainstorming on what will be exotik as we know it. After a long hiatus, the need to entertain and have fun took over once again. We got together again and raised exotik republik 2.0 for the ashes of the old one. It's not a new band, just the same one but stronger and more experienced, with the same goals. It's just like the phoenix.
Your rising Afrobeat STAR Kusher Snazzy. He is an afrobeat rapper, singer, rapper, dancer, choreographer and video producer. Kusher is also a professional dancer choreographer. He just returned from a tour to his country of origin, TOGO where he had a very successful event.
Your Acapella/Live performance Host PAPOU. This is the icing on the cake so be ready to take a journey to Africa and back through her hosting style. Come see for yourself.
On the 1s and 2s, your ALL time favorite, DJ ShowGuy.
We are also bringing you, all the way from the east coast the best of the best, the international DJ Larry Papa. Come experience music from the tropics and indies.
Your Afro fusion food brought to you by the one and only Chef Jamil. A strong presence of East and west African food.
A line up of presenters William King, Martine Quartey, Jasmine Frazier, and Ochanda will take you on a journey to Africa, as we connect live with the organizers of the year of return from Nigeria and Ghana.
On the program, music, food, ethnic beverages, games, prizes, live entertainment, red carpet, Ankara attire, and many surprises.
We are celebrating the year of collaboration between the West and East Africa. We are bringing The year of return team tune in live from Nigeria and Ghana.
Event powered by 95.7 FM The Boss, Midlands African Chamber, Beverage Catering of Nebraska, Level up practice solutions, Saji events, S&M Boutique, Business Seals Consulting Firm, Happis Perfect imageries, John Ekeh Law Firm, Jan-Pro of Omaha and many more.
Tickets are sold at African Farms, Advance Tax, Radio 95.7. The Boss, Business Seals in La Vista, Koko's Hair Braiding, and at The Light Hair Braiding.