Description
This group show is planned as a four-part exchange of permanent-collection work between Nationally known Liberian Artist Fato Wheremonger, Peruvian Ceramicist

Patricia Martínez

, Master Weaver Oscar Huarancca Gutiérrez
and Artist
Pedro Christian Martínez Aronés
of
Ayacucho
, Peru
.
This remarkable, free-admission show, made up largely of One of a Kind works from the diverse cultures Liberia, Africa and Ayacucho, Peru. Some of the works are for sale if effort to send much needed funds to poverty stricken areas of each country.
---
Christian is a painter of light and chiaroscuro inspired by Rembrandt (Baroque), and inspired by the current of impressionism and expressionism; where the use of strong impasto and loaded is the projected picture light and shadow strokes licks and smooth works.
Fato Wheremongar is the founder and director of ChildArt Liberia (1999 – present). He is also Chairman of the Union Liberian Artists and art teacher 2015 winner of world children best art teacher with International ChildArt Foundation(ICAF), Washington, DC. Wheremongar's art depicts everyday life in the war-torn country.
Born in Ayacucho, Peru, Patricia is a leading Peruvian artist of the generation that emerged in the wake of the influence of Pedro Martínez; with formal studio study established at Senati Institute of Peru in the late 1990s where she absorbed the acute attention to form associated with Pedro's sculpture and wheel techniques, subsequently refining her own visual and conceptual vocabulary that emerged through his focus on the points of intersection between painting, sculpture, wheel production and glaze creation. She is known in New York for the popular "Runa Mugs".
Master weaver Oscar Huarancca Gutiérrez is from Ayacucho, Peru. He has more than thirty years of weaving experience. He learned backstrap weaving, natural dyeing and embroidery from his parents. He learned weaving on the vertical loom in the workshops of the Santa Ana barrio in Ayacucho, and has taught fiber processing, spinning, weaving and dyeing to rural women in several institutions in Ayacucho. Oscar especially enjoys working with handspun alpaca fiber in prehispanic designs. His work has been exhibited in Peru, Ecuador and the United States.
---
Doors open from 11 a.m. to 4 p.m.

Tickets are necessary for entry, please register

.
---
----------------------------- SPECIAL RAFFLE ------------------------------
Purchase a Raffle ticket for a chance to win Fato's new release "Sunset Village" 16X20 - Acrylic Painting Worth $525 -- You must be present with ticket to win! No shipping.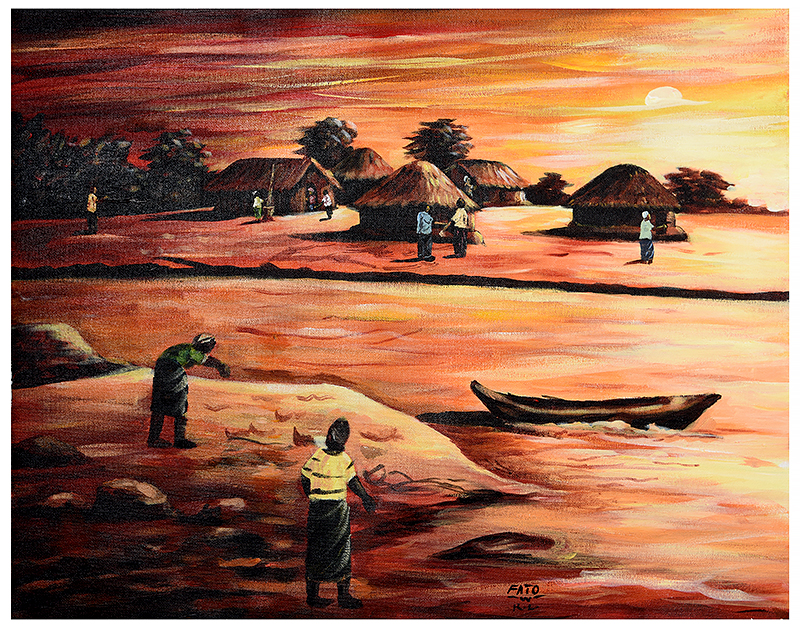 ---