Description
WE MAKE THAT DRUM TALK TO YOU LIKE "BOOM"
MIRA COMO SUENA ESE TAMBOR! "BUM"
NOU FE TANBOU A PALE! BOOM!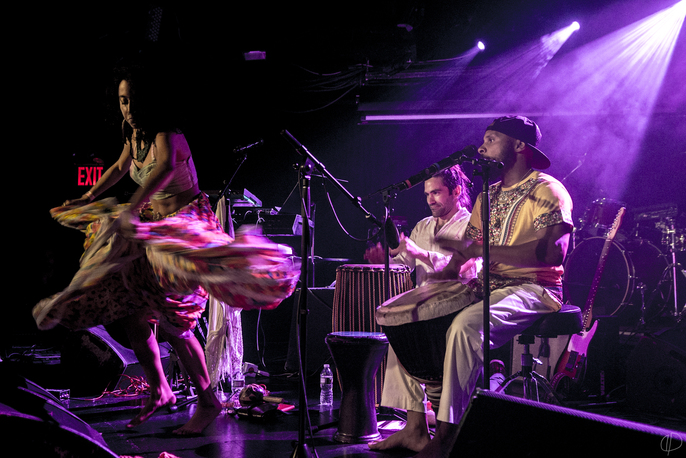 ---
Strings N Skins is a Brooklyn based band that takes you on journey around our Mother Earth with their explosive mixture of the classical, yet sensual sound of the violin and the rhythmic pulse of the West African djembe. The band combines the fusions of the world:Classical,Pop,Traditional and Urban. Taking ingridients from each and creating a whole new sound that travels accross the African Diaspora in Latin America, The Caribbean, and The United States. The band was founded by Singer and Drummer Okai and violinist,dancer , singer Luisa Bastidas. Luisa, born in Cali, Colombia shares her inflences of Cumbia, Currulao, and Salsa. Okai, born in Brooklyn with Haitians heritage, brings the caribbean flavor with his kompa,soca, and Hip -Hop influences. Throughout their music Strings n Skins shares the message of unity between locations and cultures.
"Language and location may be vested in the institutions that divide nations and tribes, but the rhythm that connects us all has never left a soul. Strings N Skins exemplifies a pan African rhythm that unites us and celebrates our similarities. individually accomplished in their own right, the members of Strings N Skins purposely share their personal accolades and create a sonic harmony determined to repair the world." -Ro Johnson, BRIC TV.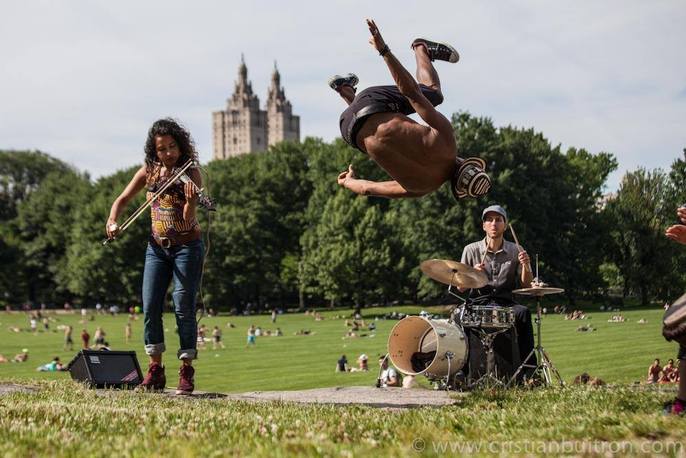 Strings N Skins (Cuerdas y cueros) es una banda nacida en Brooklyn, Nueva York con explosiva mistura del sensual canto del violín y el pulso rústico del tambor Africano. La banda expresa la fusión de mundos, lo clásico y lo popular, lo tradicional y lo urbano, tomando los ingredientes más interesantes de cada uno de ellos para crear una textura de sonido distinta que viaja y se aventura por toda la diáspora Africana en las Américas. Strings N Skins fue fundada por el cantante y percusionista Okai y la violinista, bailarina y cantante Luisa Bastidas. Luisa, oriunda de Cali, Colombia inyecta al grupo con sus influencias de currulao, cumbia y salsa y Okai, nacido y criado en Brooklyn de familia Haitiana aporta el condimento caribeño de kompa, soca y hip hop. A través de su música, danza y letras, Strings N Skins expresa su mensaje de unidad entre los pueblos y culturas.
---
Every 2nd Sunday of the month, Okai, Luisa, and the gang are coming to Bunna Cafe to light up the space -- with beats, bends, afro-latin sounds, and the harmonic rhythm of togetherness!
Giddyup.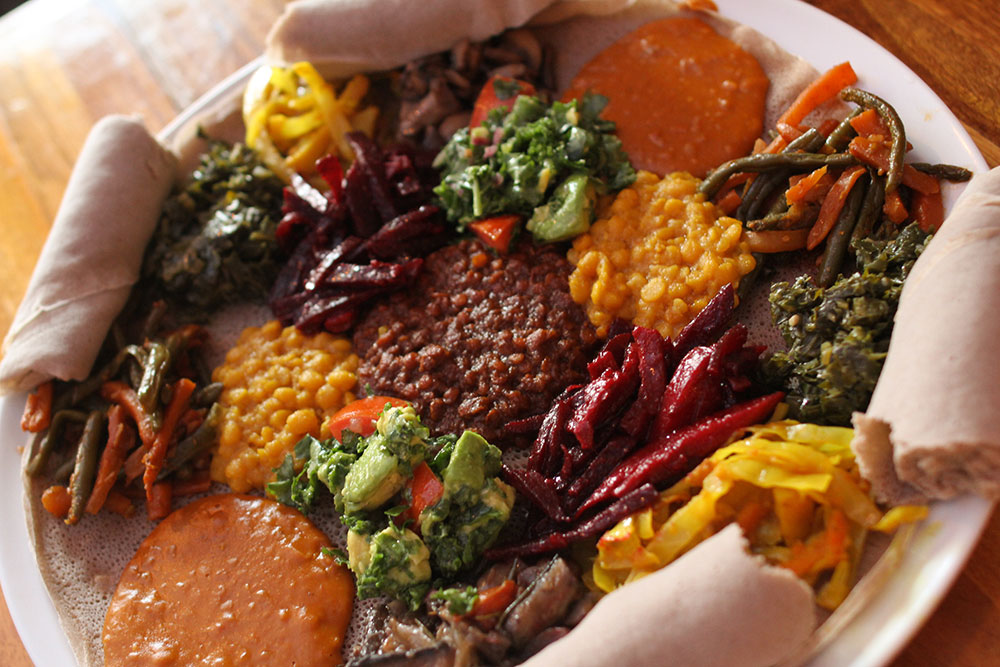 Pair this vibe with the tastiest, most dance inspiring dinner and drinks you have ever tried. Plant-Based Ethiopian food, weird awesome cocktails, honey wine, Ethiopian beers, and don't forget the Bunnaaaaaaa! MENU, CLICK HERE.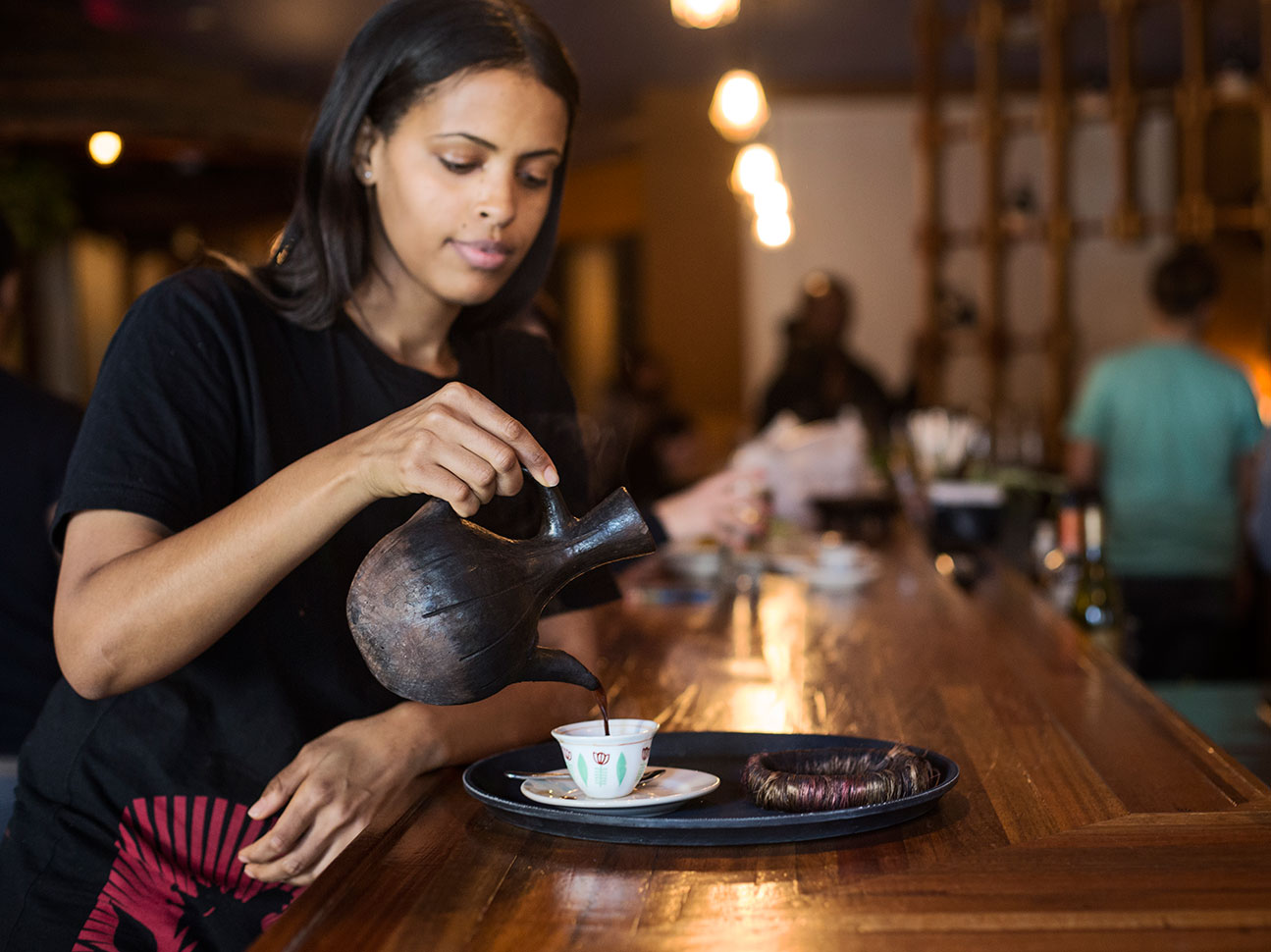 Anything. Everything. Possible.
Show begins at 9.
Free with dinner or drink purchase.
RSVP to let us know you are coming.
Party of 4 or more? Click HERE to make a table reservation!
Party of less than 4? Come on by we'll work it out!
Everything is eshi.
---
See our full upcoming music lineup at Bunna Cafe, / Under The Grass Roof \
and follow us on instagram at @UnderTheGrassRoof