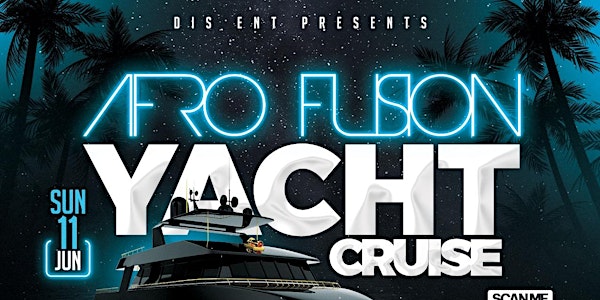 AFRO FUSION YACHT CRUISE
THE BIGGEST YACHT CRUISE OF THE SUMMER
Date and time
Sunday, June 11 · 6 - 11pm CDT
Location
Anita Dee Yacht Charters 200 North Breakwater Access Chicago, IL 60601
Refund Policy
Contact the organizer to request a refund.
Eventbrite's fee is nonrefundable.
About this event
Get ready for an amazing experience!!
Join D.I.S Entertainment at Afro Fusion Yacht Cruise on Sunday, June 11th, 2023
Enjoy Chicago's beautiful skyline as you cruise down Lake Michigan aboard a luxury yacht. The yacht is equipped with 3 floors including a lounge area, dance floor, and top deck to party on.
International DJs playing AFRO BEATS, AMAPIANO, DANCEHALL, RNB, OLD SCHOOL, KOMPA, HOUSE, HIPHOP, SOCA, TOP 40 HITS and more.
Come enjoy the livest party on board the newly renovated Anita Dee II.
Catch breathtaking views of Chicago's skyline while sailing on Lake Michigan.
CHECKING TIME
Checking will begin promptly at 5:30pm
BOARDING TIME
Boarding will begin promptly at 6:45 pm. As soon as boarding is complete, the gate will close and the crew will start preparing for departure. No one else will be permitted to board. Please be on time, as the boat will leave without you!!
EARLY ARRIVAL IS HIGHLY SUGGESTED!!!
CRUISE TIME
Cruise will begin promptly at 7:30pm and end at 11pm
Questions & Answers
* Can I bring my own food/drink on the boat?
Answer: Absolutely no outside food or beverage may be brought on the boat.
* What do I need to bring to get on the boat?
Answer: Your printed or emailed ticket from Eventbrite and a valid ID. All guests must Be 21+.
* How do I get to the boat?
Answer: Please see below for a map and a detailed list of directions.
* What floors can I access?
Answer: All tickets holders can access all floors.
Rules, Regulation & Disclaimers:
All guest must be 21+ with a valid government issued ID that will be checked by the security prior to boarding. A valid tickets with scannable QR code is require by all guest it is recommended to print a paper tickets to prevent any technology complications which would prevent your tickets from displaying on your phone.
There is no guest list at the boat, tickets must be scanned and security reserved the right to inspect all bags and patrons.
THERE WILL BE NO TICKET PURCHASE AT THE POINT OF ENTRY.
PLEASE PURCHASE TICKETS IN ADVANCE.
ALL TICKETS SOLD ARE FINAL!!
ABSOLUTELY NO REFUNDS!!
EARLY ARRIVAL IS HIGHLY SUGGESTED TO AVOID MISSING THE CRUISE !
Dress Code
• Dress Code is Semi-Casual
• No flip flops
• No sports clothes including jogging pants
• No sport hats
• No neck or facial tattoos
ZERO TOLERANCE POLICIES, PARKING & COVID
1. THERE IS NO PARKING AT DuSable HARBOR. USE THE MAP BELOW WHICH DETAILS
PARKING OPTIONS IN THE AREA, GIVE YOURSELF PLENTY OF TIME TO PARK OFF-SITE AND
GET TO THE HARBOR/BOAT BY THE SCHEDULED BOARDING TIME.
2. ENTRY ON BOARD THE YACHT IS STRICTLY DENIED FOR ANY PERSON INTOXICATED WITH
ALCOHOL, NARCOTICS OR IN POSSESSION OF WEAPONS, ALCOHOL OR NARCOTICS. THIS
INCLUDES MARIJUANA (IT IS ILLEGAL TO POSSES MARIJUANA, IN ANY QUANTITY, ON THE
BOAT. THE BOATS ARE REGULATED BY THE UNITED STATES COAST GUARD AND
INDIVIDUALS IN POSSESSION OF MARIJUANA OR OTHER NARCOTICS, ARE SUBJECT TO
ARREST)
3. THERE IS A ZERO TOLERANCE POLICY BEFORE, DURING OR AFTER CRUISES FOR ANY
INDIVIDUAL(S) FIGHTING OR EXHIBITING AGGRESSIVE AND VIOLENT BEHAVIOR.
INDIVIDUALS WILL BE DETAINED BY SECURITY AND TURNED OVER TO THE CHICAGO POLICE
DEPARTMENT TO BE ARRESTED IMMEDIATELY UPON RETURNING TO DOCK. INDIVIDUALS
WILL BE BLACKLISTED AND DENIED ENTRY TO ANY FUTURE EVENT.
All sales are final.
No refunds or exchanges.
DIRECTIONS
The Anita Dee is docked at DuSable Harbor on the South side of the Chicago River at Lake Shore Drive.
** Since the Harbor has no real physical address, GPS and online directions are unreliable. Use the maps along with the directions below to get to the boat!
Alternate Parking Locations: In the event that DuSable Harbor Parking Lot is closed.
we've listed additional parking options.
Millennium Park Garage - 5 S. Columbus - (312) 616-0600
ABM Parking Services - 400 N McClurg - (855) 234-0260
Standard - 505 E. Illinois - (312) 494-9770
ABM Parking Services - 323 E. Wacker - (312) 268-8116
LAZ Parking - 350 E. Monroe - (312) 616-0600
Navy Pier Lots - 600 E Grand - (312) 595-5072
Dropped Off
• If getting dropped off, input destination address 111 N Lakeshore Drive 60601, DuSable Harbor, or Columbia Yacht Club.
• Lower Randolph Street, east to the lakefront. Drop off at DuSable Harbor cul-du-sac
• Walk down to the lake front path and turn left/walk north along the lakefront.
• Our yachts will be straight ahead, at the end of the lakefront path where it ends at the Chicago River.
Walking
From the Loop
• If walking from the loop, take any stairway down to the Riverwalk on the south side of the Chicago River.
• Walk east toward the lake (From Michigan Ave. Bridge- 10 min walk)
• The south side of the Riverwalk ends at our boats just east of the Lake Shore Drive Bridge
From the Navy Pier
• Walk west on Illinois to Lower Lake Shore Drive, the first street on your left.
• Cross Lower Lake Shore Drive to the west side of the street and turn left.
• Once you cross over the Chicago River, look for the staircase on your right to walk down to Riverwalk
• Turn left to go through tunnel on Riverwalk
• Once you exit tunnel, you'll see both yachts to your left on the River.
From Millennium Park
• Head east on Monroe and cross over to the east side of Lake Shore Drive.
• Turn left or walk north on the lakefront path.
• Once you pass Columbia Yacht Club, keep walking north for 4-5 mins- Path ends at Chicago River and
our Yachts.
Driving (Parking Options in The Area):
There is no available parking at DuSable Harbor. Because of this, we recommend getting dropped off, taking
public transportation, or walking. If driving, allow ample time for travel and parking prior to the event!
Parking options in the area, along with links to their location, are listed, below:
Millennium Lakeside Garage – 5 S. Columbus -
SP+ Parking – 400 E. Randolph St., Chicago, IL 60601 -
Navy Pier Parking East Garage - 840E E Grand Ave, Chicago, IL 60611 -
303 East Wacker Garage – 303 E Wacker Dr., Chicago, IL 60601 -