Sales Have Ended
Ticket sales have ended
Time has run out. Please try again. Thank you.
Sales Have Ended
Ticket sales have ended
Time has run out. Please try again. Thank you.
Description
With a decade of experience and success in the international jazz community, Havana native Dayramir Gonzalez is ready to take New York City by storm.
In 2009, he became the first Cuban to receive a full scholarship to the Berklee School of Music in Boston. In 2012, he was invited to perform at Carnegie Hall as part of their Voices of Latin America series, along with Chucho Valdes, Gonzalo Rubalcaba, Danilo Perez, Egberto Gismonti and Aldo Lopez-Gavilan. His performance was later featured in the Wall Street Journal. In 2013, Gonzalez graduated Berklee Summa Cum Laude, after receiving the Wayne Shorter Award for Most Outstanding Composer of the Year.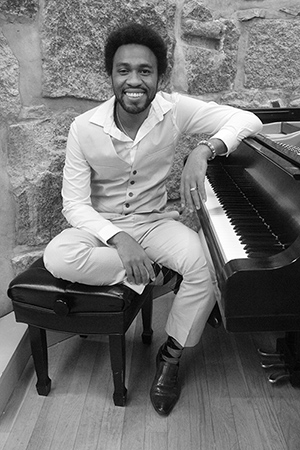 After graduating, Gonzalez moved to New York where he currently resides. In his short time in the city, Gonzalez has made his long time dream of creating his own space for musical education and development a reality by creating the "Art School of Contemporary Performance and Creativity." This music school is based on the Cuban school of thought, which focuses on a more comprehensive approach to music education at the elementary school level. His goal is to create musical education, which is accessible to all students and families, especially those in low-income neighborhoods.
Gonzalez's latest album, The Grand Concourse, is full of dynamic musical settings from string quartet, full orchestra, solo piano, choir and Afro Cuban jazz septet. This album presents Gonzalez not only as a performer, but also as a composer, arranger, orchestrator and bandleader.
Gonzalez is building his legacy in America, and is fast becoming a leader in the Afro-Cuban Jazz community.
For more information on Dayramir Gonzalez, visit www.dayramirgonzalez.com.
"Dayramir Gonzalez belongs to those musicians who capture you in the room and make you feel just one thing, the immense desire of remaining near his magic piano." - Jazz Casual

This program is made possible with a generous grant from Time Warner Inc.
---


Tickets Purchase Policy
Queens Library programs are a free to the public. In order to make the programs available to the most number of people we are limiting general admission free tickets to 2 per individual. Multiple orders per individual are not allowed and will be cancelled. This policy ensures that no-shows are reduced and tickets are available to the most number of people.