Afro-Brazilian, Afro-Cuban, and Haitian Dance Workshop featuring Rosangela Silvestre

Saturday, May 5, 2018 from 9:30 AM to 4:30 PM (CDT)
Event Details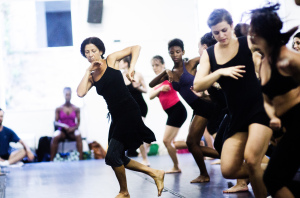 Afro-Brazilian, Afro-Cuban, and Haitian Dance Workshop featuring Rosangela Silvestre
Contempo Physical Dance is proud to host Brazilian dance artist, teacher, and choreographer Rosangela Silvestre for an open-level dance workshop exploring connections across traditional and contemporary forms of Afro-Brazilian, Afro-Cuban, and Haitian dance. This community dance workshop is open to dancers of all levels. Rosangela will be joined by Minnesota dance master teachers Chini Perez Domenech (Afro-Cuban), Djenane Saint Juste (Haitian), and Marciano Silva dos Santos (Afro-Brazilian/contemporary).
Workshop Schedule

9:30-11: Welcome and Afro-Brazilian orixa dance movement with Rosangela Silvestre
11-12: Afro-Cuban dance with Chini Perez Domenech 
12-1: Haitian dance with Djenane Saint Juste 

1:30-2:30: Afro-Brazilian contemporary movement with Marciano Silva dos Santos
2:30-3:30: Introduction to the Silvestre Technique with Rosangela Silvestre
3:30-4:30: Closing circle and open discussion with Rosangela and instructors (free)
Pricing
Pre-Registration Pricing
$15 per class (pre-registration)
$65 for a workshop pass (pre-registration)
*Pre-Registration Ends May 1, 2018*
After May 1, 2018
$17 per class
$75 for a workshop pass
Instructor Bios
Rosangela Silvestre: Choreographer, instructor, dancer and creator of the Silvestre Dance Technique, Rosangela is a native of Salvador, Bahia, Brazil, where she graduated with a Bachelor's Degree in Dance and post-graduated specializing in choreography, achieving her degree from the Federal University of Bahia (UFBA). She has researched dance and music in Brazil, India, Egypt, Senegal and Cuba as part of her ever-evolving and eclectic palette of movement. For the last 24 years, Rosangela has directed The Silvestre Technique training program in Salvador, Brazil. She is also renowned for her classes on the Symbology of the Orixas, which focus on the "connections between the rhythms and the traditional movement, archetype, and story of the Orixa dances interpreted as an art form."
Marciano Silva dos Santos: Marciano Silva dos Santos is co-founder, artistic director, and choreographer of Contempo Physical Dance, a Minnesota-based dance company that fuses Afro-Brazilian, capoeira and contemporary dance. Marciano is a native of Brazil where he danced with the Afro-Brazilian dance company NegraO, Bale da Ilha, and Homem Cia de Danca. His movement style has been described as an "original dance language." Marciano teaches Afro-Brazilian contemporary dance at the University of Minnesota.
Chini Perez Domenech: Born in Cuba, Chini Perez Domenech has been a professional dancer over twenty years. Chini was both a dancer and choreographer in Cuba's premiere folkloric dance company, Afrocuba de Matanzas, participating in both national and international dance events. He has taught courses at universities in Mexico, Puerto Rico and the U.S. Chini currently teaches Cuban-style salsa and Afrocuban Dance at Chini Studio in Minneapolis' Uptown neighborhood.

Djenane Saint Juste: Djenane Saint Juste, a native of Haiti, is the Artistic Director of Afoutayi Dance, Music and Arts Company. She is a seasoned professional choreographer, dancer, actress and vocalist specializing in Haitian traditional dance and folklore. Djenane has also been trained in Ballet, Hip Hop, Modern, Jazz and Ballroom at the Institut de Danse JAKA, Institut de Dance Vivianne Gauthier, and Artcho Dance Company in Haiti. Djenane has dedicated herself to the research, development and promotion of traditional Haitian dance, song, and storytelling.

Save This Event
When & Where

Barbara Barker Center For Dance - Studio 100
500 21st Avenue South
Minneapolis, MN 55454


Saturday, May 5, 2018 from 9:30 AM to 4:30 PM (CDT)
Add to my calendar
Afro-Brazilian, Afro-Cuban, and Haitian Dance Workshop featuring Rosangela Silvestre