Afrique360 Screening Series @ UCLA presents COLOR BLIND: RETHINKING RACE
Description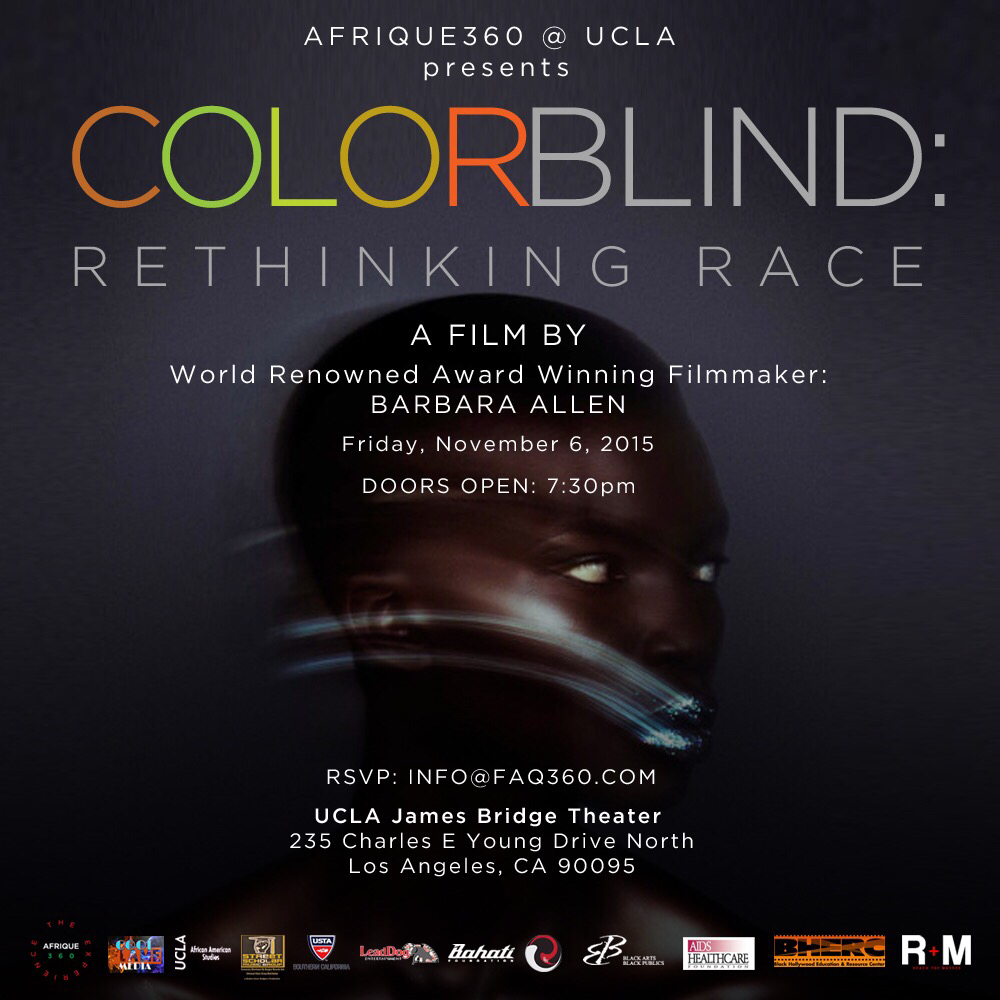 $6 fee for parking in Parking Lot #3 which is the closest parking lot to James Bridges Theater.
Afrique360 The Screening Series looks to stimulate dialog on Race
by presenting its second installment with obligatory film
"COLORBLIND: Re-Thinking Race"

Afrique360 announces its returns to UCLA for the second film in the series, COLORBLIND – Rethinking Race by award-winning, director-producer Barbara Allen. This provocative and engaging film presents
the premise that education, health, economics, justice all play an important roll in our
daily lives related to race and we should rethink the issues surrounded by progress and
equal rights in modern society. COLORBLIND reveals places where institutional racism
hides and how it is being aggressively challenged. Afrique360 Screening Series at
UCLA is a free event Friday, November 6th - 7:30pm at James Bridges Theater UCLA
campus http://www.tft.ucla.edu/facilities/james-bridges-theater/

We are pleased to continue our screening series at one of the top research universities,
UCLA and also provide a lifestyles engaging experience for our audience created
through our social networking hour, says Rashid Bahati, Afrique360 founder and
Curator. Afrique360 continues to stand as a cinematic outlet for independent
filmmakers and actors globally as well as creating the conversation into our true life
dynamic, as people of African and its Diaspora.
About COLORBLIND Director:
In 2007 Barbara Allen wrote, directed and edited the short film, Morning Due which screened at the 2008 Cannes Film Festival Short Corner, the Chicago International Film Festival and won the Jury Prize for Best Film at the 2008 Langston Hughes Film Festival.

Babara Allen invited to participate in PBS' first Sundance Producers Academy in 2002, her involvement at Sundance subsequently led to her Corporation for Public Broadcasting's Input Fellowship in Rotterdam that same year. In 2006 Allen was chosen to attend the prestigious CPB/PBS Producer's Academy in Boston.

In 2010 her documentary film, DuSable to Obama: Chicago's Black Metropolis broke PBS pledge records, won two Emmy Awards, a Lisagor Award for Journalism, a Best Documentary Award at the Nashville International Black Film Festival and was in competition at The 2011 Pan African Film and Television Festival (FESPACO) in West Africa.

Colorblind: Rethinking Race, her 2012 documentary, was part of the Kellogg Foundation's Racial Healing initiative.
Allen was awarded the 2013 Knight Fellowship in Journalism at Stanford University.