AfriFest is a family friendly free event showcasing cultures, food, entertainment, kids/adult games, and other fun activities.
About this event
African Festival in Cincinnati (AfriFest Cincy) will be on September 4 at Burnet Woods from 1-7pm EST. This is the largest African cultural event in the city. It is a free family-friendly/public event that occurs annually in the summer to celebrate Africa through cultural awareness, to enhance the community's knowledge of the African cultures, and to connect individuals to resources in the community. AfriFest will include musical performances, cultural dances, authentic African/Caribbean food, locally sourced vendors, kids' games, arts/crafts, a health fair, job fair, tourism fair, and other educational programs.
We are looking for food vendors, exhibitors, sponsors and donors. You support and collaboration will help us provide free educational programs (games, arts/crafts, health fair, job fair, tourism fair, etc.) as well as cultural/art performances.
Date/Time: September 4, 2021 from 1-7pm EST
Location: Burnet Woods Bandstand, 3298 Clifton Ave, Cincinnati, OH 45220
Cost: Free Admission (Open to all)
Vendors: Before making payment, please complete the vendor registration for HERE.
Sponsors:
To learn more details about the event, visit https://www.myapnet.org/afrifest. For general questions or interested in becoming a vendor, partner, sponsor, or donor, email Sosena Erco (Event Director) at Sosena.Erco@myapnet.org.
We look forward to seeing you and the whole family at AfriFest Cincy on September 4 (Labor Day Weekend).
Share this event on Facebook and Twitter.
We hope you can make it!
Cheers,
Afrifest Planning Team [Sosena Ero, Cedrick Kwuimy, & JaJa Stoudemire]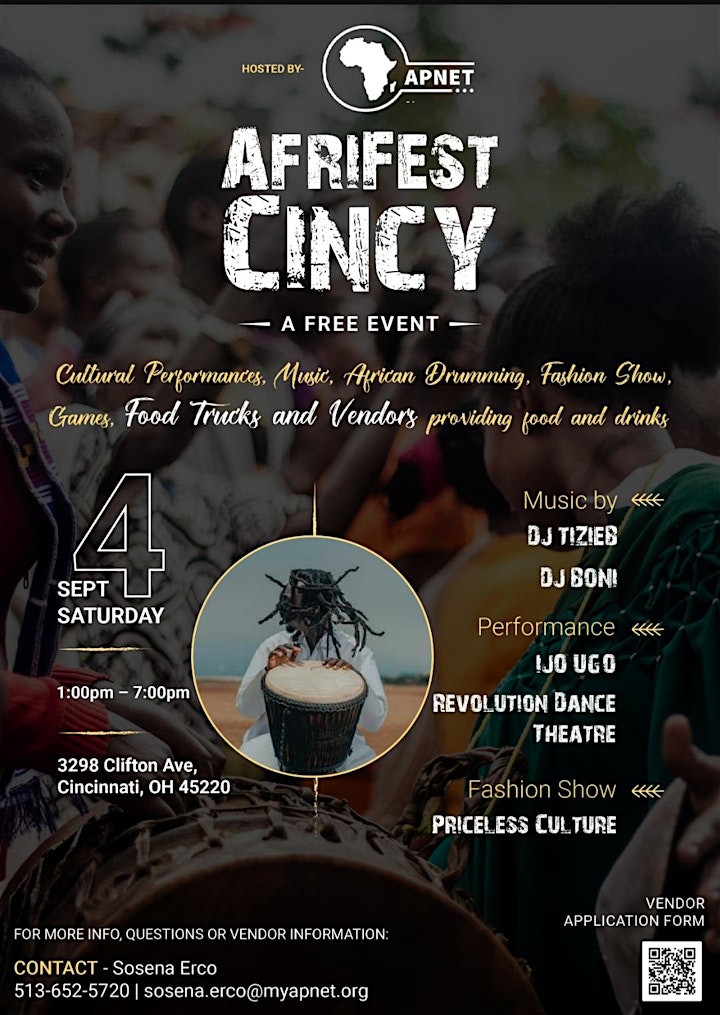 Organizer of AfriFest Cincy Partnership