Sales Have Ended
Registrations are closed
Thanks for registering! Please follow the debate online here @PlanetEarthInst and submit your ideas before the day here http://www.simpl.co/challenges/29-the-planet-earth-institute-africa-science-challenge
Sales Have Ended
Registrations are closed
Thanks for registering! Please follow the debate online here @PlanetEarthInst and submit your ideas before the day here http://www.simpl.co/challenges/29-the-planet-earth-institute-africa-science-challenge
Description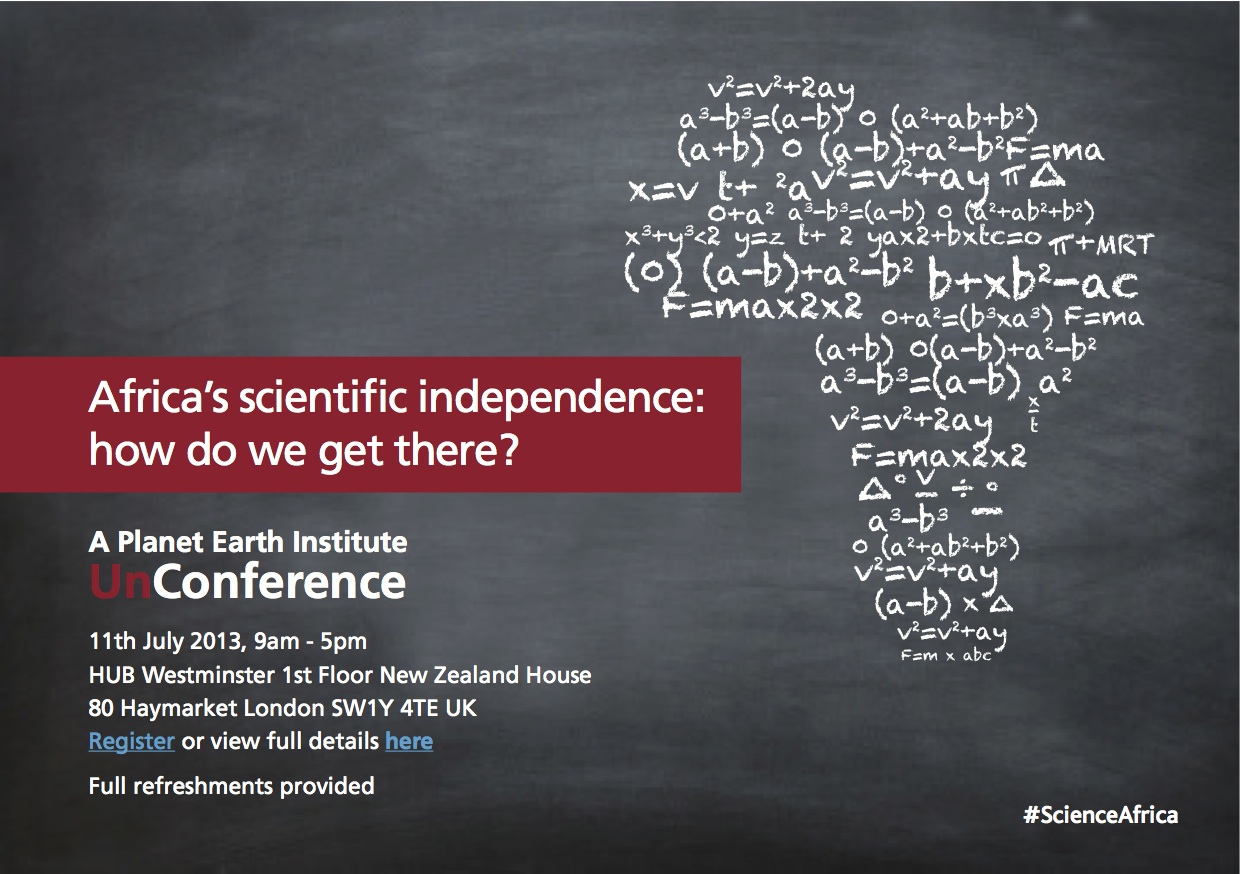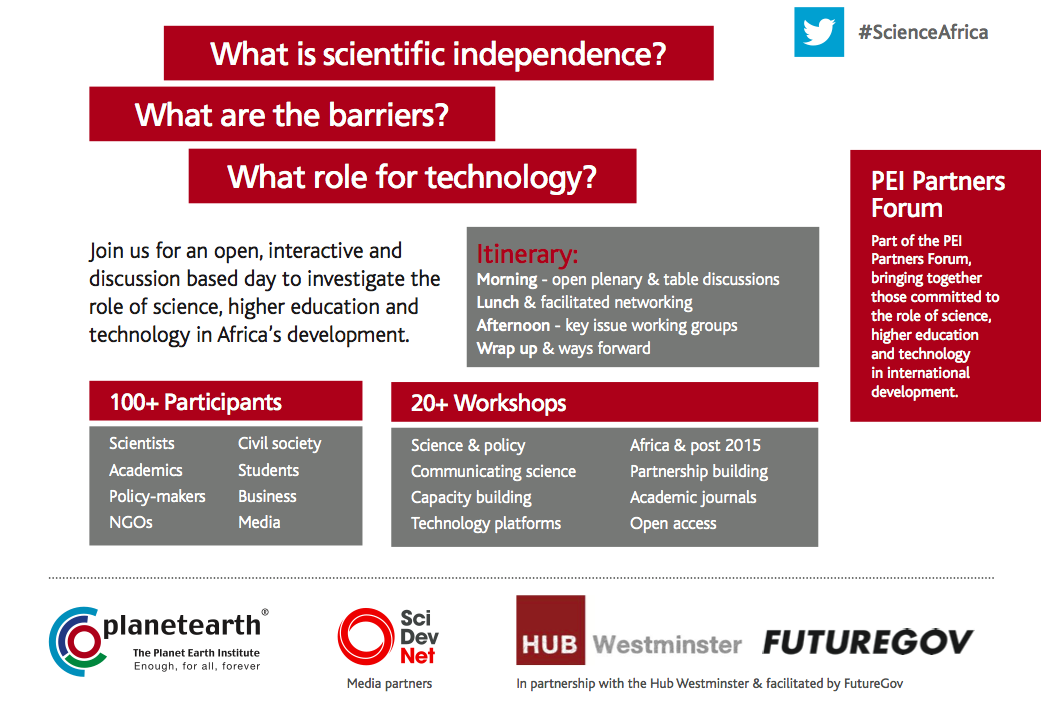 The PEI UnConference series will launch in July 2013, bringing together 100 people working on science, higher education and technology in Africa in an interactive, open and discussion-based UnConference. The day will be a mixture of presentations, open plenary sessions, small working groups, 1 to-1s and participant-led discussions, designed to foster new thinking, partnerships and peer-to-peer learning.
Groups involved include the Swiss National Science Foundation, the BBC World Service Science Unit, the Association of Commonwealth Universitites, SciDev.net and many others working at the heart of science and higher education in Africa.
Free to attend for all those working on or interested in science, education and technology in Africa. All participants will be expected to get involved in workshops and seminars as part of the interactive nature of the day, and we hope it will be the start of lots of positive conversations.
Share your ideas about science, higher education and technology in Africa on our challenge page here.
This event is delivered in partnership with the Hub Westminster, and members of the PEI Partners Forum, a group of organisations committed to investing in science, higher education and technology for international sustainable development. To find out about joining or future sponsorships view more here.
AGENDA
9.00am: Arrival and breakfast
9.30am: WELCOME outline of the day & table introductions
o Rt. Hon Lord Paul Boateng
o Dominic Campbell, Director, FutureGov
10am: MORNING SESSION: Panel + Open Plenary - What do we mean by scientific independence? What are the main barriers?
o Rt Hon Lord Boateng (Chair)
o Dr Kasirim Nwuke, Chief, New Technologies & Innovation, Special Initiatives Division, United Nations Economic Commission for Africa
o Prof Peter Piot, Director LSHTM & former Executive Director of the United Nations AIDS Initiative
o Dr Maggie Ebuoluwa Aderin-Pocock MBE, space scientist & research fellow at University College London
o Mr. Ahlin Byll-Cataria, Executive Secretary of the Association for the Development of Education in Africa
o Ms Kanyhama Dixon-Fyle, Director, KDf Consulting
o Lanre Akinola, Editor, This is Africa
11am: Table working groups, feedback & workshop announcements
12.30pm: LUNCH BREAK: facilitated networking, workshop registration, guest lunchtime session by Sci.Dev.net on practical guide series
1.30pm: AFTERNOON SESSION 1: simultaneous workshops, including:
o Making impact with academic and science research: Dr. Andy Cherry, Association of Commonwealth Universities
o Communicating science to the public: BBC World Service, Julian Siddle & Deborah Cohen
o Definitions of science and technology for development: trends and challenges in West Africa: Jessica Romo, SciDev.net
o The benefits of research partnerships: Elisabeth Schenker, Swiss National Science Foundation
o Capacity building for academics in Africa: Dr Elisa Lopez-capel, Newcastle University
o Giving educators the right tools: Jim Wynn, Promethean
o A new wave of African entrepreneurs - young, socially-minded and innovation-driven: Kanyhama Dixon-Fyle, KDf Consulting
Workshops will be discussion-based for around 10-15 people, with support from the facilitators. Participants will register for their first choice workshop but will be free to move to others during the session providing there is space, with an open opportunity to swap after 30 minutes.
2.30pm: BREAK
3pm: AFTERNOON SESSION 2: simultaneous key issue workshops created by participants on the day
4pm: FEEDBACK, next steps
4.30pm: CLOSE and networking time
Video messages and interviews will be collected throughout the day. Twitter hashtag is #scienceAfrica and follow @PlanetEarthInst for more details.
Look forward to seeing you on the day!
Organizer of Africa's Scientific Independence: how do we get there?
The PEI is an international NGO and charity committed to science-led development in Africa. We convene a diverse range of international experts from business, academic, policy and civil society to identify and explore the most pressing development challenges facing the continent. 
We are committed to finding new ways to better connect the organisations and professionals working in and for Africa, supporting and facilitating enhanced collaboration and impact on the ground. 
Focused on five key areas of agribusiness, water and sanitation, public health, energy and blue-sky science, we achieve our mission through our prestigious events series', the PEI Partners Forum, and with our newly launched online platform, the PEI exChange.