Location
1 Veterans Pl
1 Veterans Place
Silver Spring, MD 20910
Sales Have Ended
Ticket sales have ended
Thank you for registering to attend this year International Women's Day Celebration. Please bring a paper or electronic copy of your registration.
Brunch with a purpose! African Women Power Brunch celebrates , empowers , educates, & equips women through shared experiences & networking.
About this event
In celebration of International Women's Day 2020, African Women Power Brunch is the ultimate celebration event for entrepreneurs, industry leaders, executives and go-getter women on March 7th. Under the theme #EachForEqual, the brunch focus is to connect, educate, inspire and equip African women. This event will feature successful and accomplished women in areas of business, leadership, civic engagement and health & wellness who will share ways to advance women and influence the world around them. In addition, attendees will get the opportunity to give a 1-minute elevator pitch on themselves, their business as a way to facilitate networking and mentorship. Attendees can look forward to networking with like-minded women, sharing inspiring stories and discussing issues that affect women today in our quest to lead a balanced and full life.
Vending & Sponsorship opportunities are available but limited. Contact info@wafambawapota.com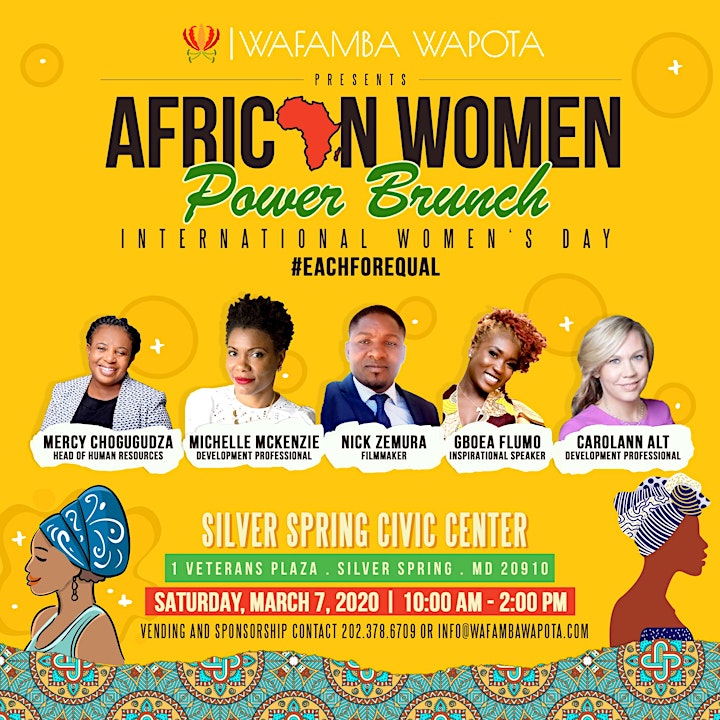 Meet our Speakers
Mercy Chogugudza. Mercy Chogugudza is a dynamic HR knowledge leader and professional with extensive experience in designing, managing, and facilitating leadership development programs. She has proven success in creating cultures of collaboration and implementing change to achieve workforce excellence. Mercy possesses experience in several aspects of human resources including: recruitment, employee training, incentives, total rewards programs, organizational development, succession planning, employee engagement programs She has a track record of coaching in the areas of transformational leadership, intercultural communication, team building, and managing change, with proven success in developing employee retention programs. Mercy loves people – she is driven by bringing out the best in individuals. She always brings the "human" in Human Resources. Each day she is driven by the saying "Be the change you want to see".
Mercy is a mother of three – 2 sons and a husband. In her free time, she enjoys the outdoors and DIY projects. She also volunteers her time to organizations that work with women and children.She holds an MBA and an MA in Human Resources Management as well as advanced HR certifications.
Michelle Mckenzie. Michelle McKenzie is an international development professional with global experience in Africa, Brazil, and the Caribbean, where she is from. Michelle has extensive experience in the international development assistance field, particularly in grants administration, program management, project design, training and capacity building, organizational learning, strategy development, agribusiness, and food security.Michelle has held several positions at the US African Development Foundation (USADF), an independent U.S. government agency that funds economic development through grants that support entrepreneurship, off-grid energy and agribusiness development in 20 countries across West, Central, East and Southern Africa. Michelle is also a mentor to young African entrepreneurs and to young black professional women in the US and Africa.Michelle is also the founder of Empowering Development, a consulting and business advisory company to support entrepreneurship and help entrepreneurs connect to capital. Michelle will also be a co-host of the upcoming WTF?! (Where's the Funding?!) podcast that will launch in March 2020. The audience for the podcast is black entrepreneurs in the United States and in Africa who face challenges accessing the funding necessary to seed and grow their business ventures.
Through a storytelling platform the show will share experiences and lessons learned from black entrepreneurs (women in particular) about the difficulties of accessing financing to start and grow their businesses. It will also feature funders who will share information about available funding and how entrepreneurs can tap into those opportunities. The podcast will be available on Apple Podcast and all podcast streaming platforms.
Nick Zemura. Nick Zemura is the founder and creative principal at Mirazvo Productions Multimedia, a HD movie production company based in the US, with offices in Harare and Canada. He has written, produced and shot numerous TV and movies for both US and African markets. Nick started writing plays for commercial purposes when he was in College in Zimbabwe, where he trained as a Teacher. Nick has won the National Arts Merit Awards (NAMA) for Best director award, and through his company has won 5 awards in total. Nick was born in Murewa, the northwestern district of Zimbabwe. His mother, Lillian was a schoolteacher and community organizer. Nick attended Seke Teacher's College under the auspices of the University of Zimbabwe, and then earned a scholarship to study at George Washington University in the US. He taught in Maryland and Washington DC public schools until he resigned in 2008 to focus primarily in the production of content for television and movies for such channels as ZBC, Telesud, Afrotainment and Africa channel. Nick is working on numerous projects that are in various stages of production.
Gboea Flumo. Gboea Flumo is the founder of SpoQUEEN, a mentoring organization, that empowers young girls through the art of Spoken Word. The 28 year old, Liberian Native relocated to the Washington D.C. area at the tender age of two, in order to escape the brutal war in her country. Gboea recently obtained her Bachelors in Business Management, from The University of The District of Columbia. She is the former Miss Africa USA 2018-2019 and former Miss Liberia US 2016-2018. In addition to these accomplishments Gboea is also a powerful Inspiration Speaker and Powerful Spoken Word artist. "A mind without a voice is powerless speak to make a difference not just to be heard" - Gboea Flumo
Carolann Alt. Carolann Alt brings 15 years of Global Strategic Marketing, Business Development and Commercial Execution across several industries including; healthcare, agri-business, power/renewable energy, real estate, SME and infrastructure. A former executive in the biotechnology industry she facilitated the commercialization of international pharmaceutical and medical technology companies into the U.S. landscape.Her company, Empower Management Company, is an African focus advisory development and commercial services consultancy offering clients a core competency in commercial strategy and evaluation of business opportunities with a concentration in project financing, along with business advisory.Proven leader of transformational projects and driving direct value to Global Companies with strong interpersonal communication skills with C-Suite experience. Creating innovative ways to maximize public-private partnerships to build sustainable economic development, drive job creation and create social impact. Success driven by establishing a robust proprietary network based on decades of experience across a diverse range of strategic partnerships with national governments, private sector and NGOs.Since 2003, Carolann has garnered a strong affinity to sub-Saharan Africa, specifically Nigeria, with the ability to navigate the complex African business landscape. She is an advisor for Sustainable International Medical Missions and she has been appointed as an advisor to the US-Nigeria Commercial Dialogue, which is a mechanism designed to promote increased, diverse and sustainable trade and investment between the United States and Nigeria. Carolann is a Board Member of Quaint Energy with offices in the US, Nigeria, Tanzania and Pakistan, and is a Commissioner of African Affairs for the Maryland Governor's Office of Community InitiativesSpecialties: Investment Sourcing & Deal Origination, Project Development, Project Finance, Strategic Planning and Market Entry, Collaboration and Global Strategy, Project Management, Sales and Marketing.
Meet our Vendors & Sponsors
Life Asset Inc A non-profit funding entrepreneurs in and around Washington DC.
Iska JoJo Studios A Washington DC area photographer specializing in Weddings, Portraits, Maternity, Infants and Lifestyle photography.
Tisu African Goodies A supplier of African grocery products in the USA.
Lady Landra Deco Produces hand made wall decorations, portraying women dressed in African fabric.
Wax Elegancia fashion expression of a perfect blend of passion, intricacy, elegance and grand style
Ika Sargeant- Realtor licensed in Maryland and Virginia . Welcoming: Sellers, First time home buyers, Seasoned home buyers, Investors. Visit www.capitolhouses.com