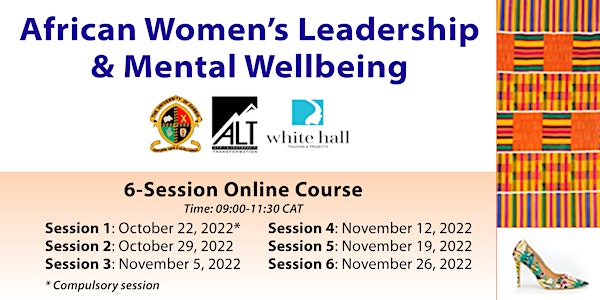 African Women's Leadership and Mental Wellbeing
This course is to empower women in their leadership. We are offering this $300 course for $25 to support women at this time.
Refund Policy
Contact the organizer to request a refund.
About this event
The Covid pandemic has made the intersection of leadership and mental well-being a new area of interest, especially for women. We have assembled a multi-disciplinary team of women to help us look at different perspectives of this, especially as it relates to women. The intent of this course is to empower women who are determined to maximize their leadership capacity. You will be empowered as a leader in your personal relationships, community and profession; you will be left clear-headed and develop increased self-compassion, self-care and self-nourishment.
Sessions #1 is compulsory to receive an attendance certificate. The sessions are 2.5 hours long, The final (sixth) Session brings everything together and is an opportunity to share what you have discovered, what future you are creating and to invite other women to join us.