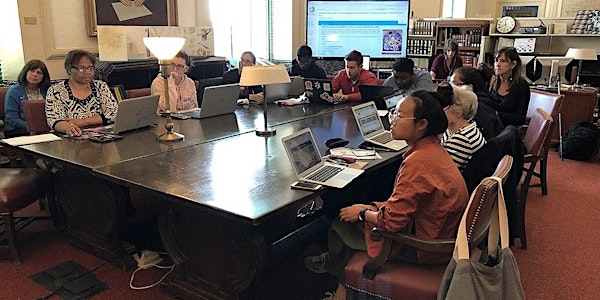 African Women Artists Wikipedia Edit-a-thon
When and where
Location
Smithsonian National Museum of African Art 950 Independence Avenue Southwest Washington, DC 20560
Description
African Women Artists Wikipedia Edit-a-thon
In 2015, the Smithsonian National Museum of African Art conducted an assessment of its collection and ascertained that only 11% of the named artists in its collection self-identified as women. As part of its Women's Initiative, this number has been increased to 22%. But did you know that only 18% of articles on English-language Wikipedia are about women? Help to change that by joining us for the National Museum of African Art's African Women Artists Wikipedia Edit-a-thon. We will work together to increase the presence of African women artists on Wikipedia by improving existing articles and creating new ones. This event includes a curator-led tour of the exhibition, I Am… Contemporary Women Artists of Africa.

No Wikipedia editing experience is necessary. Editing training will be provided by Wikimedia DC. Museum curators and librarians will be on-hand to provide expertise and source material.

Laptops are required. Please bring your own. Wikimedia DC has two laptops to loan. Please send your laptop request to info@wikimediadc.org.

Lunch will be provided.

This free event is presented as part of the Art+Feminism DC2020 campaign.

Schedule:
Tour: 10:30am-11:30am – Curator Led Tour of I Am… Contemporary Women Artists of Africa
Wikipedia training: 11:30am-12:30pm
Lunch: 12:30pm
Wikipedia editing: 12:30pm-4pm