Description
The Mayor's Office on African Affairs enthusiastically invites you to the DC African Wellness Fête: a celebration of individual and community healthwhich will be held on Saturday, June 1, 2013 from 12pm to 4pm at Brightwood Education Campus [1300 Nicholson St. NW, Washington DC, 20011].
The DC African Wellness Fête is the highly anticipated celebratory culmination of OAA's three month-long health education campaign titled Think. Eat. Act. Move Africa (T.E.A.M. Africa). The goals of the Fête are to motivate positive health behavior within the African community and increase awareness of localhealth services and resources. The Fête brings together a wide variety of interactive activities that promote culture-based lifestyle changes as well as a comprehensive pool of government and community-based exhibitors who will help facilitate much needed access to health information, testing and services.
**************************

************************************************
WHAT IS

T.E.A.M Africa

? Think. Eat. Act. Move Africa (

TEAM Africa

) is a culturally targeted health engagement and education campaign designed to promote wellness, and connect the District's ethnically diverse African communities to vital health services. These efforts will culminate in an 'African Wellness Fete' on June 1st with a fun-filled celebration promoting individual and community health.
WHO IS T.E.A.M Africa?

TEAM Africa

is part of OAA's Outreach and Education Program initiated in partnership with a 13-member TEAM Africa Coordinating Committee made up of key stakeholders: DC government representatives, health professionals, community-based organizations and health advocates.
**************************

************************************************
Think about your self-care practices and learn how to improve them during workshops, health screenings and cooking demonstrations.
Eat your way to health with nutritional demonstrations infused with African recipes and tips. What you put in your body determines how you feel.
Act in ways that benefit you and your family by introducing them to healthier practices: from getting tested to protecting oneself from preventable diseases.
Move to the beat of a healthy life through exercise, dance and energetic activities that promote a more active lifestyle.
**************************

************************************************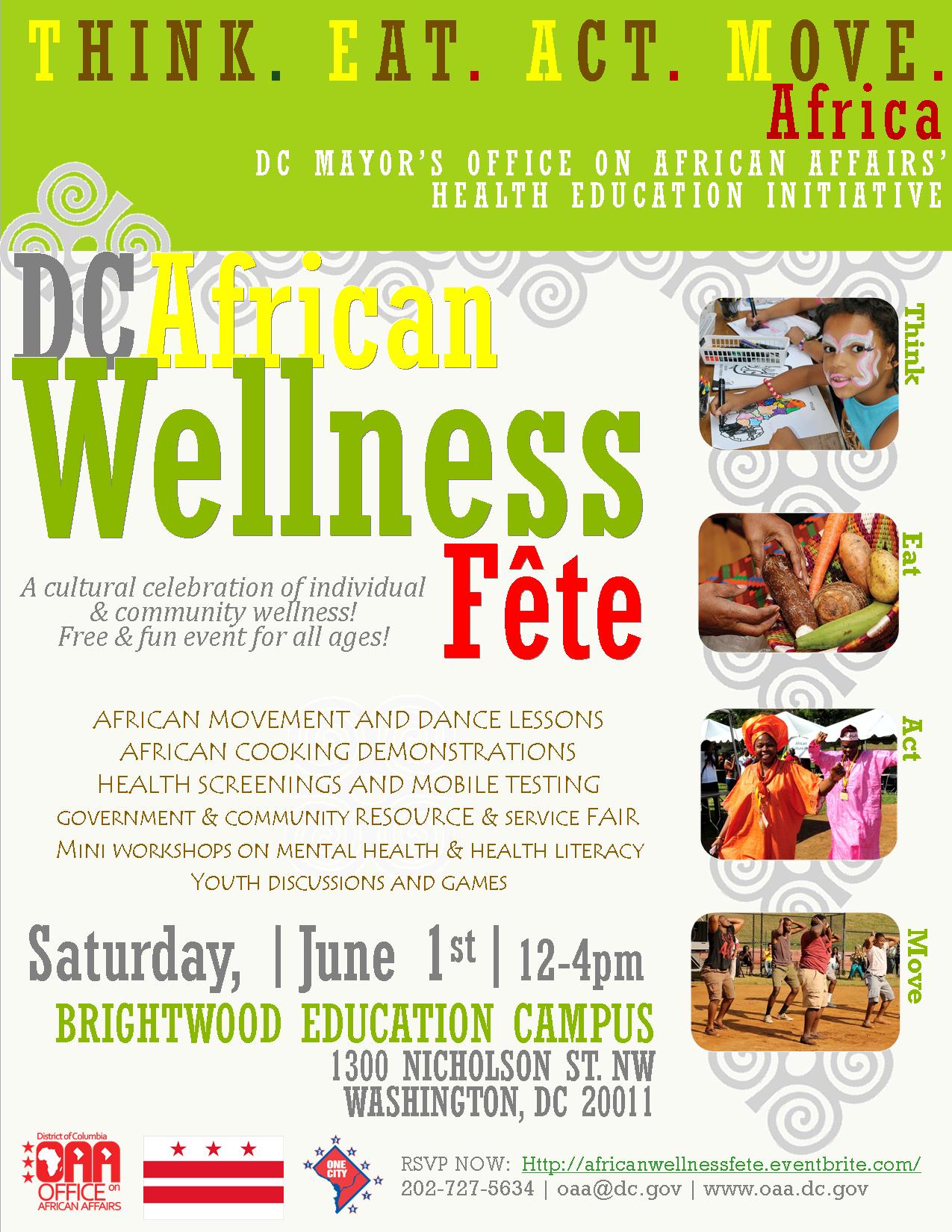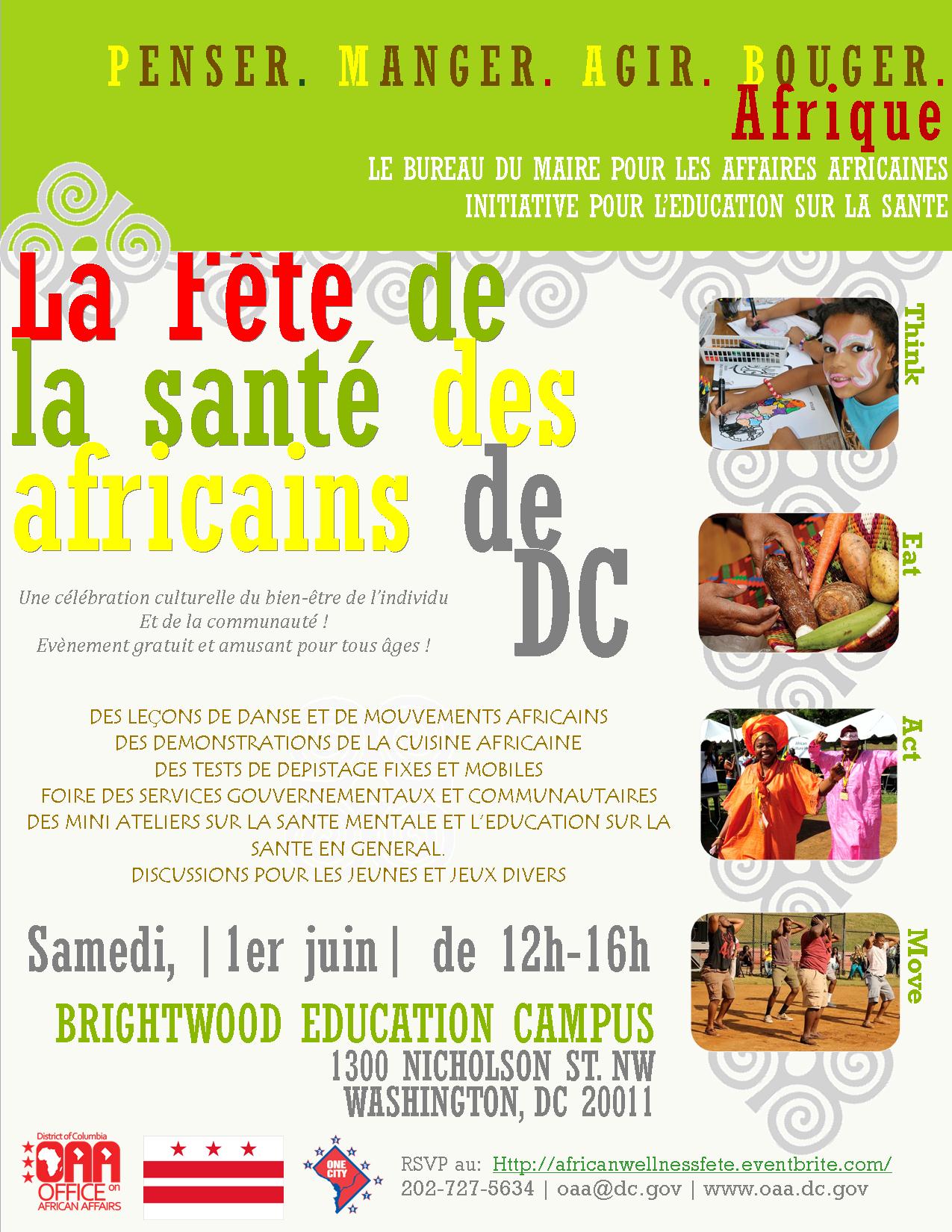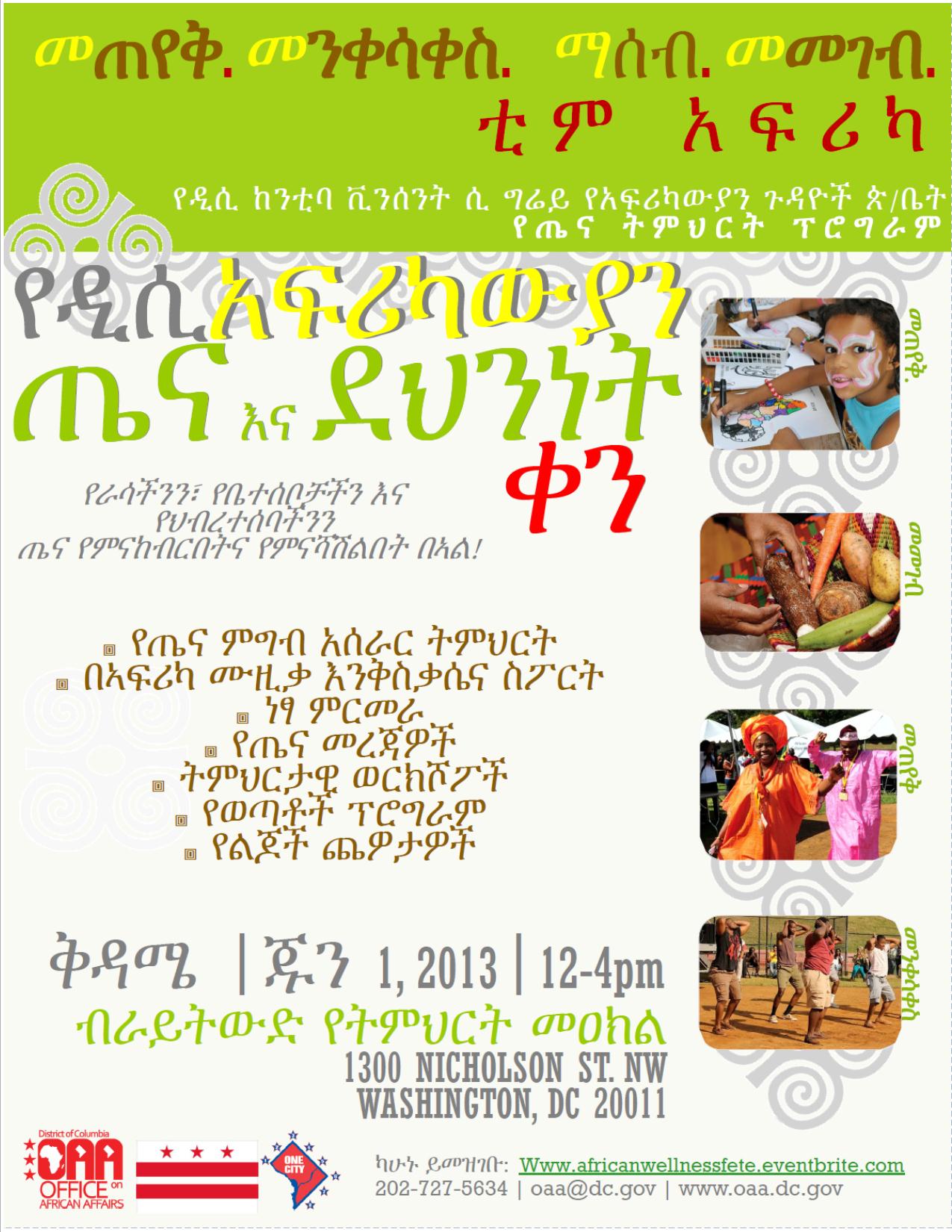 Organizer of African Wellness Fete
The mission of the Mayor's Office on African Affairs (MOAA) is to ensure that the full range of health, education, employment, social services, safety, business and economic development information, services and opportunities are accessible to the District's African immigrant communities. By serving as the liaison between the District's African immigrant communities, District government agencies and the Mayor, MOAA aims to: Improve the quality of life of the District's diverse African born..