"African Warrior Princess of Brazil: Aqualtune, New World Freedom Fighter"

Tuesday, August 26, 2014 from 7:00 PM to 8:30 PM (MDT)
Event Details
Presented by Sharonah Fredrick
Assistant Director, ACMRS
Tuesday, August 26, 2014 at 7:00pm, Changing Hands Bookstore
Co-sponsored by Women and Gender Studies in the School of Social Transformation and Project Humanities at Arizona State University
Free and open to the public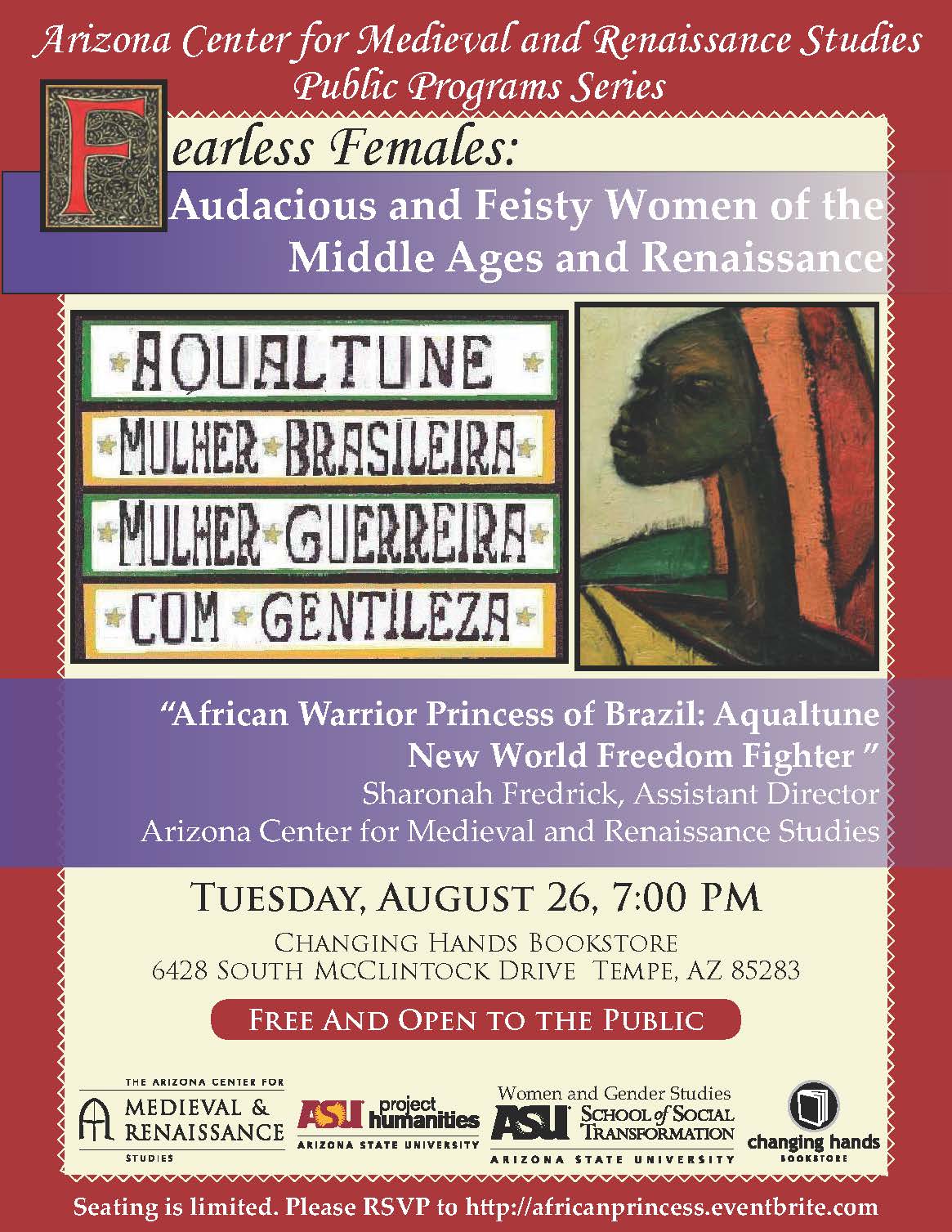 About the Program
Born a princess in the Congo at the end of the 16th century, Aqualtune is one of the great-and in English, virtually unknown-figures of the Brazilian Renaissance. A revered sovereign in Africa, she valiantly fought the Portuguese slave expeditions as well as those of their African allies; eventually captured and sent to Brazil, Aqualtune became one of the leading figures in the establishment of free Black communities which challenged the authority of Imperial Portugal until the end of the colonial period. The communities that Aqualtune founded became inter-racial havens whose example remains an inspiration of cultural coexistence in Brazil to this day.
About Sharonah Fredrick
Sharonah Fredrick is the Assistant Director at ACMRS and is currently finishing her doctorate in Hispanic Literature at Stony Brook University. Her work focuses on the impact of the Early Modern Period in Latin America and on the effects of the Spanish and Portuguese conquests on the Native American peoples and on Africans in the New World. She is particularly interested in the manifestations of Pre-Columbian religion in epics authored in Latin America in the 16th-18th centuries, and issues of cultural survival and religious syncretism. Sharonah speaks four languages fluently: Spanish, Portuguese, Hebrew and English, with some Arabic as well. She also enjoys exploring the world of Celtic pre-Christian myth, and the medieval literature of Sephardic Jewish culture, both before and after the 1492 expulsion, in Spain and the New World. Sharonah has an MA in Renaissance and Medieval History from Tel Aviv University, as well as a BA in Latin American Anthropology from SUNY Buffalo, and a TEFL English Teaching Certificate from the International TEFL Teachers Consortium (ITTO) in Guadalajara, Mexico.
For Further Reading
Slavery in Brazil (10th edition) by Herbert Klein, Cambridge University Press, 2009.
Children of God's Fire: A Documentary History of Black Slavery in Brazil by R. Edgar Conrad, Ed., Princeton Press, 1983.
Brazil by Solena Bryant, Oxford Univ. Press, 1985.
When & Where

Changing Hands Bookstore
6428 S McClintock Dr
Tempe, AZ 85283


Tuesday, August 26, 2014 from 7:00 PM to 8:30 PM (MDT)
Add to my calendar
Organizer
The Arizona Center for Medieval and Renaissance Studies (ACMRS) was founded in 1981 as a state-wide research unit charged with stimulating the interdisciplinary exploration of medieval and Renaissance culture. Its activities cover a period roughly from AD 400 to 1700. ACMRS coordinates programs at ASU, Northern Arizona University in Flagstaff, and the University of Arizona in Tucson. Among the activities and programs the center sponsors are a semi-annual distinguished lecture and ad hoc lecture series, an annual distinguished visiting professorship, an annual conference, a public symposium, and summer study-abroad programs in the United Kingdom and Italy. The Center also awards undergraduate and graduate certificates in medieval and Renaissance studies to students completing required coursework.
---
MAJOR RESEARCH PROJECTS AND PUBLICATIONS
MAJOR RESEARCH FUNDING SOURCES
National Endowment for the Humanities

Program for Cultural Cooperation Between Spain's Ministry of Education, Culture and Sports and U.S. Universities

Iter Inc., (University of Toronto)

Samuel Kress Foundation

Institute for Humanities Research