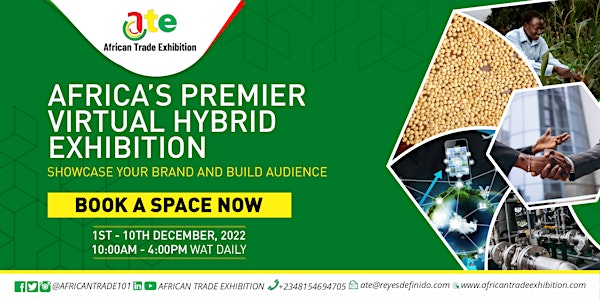 AFRICAN TRADE EXHIBITION
Demonstrate Your Product & Services by positioning your company as the leading solutions provider to your prospective clients and customers
About this event
One of the significant resources to facilitate trade in Africa is to mitigate communication and logistics gaps with the above-stated in mind, it is very pertinent for the emergence of a virtual hybrid African Trade Exhibition platform to showcase Africa's:
Inventions;
Innovations;
Products;
Services and;
Africa's rich diverse cultures.
Demonstrate Your Product and Services. Lead the conversation & distinguish your brand, position your company as the leading solutions provider to prospective clients and customers.
Reasons to participate:
Over 50,000+ Attendees;
48 participating countries in Africa;
50+ Speakers;
30+ Sessions;
Business-To-Business Networking;
Business-To-Customer Networking;
Boosting Intra-African Trade;
Empowering entrepreneurs to become sustainable;
Generate employment for the continent;
Promote the African Tourism sector;
Enhancing Intra-African Trade.
Reasons to Attend:
Exhibition of African inventions;
Explore Africa's innovations and innovators;
Get insight into today's most significant African trade opportunities;
Stimulate new ideas through inspiring Sessions;
Bridge expertise gaps with informative Sessions;
Access solutions to enhance the ease of doing business;
Connect with African entrepreneurs, CEOs, MSMEs, Chambers, and business leaders;
Promote trade and investment opportunities;
SMEs and Entrepreneurs Capacity Development Seminars;
Access to Investors;
Access to Finance.
Who and What will you find at African Trade Exhibition?
African Trade Exhibition is a melting pot for African:
Products
Services
Micro, Small, and Medium Enterprises (MSMEs)
Entrepreneurs
Business shapers
Development experts
Investors
Policymakers
Innovators
Dealmakers
Influential thinkers
Conglomerates and
Visitors.