ALL TICKETS ARE SOLD OUT, PLEASE CHECK OUT OUR AFROBEAT BRUNCH DOWN BELOW AS WELL :) All people without tickets are welcome to come as well!
About this Event
African Night is a region-wide cultural celebration that provides a platform for diverse expression amongst alumni, current students, faculty, as well as other Midwestern African student associations. This authentic and inclusive event held on campus highlights African culture through different acts of singing, dancing, spoken word and poetry, and a flag ceremony that displays our unity. African Night unites the greater OSU community with a great community turnout. As we showcase our various cultures, African Student Organizations from neighboring schools are invited, as well as the OSU community, to celebrate the rich derivatives and inclusiveness of our cultures.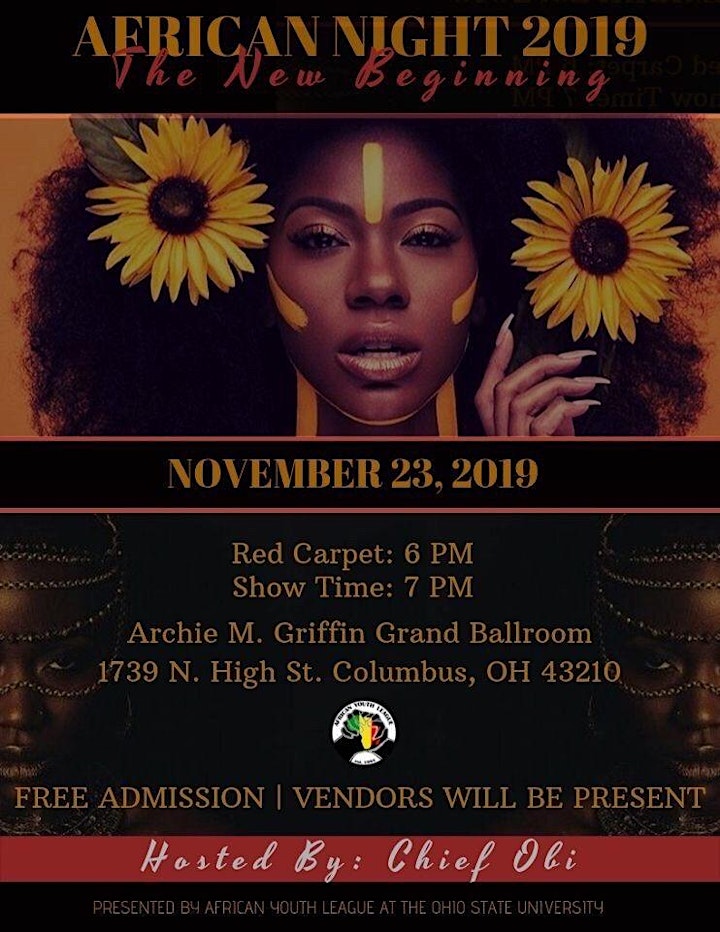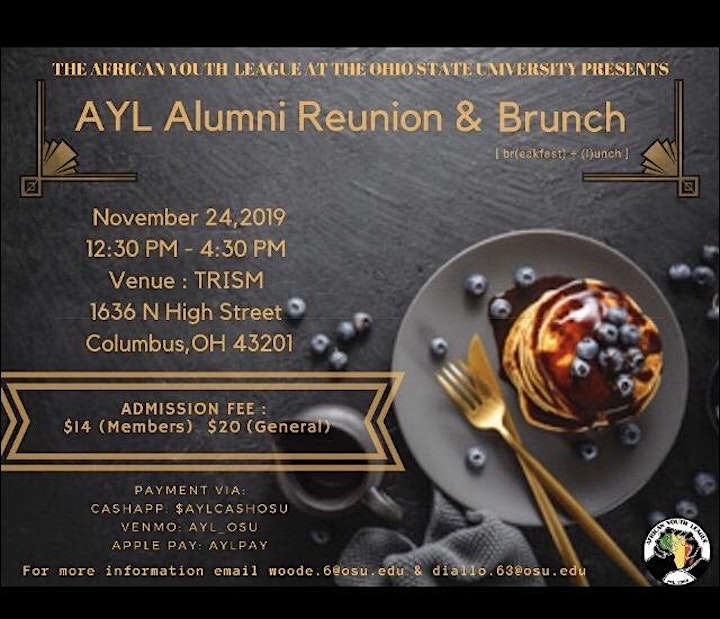 Welcome to the Inaugural African Youth League Alumni Brunch Event! We are very excited to extend our Annual African Week to cater to our Alumni! This will be a great way to end the week full of programs that educate, promote and raise awareness of the African Diaspora. The brunch will serve as a social and networking forum for both alumni , current members and the public. We appreciate all you have done for African Youth League's history, thus, we have designed an event especially for you including a brunch buffet for dining. What other great way is there to network, socialize, mingle, and dance to good food and AFROBEATS! No Excuses, See you there!!
Registration Form: https://docs.google.com/forms/d/e/1FAIpQLScELk66VhIK1ObOa6WyOCsmgQa2P1wLo27D
5bjt2ccLiXIeWA/viewform
REGISTRATION ENDS SOON SO HURRY !
Date: November 24th, 2019
Time: 12:30-4:30 P.M.
Address: 1636 N High St, Columbus, OH 43201
Admission Fee: $14 for Members, $20 for General Admission
Contact us at woode.6@osu.edu or diallo.63@osu.edu
Please make sure to bring a valid ID along to the event to allow entrance!