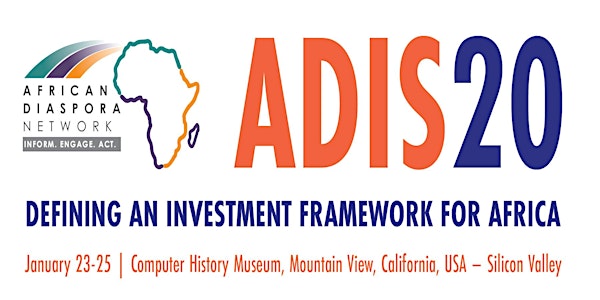 African Diaspora Investment Symposium 2020
ADIS2020 is the 5th annual convening of leaders, innovators, investors, and entrepreneurs who seek to uplift the African continent.
When and where
Location
Computer History Museum 1401 North Shoreline Boulevard Mountain View, CA 94043
Refund Policy
Refunds up to 7 days before event
Eventbrite's fee is nonrefundable.
About this event
For more detail: https://www.adis20.com
By building bridges among Africans, Diasporans, and friends of Africa, the conference aims to inspire and empower participants to be agents of change and active contributors to Africa's development.
The flagship event, held annually in Santa Clara County, California, USA, convenes entrepreneurially-minded, Africa-focused, high-level leaders and professionals from across the world for insightful dialogue around investment and innovation in Africa as well as partnership and mentorship opportunities. The symposium activates the potential of partnership, drawing over 1000 participants from Africa, Europe, Canada, and the United States over its past four editions.
ADIS2020 seeks to define an investment framework for Africa through workshops, panel discussions, fireside chats, and participant-driven design labs focused on designing streamlined and sustainable systems across the continent. With a key emphasis on harnessing the power of digitization, major themes include:
- The Role of Government and Businesses to Create Private-Public Partnerships
- Investment and Entrepreneurship to Build Thriving Communities in Africa
​African Diaspora Network invites you to our signature conference to celebrate five years of ADIS, fostering the ingenuity of the African community at home and abroad alongside champions from around the world.
Thursday, January 23: Pre-ADIS Convening & Evening Launch Reception
ADIS participants are invited to join our pre-ADIS convening! Attend our afternoon private meetings and events or take a tour of the Computer History Museum. Join us for an evening reception as we welcome participants to network over hor d'oeuvres, light refreshments, and live entertainment. Meet fellow attendees as we gather in community to celebrate the launch of ADIS2020 and our fifth annual Barka Awards ceremony. ​ The opening reception is sponsored by the Conrad Hilton Foundation.
9:00 - 11:00 am | African Diaspora Philanthropic Advisor Meeting
The African Diaspora Philanthropic Advisor (ADPA) Network will gather for their first San Francisco meeting connecting with advisors from around the U.S. and the world. Participation in the global network is open to staff, independent consultants, and advisory firms currently providing advice or guidance directly to donors of wealth or means including those working at family foundations or corporate giving programs in which a living donor or immediate family member(s) remains involved in the entities' decision-making.
6:45 - 7:05 pm | Blended Value and Social Enterprise Initiatives in Africa
How does the adoption of entrepreneurial principles enable congregations to become more financially self-sustaining while scaling their impact serving the poor in their communities? Sisters are often among the most trusted community members, augmenting their ability to engage potential customers and beneficiaries as well as youth in the products or services of the enterprise. Discover the work of these "builders of Africa's future" at the community and grassroots level.
Friday, January 24: Designing Streamlined & Sustainable Systems Across the Continent
The first day is designed to provide a space for dialogue on the role of governments and businesses to create private-public partnerships on sustainable infrastructure in the areas of finance, technology, energy, and innovation.
Context Setter: Africa's Ease of Doing Business Rankings & The Myth of Entrepreneurship.
What best practices and principles are elevating African economies? What would it take for American investors to invest in Africa? Analyzing growing trends amidst the rise of smaller African economies, measurements based upon the ease of doing business indicate that streamlined and sustainable systems facilitated by digitization are key. How do we move past the myth of entrepreneurship toward infrastructures and technologies that will catalyze a business revolution in Africa? This context setter provides an overview of the challenges the continent faces as we consider approaches toward building a thriving Africa.
Digitizing Africa to Create Systems of Accountability & Transparency
Digitization and innovation come hand in hand. In 2018, Kenya, Mozambique, Malawi, Rwanda, Uganda, and Senegal were recognized as "innovation achievers" by the Brookings Institute for having successfully harnessed technologies for economic development. This session explores the ways in which digitization has provided avenues toward systems of accountability and transparency, such as improving records through retail payments systems, boosting financial inclusion, particularly of women entrepreneurs, promoting sustainable business models, and improving revenue administration.
Power Africa: Energy & Renewable Resources
According to USAID, two out of three people in sub-Saharan Africa lack access to electricity. How do we go beyond the grid to increase the number of people who have access to power? This session examines projects including Power Africa, launched in 2013, that leverage partnerships to achieve the effective implementation of clean energy systems and efficient electricity generation to millions of homes and businesses on the Continent.
Diaspora Remittances and Sustainable Development Agenda 2030
The World Bank estimates in 2018, Africans in the diaspora remitted $46USD billion. This figure reflects the magnitude by which Africans in the diaspora are participating in economic development of the continent. In addition, the figures reflecting levels of both education and economics show the latent potential of the African diaspora community for mobilizing greater human and capital assets in support of their home communities in Africa. In this session, our speakers will discuss how remittances from Africans in the Diaspora is contributing to several of the SDG's, the role of technology to transform markets, and the regulatory environment from the sending countries and the Continent.
Session A: Intra-Africa Payments Systems: Mobile Money and the Role of Technology
Transaction flows among Africa have transformed since the inception of mobile money. Removing major market barriers, cell phones and other digital technologies have been employed to streamline payments systems across the continent. How has the movement of financial flows across borders changed and expanded overtime? This session examines movement of financial flows and goods and how Africa may accelerate intra-regional trade within the Continent.The first day is designed to provide a space for dialogue on the role of governments and businesses to create private-public partnerships on sustainable infrastructure in the areas of finance, technology, energy, and innovation.
Session B: The Prosperity Paradox: Building Market-Creating Innovation for Africa
Entrepreneurs transform complex and expensive products into simpler and more affordable ones – products and services that don't just target the 80 million consumers in Africa's middle class, but the 800 million who are not yet full participants in the global economy. This session will shed light on the progress of the market-creating innovation movement by bringing together key stakeholders in the ecosystem. Over the past decade, for example, Harambeans have spawned a series of market-creating ventures such as Andela, Flutterwave and MAX – a pan-African network of startups, which have raised over $400m and are valued at over $1bn.
Africa Entrepreneurial Ecosystem
What is the State of the Entrepreneurship Ecosystem in Africa? Africa is fertile for innovation, entrepreneurship, and investment, thanks to its young, eager to learn, and vibrant population. Yet, compared to the rest of the world, Africa is still lag behind other regions in developing an ecosystem that is conducive to creating sustainable and thriving businesses. In this session, you will hear from African SME's on the challenges and opportunities they face to overcome structural factors and produce some of the most innovative and successful enterprises on the continent.
Fireside Chat with Joshua and Nate Ghaim: Diasporans are Entrepreneurs, Philanthropists, Investors, and Innovators
How does one thrive in the midst of migration? Diasporans share the challenge of establishing roots in a new country for their families and themselves. Joshua Ghaim, CTO of Johnson & Johnson, and Nate Ghaim, CEO of Hanzo Logistics, Inc., will share their stories of overcoming barriers in pursuit of a good education and career, while maintaining their traditional values, family, community, friendship, and generosity. Learn from the paths of two leaders who are an inspiration to all those who are working to find their way in the ecosystems of innovation, investment, and entrepreneurs.
Saturday, January 25: Investment and Entrepreneurship to Build Thriving Communities in Africa
The second day builds upon day one to understand how a workable infrastructure can be applied to create thriving ecosystems in health care, agriculture, and education through investment and entrepreneurship.
Session A: Agriculture: Africa, the Breadbasket of the World
According to an analysis by McKinsey & Company, Africa's agricultural footprint amasses 23% of the sub-Saharan region's GDP, with more than 60% of the population being smallholder farmers. However, the potential of agriculture has yet to be fully tapped. How do we increase productivity through crops and livestock? This session digs into opportunities for growth among various countries across the Continent, accounting for factors such as supply and demand, land expansion, competition, and the role of government, investors, and development partners.
Session B: Accelerating African Impact Entrepreneurs: How might we strengthen the pipeline?
Entrepreneurship in Africa is booming. Over the last decades we have seen a parallel rise in international and local accelerators focused on supporting the growing pipeline of founders who are innovating product and business solutions to Africa's most pressing challenges. Nevertheless the number of African-led social enterprises that have risen to attract the level of capital necessary to truly scale their impact is still small. In this session, you will hear from three Africa-focused accelerators who will share their learning and key challenges in unlocking the continent's entrepreneurial potential. Session participants will be invited to directly engage in developing potential solutions to some of these challenges by using several MIT D-Lab participatory design tools as a framework for ideation.
Education in Africa
With the expected population boom anticipated to double by 2050, Africa must look to its youth to hone talent and skills for its next generation of leaders and workforce. Education is widely recognized as the great equalizer, and entrepreneurs and innovators are leveraging new means of expanding and enriching education in Africa. Explore the challenges that educational organizations are addressing and how digitization and revolutionizing curriculum have become key steps to unlocking African potential and excellence.
Providing Access to Affordable and Quality Health Care in Africa
Public health care in Africa has faced numerous historical barriers ranging from a lack of funding to poor infrastructure. Across countries, the quality of health care varies vastly, but improvements in services are slowly budding in various regions. What best practices have been implemented to improve public and private health care systems, how does insurance vary per region, and how can treatment become more accessible? This session takes a look at case studies across African nations and what is being done to address challenges in infrastructure, doctors' shortages, facilities, and quality of care on the continent.
Builders of Africa's Future Awards Ceremony
BAF serves to showcase and award entrepreneurs who are running early stage for-profit and not-for-profits that are addressing Africa's unique needs through technology or differentiated business models. These unique needs are in health, education, energy, financial inclusion, gender inclusion, nutrition, commerce, industrial development, and other socio-economic good. Founders and executives of companies that meet the above description represent the stories we want the community to learn about developmental progress on the continent. These enterprises and their leaders are our builders.
Networking Reception