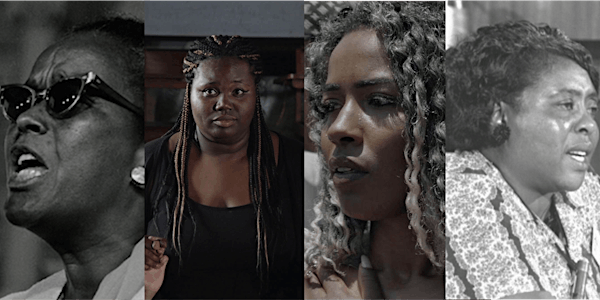 African Diaspora International Film Festival: Portraits of Women Leaders
Community film screenings and discussions featuring portraits of women leaders of African descent
When and where
Location
Schomburg Center for Research in Black Culture 515 Malcolm X Blvd New York, NY 10030
About this event
IN-PERSON
African Diaspora International Film Festival (ADIFF) and the Schomburg Center invite you to a day of screenings and discussion about women leaders of color with the "Portraits of Women Leaders of African Descent" presented by the National Endowment for the Arts.
Through film screenings and discussion, witness how women of African descent from around the world have risen in society and influenced politics and political movements. Register for all day or individual screenings!
The African Diaspora International Film Festival (ADIFF) is a Harlem based woman-led not-for profit international film festival that presents, interprets and educates about films that explore the human experience of people of color all over the world in order to inspire imaginations, disrupt stereotypes and help transform attitudes that perpetuate injustice. Learn more at nyadiff.org.
FREE AND OPEN TO THE PUBLIC
SCHEDULE
1 PM
SHE HAD A DREAM | Ghofrane, 25, is a young black Tunisian woman. a committed activist who speaks her mind, she embodies Tunisia's current political upheaval. As a victim of racial discrimination, Ghofrane decides to go into politics. Directed by Raja Amari, Tunisia, 2020, 90min, documentary, Arabic and French w/English subtitles
3 PM
THE DAPHNE PROJECT – Q&A After the Screening | Daphne Wilco, actress and social justice warrior, wreaks havoc on a production of Euripides' "The Bacchae" in the name of progress, her progress. Directed by Zora Iman Crews/Alec Tibaldi, 2021, Comedy, English
6 PM
Women Leaders in the Civil Rights Movement Program: Fanny Lou Hamer & Ella Baker
THIS LITTLE LIGHT OF MINE: THE LEGACY OF FANNIE LOU HAMER | Follows one woman's journey from sharecropper to grassroots organizer to beaten and jailed protester to political powerhouse – and along the way proves every voice matters. Directed by Robin Hamilton, US, 2016, 20 minutes, documentary in English
FUNDI: THE STORY OF ELLA BAKER | Reveals the instrumental role that Ella Baker, a friend and advisor to Martin Luther King, Jr., played in shaping the American civil rights movement. The dynamic activist was affectionately known as the Fundi, a Swahili word for a person who passes skills from one generation to another. Directed by Joanne Grant, US, 1981, 83 minutes, documentary in English
8 PM
PANEL DISCUSSION | Portraits of Women Leaders with Robin Hamilton, Director This Little Light of Mine: The Legacy of Fannie Lou Hamer; Nikki Lynette, Screenwriter Get Out Alive; Zora Iman, Director The Daphne Project; and Neri Torres, founder and artistic director of IFE-ILE Afro Cuban Dance Company, moderated by Shola Lynch, award-winning American Filmmaker best known for the feature documentary FREE ANGELA & All Political Prisoners and the Peabody Award winning documentary CHISHOLM '72: Unbought & Unbossed, and curator of the Schomburg Center's Moving Image and Recorded Sound division. The discussion will also be available for live streaming at youtube.com/theschomburgcenter.
ACCESSIBLILITY
ASL interpretation will be provided upon availability of interpreters. Live captioning is available for streaming programs. Additional accessibility requests can be made by calling 212-340-0951 or 212-340-0909, or e-mail accessibility@nypl.org.
_______________________
#SchomburgLive
Header image: Images from the featured films; pictured (l-r) Ella Baker, Daphne Wilco, Ghofrane, and Fannie Lou Hamer
PUBLIC NOTICE AND DISCLAIMER
IN-PERSON | By registering for this event, you are acknowledging that an inherent risk of exposure to COVID-19 exists in any public place where people are present. By attending an in-person program at The New York Public Library's Schomburg Center for Research in Black Culture, you voluntarily assume all risks related to exposure to COVID-19 and agree not to hold The New York Public Library, its Trustees, officers, agent and employees liable for any illness or injury. If you have symptoms consistent with COVID-19 or suspect you have been in close contact with someone who has tested positive, please stay home.
VIRTUAL (Panel Discussion Only) | This Program uses a third-party website link. By clicking on the third-party website link, you will leave NYPL's website and enter a website not operated by NYPL. We encourage you to review the privacy policies of every third-party website or service that you visit or use, including those third parties with whom you interact with through our Library services. For more information about these third-party links, please see the section of NYPL's Privacy Policy describing "Third-Party Library Services Providers" at https://www.nypl.org/help/about-nypl/legal-notices/privacy-policy. During this Program, you will be using third-party platforms such as livestream.com/schomburgcenter, for the purpose of communication. This service may collect some personally identifying information about you, such as name, username, email address, & password. This service will treat the information it collects about you pursuant to its own privacy policy.
FIRST COME, FIRST SEATED Events are free and open to all, but due to space constraints registration is requested.  Registered guests are given priority check-in 15 to 30 minutes before start time. After the event starts all registered seats are released regardless of registration, so we recommend that you arrive early. 
GUESTS Please note that holding seats in the Langston Hughes Auditorium is strictly prohibited and there is no food or drinks allowed anywhere in the Schomburg Center.
AUDIO/VIDEO RECORDING Programs are photographed and recorded by the Schomburg Center. Attending this event indicates your consent to being filmed/photographed and your consent to the use of your recorded image for any all purposes of the New York Public Library.
PRESS Please send all press inquiries (photo, video, interviews, audio-recording, etc) at least 24-hours before the day of the program to Leah Drayton at leahdrayton@nypl.org.
Please note that professional video recordings are prohibited without expressed consent.