We will move and grove on fun, upbeat African song. This class is for all age and level. Come experience and learn about some African dances
About this event
Thank you for your email and thank you for making it possible for me to be there on time to conduct the workshop. I forwarded the song to Dana and she will work on it for me. Below is the bio, flyers and picture. Please let me know if you need something else. I am looking forward to Juneteenth.
Chefiatou Tokou aka Chefi the Minister Dancer is a dancer and choreographer originally from Togo in West Africa, currently based in Massachusetts. A life-long dancer, Chefiatou began her professional dance career over four years ago, focusing on teaching modern, contemporary and cultural African dance. Chefiatou has now developed her signature dance SIMDACA MOOV, which is a combination of Modern, Contemporary, and traditional African dance. She's also the founder and owner of a dance studio known as SIMDACA AFRICAN DANCE ACADEMY) where she champions the importance of teaching African Dance.
Chefiatou's classes grant her the opportunity to share her West African culture while promoting unity among all her students. She uses the historical significance of the dance moves as a means to teach about the country or region the steps originated from as well as how to identify the style of song they're moving to. Chefiatou consistently remains up to date on the latest dance trends of West and South Africa as Modern African Dance is a highly desired style in the industry today. More than simply a dance instructor, Chefiatou is known for motivating her students to dream big and fully realize their life's purpose. Chefiatou's inspirational classes have garnered an undeniable impact on the communities she serves.
Additionally, Chefiatou has been able to grow in her unique choreography through teaching classes at studios such as the Elite Dance Center in Foxboro, MA, Hartford Performs in Connecticut, where she teaches all ages along with hosting workshops and performances throughout the New England area. Her classes have resumed in person at Elite Dance center in Foxboro.
To make cultural African dance accessible to the greatest number possible, she conducts workshops and performances at different events all over the states, continuing her efforts to introduce African dance to everyone.
For more info please follow her social media page or contact her at 508-851-9101
YouTube: Simba Simdaca
Ig: @simdacaa
Facebook: SIMBA AFRICAN DANCE ACADEMY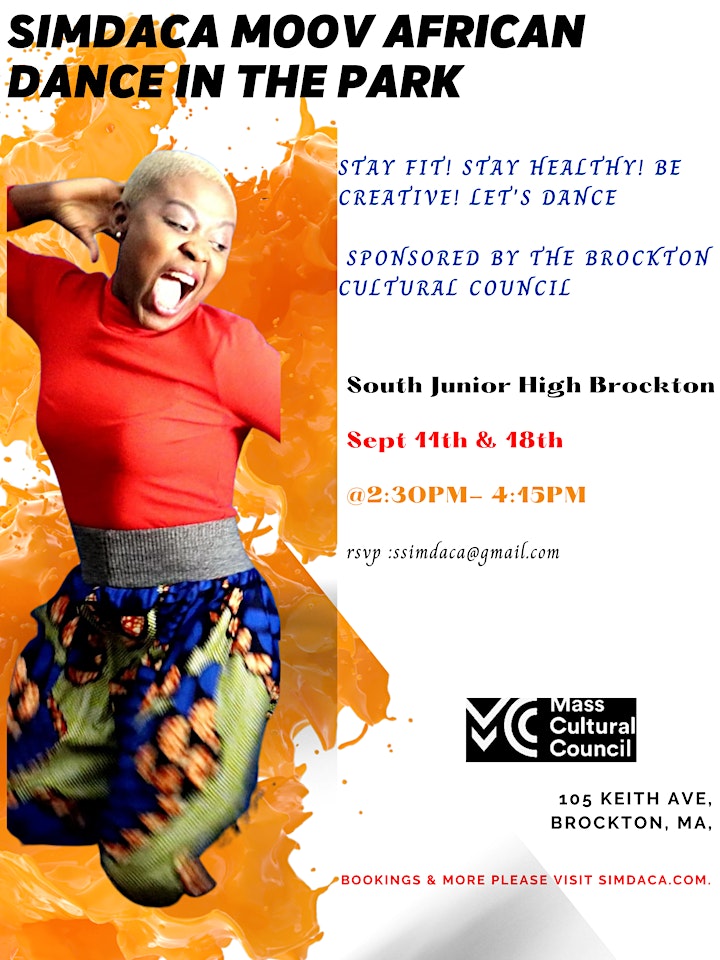 Organizer of AFRICAN DANCE IN THE PARK
Chefiatou Tokou is a dancer and choreographer who teaches contemporary and cultural African dance. Chefiatou is from Togo (West Africa), she had been dancing all her life. She started professionally dancing and teaching over four years ago and has since developed her signature SIMDACA MOOV.
She currently teaches classes at the Elite Dance Center in Foxboro coupled with workshops throughout the New England area, where she motivates youth to dream big and walk in their life purpose.
Due to the current situation I am conducting sessions on Zoom and social media lives.)