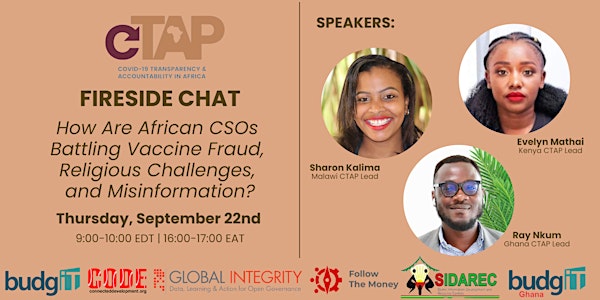 African CSOs Battling Vaccine Fraud, Religious Challenges & Misinformation
CTAP Fireside Chat: How Are African CSOs Battling Vaccine Fraud, Religious Challenges, and Misinformation?
About this event
Since 2020, COVID-19 and the challenges surrounding it have evolved. Likewise, the responsive interventions have also actively adapted to these challenges. Currently, some of the biggest ones in Africa -- and across the globe -- are vaccine fraud, religious obstacles, persistent misinformation.
The underlying issues are significant: health system procurement corruption, eroded trust in government capacity and accountability, misuse of social media, and contradictory cultural and religious beliefs rooted in past trauma that prevent people from seeking vaccines and care.
Nonetheless, the interventions are making strides against these challenges with various approaches, such as: mobilizing communities at the local level, running effective social media campaigns and trainings, and holding officials accountable for the lack of adequate response.
This fireside chat event on Thursday, September 22nd will bring together CSO leaders from three CTAP partner organizations in Kenya, Ghana, and Malawi to discuss the underlying issues and emerging innovations around the challenges and interventions.
Speakers
Evelyn Mathai: SIDAREC Program Leader | Kenya CTAP Lead
Sharon Kalima: Follow the Money Lead, Malawi | Malawi CTAP Lead
Ray Nkum: BudgIT Coordinator | Ghana CTAP Lead
Timezones
9:00-10:00 EDT (US)
13:00-14:00 GMT (Ghana)
15:00-16:00 CAT (Malawi)
16:00-17:00 EAT (Kenya)