ACD 2021 brings together social leaders (non-profit/social entreprises) to share ideas on how to sustainably lead social change in Africa.
About this event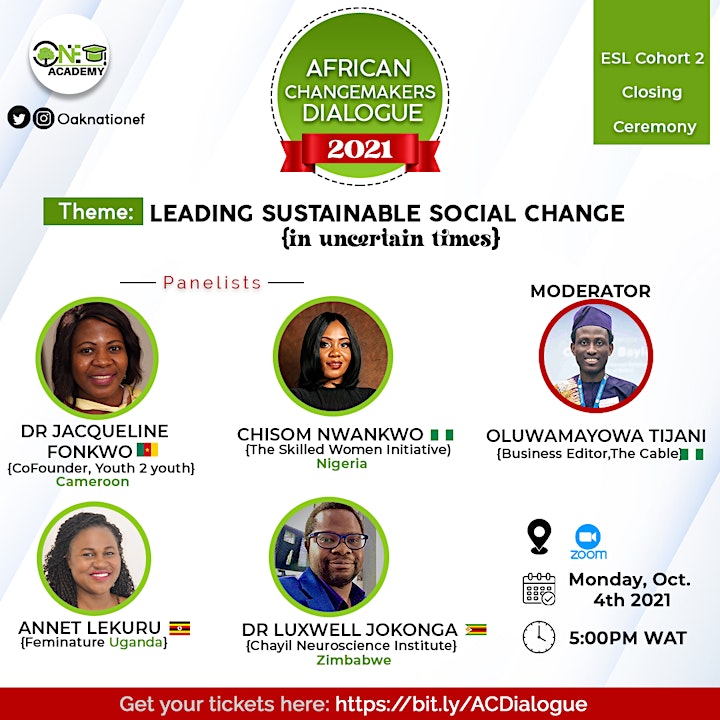 Solving the pressing challenges of Africa will require more than the efforts of the Governments and Businesses. The Social Sector remains a powerful innovation platform to rapidly solving African societal problems.
The COVID-19 specifically revealed the fragilities of the African states and call for more urgent need for social leaders who will rise with not just passion, but innovative yet feasible strategies to solve African problems.
AFRICAN CHANGEMAKER DIALOGUE 2021 is a conference where African social leaders rub minds on ideas, strategies and new inspiration on sustainably leading social change in Africa.
ACD 2021 will host 4 leading social changemakers from Nigeria, Cameroon, Zimbabwe and Uganda who will share on pertinent issues facing social leadership in Africa such as poor management structures, poor financing, low competence, weak human capitals, nonprofit fraud and much more.