African Caribbean Diaspora Presidential Inaugural Ball

Monday, January 21, 2013 at 7:30 PM

-

Tuesday, January 22, 2013 at 1:00 AM (EST)
Event Details
The First African Caribbean Diaspora Presidential Inaugural Ball!
Tickets are now discounted:
$110 for Grandball Tickets!

 (Discounted from $175)
$200 for VIP Tickets! (Discounted from $300)
$55 for Future Leaders! 

(Discounted from $60)
TICKETS ALSO AVAILABLE FOR FUTURE LEADERS BALL (AGES 6-17) $35

THE ENTIRE AFRICAN CARIBBEAN AND AFRICAN AMERICAN COMMUNITY AND OTHER NATIONALITIES ARE CELEBRATING THIS HISTORIC MOMENT HONORING PRESIDENT BARACK OBAMA - DON'T MISS OUT - GET YOUR TICKETS NOW!  CALL SONS AND DAUGHTERS OF AFRICA AT 240-475-6217 OR 202-509-5936 FOR MORE INFO!!!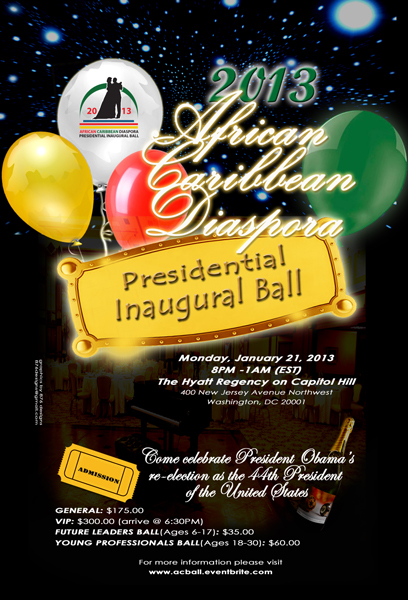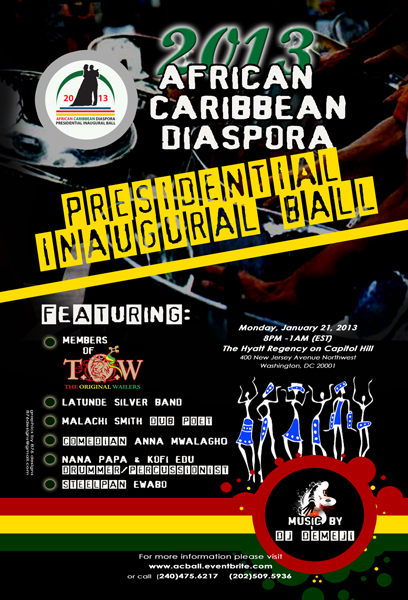 African Caribbean Diaspora Presidential Inaugural Ball to be held in Washington DC





The first African Caribbean Diaspora Presidential Inaugural Ball will be hostedMonday, January 21, 2013; 7:30 p.m. to 1:30 a.m. at the Hyatt Regency, Capitol Hill, located at 400 New Jersey Avenue, NW Washington D.C. 20001, in honor of President Barack Obama's reelection as President of the United States of America.  

Event Chair, the Rev. Dr. Agorom Dike stated, "This celebration is monumental to all people of African and Caribbean heritage whose demonstrated faith, hope and hard work allow us to share in this rich period of history." 

The event will include a delicious three course meal, a VIP reception, presentation of The African Caribbean Diaspora Award of Distinction and disincentive array of live entertainment including: 

members of The Original Wailers Band, 
The Latunde Silver Band, 
internationally acclaimed Dub Poet Malachi Smith, 
Comedienne Anna Mwalagho, 
renowned African drummer/percussionist Nana from Ghana, 
notable keyboardist and producer Papa Kofi Edu 
The Ewabo Steel Band
"the Singing of the Anthems," led by gospel recording artist Kari Holmes
Music provided throughout the night by Washington's own, DJ Demeji

Sign Language interpretation provided by Floyd and Betty Merriman and He Who Has An Ear Sign Language Ministry, also sharing a special musical presentation.

Recognition will be given to a number of distinguished leaders from throughout the Diaspora, including: 




Mr. Michale Blake, Associate Director, White House Office of Public Engagement and Deputy Associate Director of the Office of Intergovernmental Affairs; 

Congresswoman Donna M. Christensen, representing the people of the U.S. Virgin Islands; 
United States Representative Yvette D. Clarke, a Brooklyn native whose roots are firmly planted in her Jamaican heritage, serving New York's 9th District
Dr. D.H. Kortright Davis, Professor of Theology Howard University School of Divinity.
Mrs. 

Joy

 N. Kolawale Oyedeji

 who founded the NGO Social Welfare Widows, the Needy and Unemployed.  The acronym is Sowwnu. Ms. Oyedeji is traveling from Africa to attend this historic gathering in DC.
Coordinators will also share plans for the launch of an African-Caribbean Caucus in support of partnerships among Diaspora organizations.

The historic event is made possible by the collaboration of the Caribbean American Faith Based Leadership Council, the Virginia Caribbean Education Exchange Foundation (VCEEF), the Hip Hop Caucus and a host of businesses, organizations and faith based leaders throughout the Diaspora.



A  percentage of event proceeds will go towards student academic scholarships.  Ticket locations include: Irie Bar & Grille, located at Woodmord Town Center at Glenarden, 2200 Petrie Lane, Manham, MD (301) 386-4777; Sweet Mango Cafe located at 3701 New Hampshire Avenue Northwest  Washington, DC 20010 are selling tickets. For further event information, individuals may also call Event Co-Chair, Ms. Beryl Walters-Riley at (804) 262-6746, Sons and Daughters of Africa (SADA)/FDR Connections at (202) 509-5036 or Communications Coordinator, Kari Holmes at (610) 841-3869.  



 
EVENT ORGANIZERS
Organizers of the first African-Caribbean Diaspora Presidential Inaugural Ball Include:

Event Chair
Rev. Dr. Agorom C. Dikè
Chairman: Caribbean American Faith Based Leadership Council

Event Co-Chair
Ms. Beryl Walters-Riley
Founder/Executive Director: Virginia Caribbean Education Exchange Foundation and Honorary Consul for Jamaica in the Commonwealth of Virginia.

Event Co-Chair
Mr. Daniel Koroma
County Executive, African and Caribbean Communities at Montgomery County, Maryland

Event Trustee
Attorney Jaye Lowe, Esq.
CEO, Immigration Law Practice
Marketing and Entertainment Consultant 
Rev. Dr. Lennox Yearwood, Jr.
President and CEO, HIP HOP Caucus 

Event Communications
Rev. Kari E. Holmes
Deliverance International, Kenya, Zimbabwe, Jerusalem, US 
Event Publicity Coordinator
Joyce Rogers-Halliday
CEO Silver Spring Party Rentals

Coordinator: Future Leaders Ball Committee
Sindeli Dlamini
BUY YOUR TICKET AS SOON AS POSSIBLE, SPACE IS LIMITED!
When & Where

The Hyatt Regency on Capitol Hill
400 New Jersey Avenue Northwest
Address Line 2
Washington, DC 20001


Monday, January 21, 2013 at 7:30 PM

-

Tuesday, January 22, 2013 at 1:00 AM (EST)
Add to my calendar
Organizer
This event is organized by the African-Caribbean Diaspora Ball Committee (ACDPIBC), a collaborative committee consisting of organizations seeking to ensure continued development of continuity among stakeholders for people of the Diaspora and includes:
The Caribbean American Faith Based Leadership Council
Sons and Daughters of Africa
The Virginia Caribbean Education Exchange Foundation (VCEEF),
The Hip Hop Caucus, business professionals and congressional representatives.