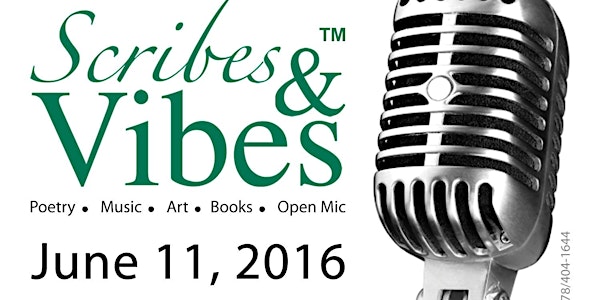 African-American Music Month Celebration
When and where
Location
Stonecrest Library 3123 Klondike Rd Lithonia, GA 30038
Description
Stonecrest Library presents…
Scribes & Vibes™ AFRICAN-AMERICAN MUSIC APPRECIATION MONTH CELEBRATION
hosted by Blu and El Uno
Poetry, Art, Music, Books, and Open Mic Performances
"1pm – 4pm, SATURDAY, June 11, 2016 at Stonecrest Library"
suitable for all ages | open to the public | reservations recommended
1pm - 2pm: @expressableink art exhibition with an art opening and reception for Shanequa Gay
1pm - 2pm: @authorshour with author talks by Warren Allen and Witty Lovett with an author meetup for local authors
2pm - 4pm: @scribesandvibes with spoken word by Dyonna,
Live Music by 4 year old drummer, Dylan Azriel Graham,
11 year old pianist and trumpeter, Joseph Daniels,
15 year old pianist and saxophonist, Nicholas Daniels,
and vocalist, Richelle L. Brown
with an open mic session featuring various poets and musicians
Sponsored By: Friends of the Stonecrest Library, Angie's House, Inc., Coffeehouse & Culture, and Expressable Ink
Address:
Stonecrest Library
3123 Klondike Road
Lithonia, GA 30038
Information: info@scribesandvibes.com
Local Art Exhibitions:
www.localartexhibitions.com
Local Author Signings: www.localauthorsignings.com
Local Author Collection: www.localauthorcollection.com
Open Mic:
You may sign the open mic list, to participate in the open mic at the library.
Sponsored Content:
Coffeehouse & Culture™
Visit www.coffeehouseandculture.com, to become acquainted with the local arts scene.
Coffeehouse & Culture highlights meetups held at coffee shops, libraries, bookstores, galleries, and museums.
Recycled Reads:
You may purchase recycled reads for as low as $1, at a Friends of the Stonecrest Library book sale. The Friends of the Stonecrest Library book sales will be held at the Stonecrest branch, 10:00 a.m. - 4:00 p.m., on the following 2nd Saturdays:
Saturday, August 13
Saturday, November 12
You may telephone (770) 482-3828 or visit the Stonecrest branch, to volunteer during a book sale or to apply for a Friends membership.
Scribes & Vibes™ BOOK DRIVE
SPREAD SOME BOOK LOVE: Help us collect new or gently used books for the Friends of the Stonecrest Library. Your book donations will help support the library. You may donate new or gently used, 1:00 p.m. - 4:00 p.m., every 2nd Saturday at Stonecrest Library.
To become a Book Drop Location or to receive additional information, you may email info@scribesandvibes.com.