About this Event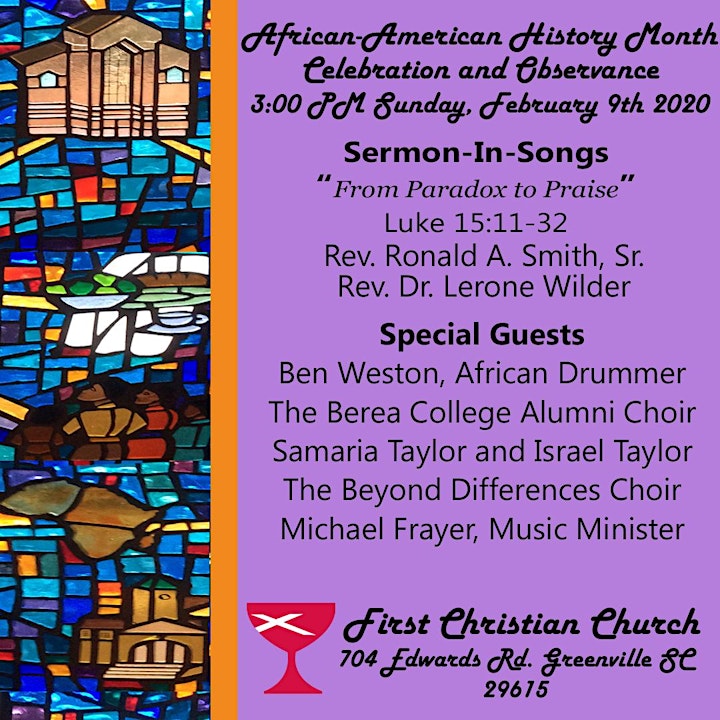 Sermon-In-Songs is the second annual celebration and observation of African American History Month put on by Frist Christian Church Disciples of Christ in Greenville, South Carolina.
The 2019 Sermon-In- Songs explored the biblical narrative of the Old Testament prophet Joseph. The theme was "We Are America Joseph" Movement I, The Creation, began with the reading of James Weldon Johnson's "The Creation" shared in male and female voices. Movement II America's Joseph' traced the journey of African American in America from enslavement; Movement III The Great Migration the driving force was African American seeking freedom and justice. Movement IV. The Wrongs and the Rights the journey toward freedom and justice continues. Musical selections were provided by the Berea Collee Alumni Choir.
We are excited about Sermon-In-Songs II. This year's theme is "From Paradox to Praise" The retelling of the biblical story of "The Prodigal Son" The sermonic moments will be provided by Rev. Dr. Lerone Wilder, Pastor of Mattoon Presbyterian Church and Rev. Ronald A. Smith, Sr. of Frist Christian Church Disciples of Christ, Greenville. The sermonic movements are movement I. The Great Migration; movement II. The Jim Crow Era; movement III. The New Jim Crow Age and movement IV. Why We Celebrate and Why We Sing.
Our special musical guests include: The Berea College Alumni Choir, The Beyond Differences Youth Choir, Ben Weston African Drummer, Michael Frayer, Sarmarria and Israel Taylor and Rev. Ronald A. Smith, Sr. Musically we will trace the Prodigal Son's journey from Negro Spirituals, Gospel, Contemporary Gospel music and a little R & B.
We are excited to celebrate and observe the achievements of African American history and legacy of faith, hope and trust in God who has and continues to make a way out of no way.
Sermon-In-Songs "From Paradox to Praise" Sunday, February 9th 2020 3:00 pm. First Christian Church, Disciple of Christ 704 Edwards Road, Greenville South Carolina. The event is free and open to the public.