African American Economic Summit

Saturday, August 27, 2011 from 9:00 AM to 4:00 PM (EDT)
Event Details
"Affirming America's Promise: Increasing Jobs, Entrepreneurship and Wealth in the African American Community"
The South Carolina NAACP and the School of Business at Claflin University are pleased to present the African American Economic Summit on Saturday, August 27, 2011 from 9:00 am until 4:00 pm.  The Summit will take place at Claflin's Fine Arts Center in Orangeburg, SC.  Registration begins at 8:30 AM.  Join us as we explore economic strategies that will enhance the African American Community even with today's economic uncertainty.
During the African American Economic Summit we will certainly focus on the persistent unemployment and underemployment of African Americans in South Carolina.  However, we will seek solutions to these longstanding challenges while examining ways to increase wealth in the Black community. 
The Summit will feature guest speakers, economists, entrepreneurs and other experts as speakers and panelists during the general sessions and breakouts.  If you are looking for a path toward financial enlightenment it begins here.  The NAACP and Claflin University are both proud to begin this significant community discussion – where it leads us will be determined by the persistence that summit-goers apply in following the guidelines for personal and community financial health.  
A special CEO Luncheon is a highly recommended optional selection for those attending the Summit.  However, the capacity is limited and seating must be purchased in advance. A closing session is planned so that all participants will be aware of the plan going forward.
Individuals will leave the summit empowered knowing: the current economic outlook for African Americans in South Carolina; where opportunities are for small business growth and expansion; tools necessary to build, create, and sustain wealth; the current and future job outlook for South Carolina; and how each individual can join the NAACP in its efforts to create an economically vibrant African American community in South Carolina.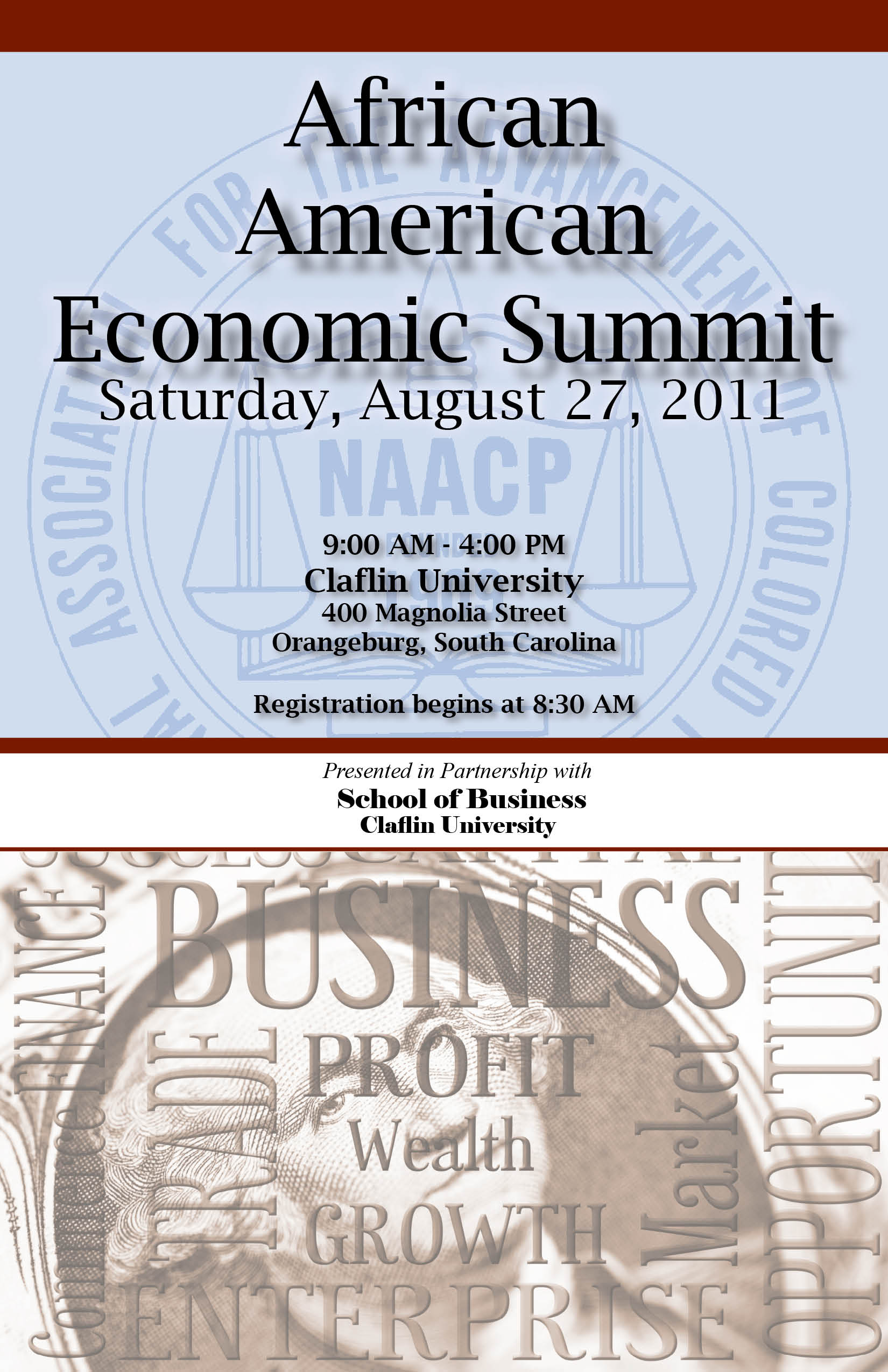 When & Where

Claflin University
400 Magnolia Street
Orangeburg, SC 29115


Saturday, August 27, 2011 from 9:00 AM to 4:00 PM (EDT)
Add to my calendar
Organizer
South Carolina State Conference, NAACP
The South Carolina NAACP is the leading nonpartisan civil rights organization in the state of South Carolina. The mission of the NAACP is to ensure the political, educational, social and economic equality of rights for minority group persons and to eliminate racial hatred and racial discrimination.
African American Economic Summit