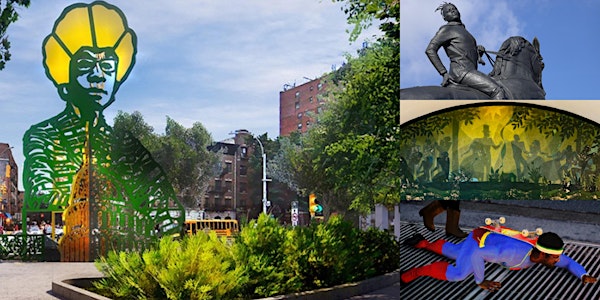 'African American Culture in NYC's Public Art' Webinar
Can't make it live? Register and get access to the full replay for one week! New York Adventure Club | www.AdventureClub.com
By New York Adventure Club
Date and time
Tuesday, February 21 · 10 - 11:30am PST
About this event
While New York's public art is meant to encapsulate a sense of identity and embody its residents, the city has had a spotty history in terms of equal representation — especially when it comes to its African American community, which has been misrepresented in many 19th and early-20th century statues and monuments. Fortunately, the city has been working in modern times to usher in a new, long-overdue era of inclusivity and representation. This is the story of the past, present, and future of New York's public art surrounding its black culture, historic figures, and identity.
Join New York Adventure Club as we explore New York's public art dedicated to its black history and representation, from heartfelt historic monuments to inspiring modern sculptures.
Led by Sylvia Laudien-Meo — art historian, museum educator, and NYC tour guide — this virtual art journey around New York will include:
Public art that recognizes important locations to New York's African community, including various cemeteries and the former neighborhood of Seneca Village
NYC statues and monuments that celebrate specific historic figures, including Civil Rights activists, artists, and athletes
Depression era murals in Harlem by Aaron Douglas and others
A selection of MTA subway stations celebrating African American communities and neighborhoods, including Chris Wyner's station on 110th St
Outstanding works by contemporary African American artists like Martin Puryear, Wangechi Mutu, Simone Leigh, and Hank Willis Thomas
Future public art projects to watch out for, such as David Hammon's Land's End and the Shirley Chisholm monument
Afterward, we'll have a Q&A with Sylvia — any and all questions about these artworks and artists are welcomed and encouraged!
Can't make it live? Don't worry, you'll have access to the full replay for one week!
See you there, virtually!
*Immediately upon registering, you will receive a separate, automated email containing the link to join this webinar
**For the best possible viewing experience, please ensure you're using the latest version of your internet browser — Google Chrome is the most compatible. Exact technical requirements and a webinar user guide will be shared in the automated confirmation email upon registration.
***A full replay of the experience will be available to all registered guests for up to a week
About Sylvia
Sylvia Laudien-Meo is a freelance Art Historian who works in and around the city in various capacities, specializing on Modern and Contemporary art, with a strong focus on Public Art. She teaches art history at Fairleigh Dickinson University and has been working as a museum educator at MoMA, the Guggenheim and the Jewish Museum for over many years, engaging visitors in conversation based, interactive art experiences of permanent collections and changing exhibitions.
For the Municipal Art Society, UFT, Brandeis Univ., and private clients, she has been touring the city for over 20 years, exploring art and architecture, parks, neighborhoods and history. Working in various different capacities gives her a unique opportunity to make intriguing connections and weave together the complex perspectives that make out the tapestry of our fascinating city.
SLM holds a Masters Degree in Art History (with minors in History and American Studies) from the Joh. Gutenberg University in Mainz, Germany, as well as a Tourism degree from the EST in Paris France.
Testimonials
"Wonderful artists and art that is both beautiful and loaded with meaning. Good commentary. Sylvia was brave to take on explaining fistulas." -Leigh
"Excellent ptesentation. Very informative! I can't wait to see many of the sculptures and murals." -Sandra
"Highlighted art work that doen't get a lot of attention. What breadth and diversity." -Linnea
"I love the explanation of works." -Bethene
"Excellent presentation. Very informative! I can't wait to see many of the sculptures and murals." -Sandra
"I love how Sylvia organized the art by the period or topic depicted." -Bethene
"Well organized and well presented including "context" material that makes this presentation invaluable." -Leon
"There was a lot of pictures along with the Art tour lecture." -Francine
"It provided a great survey of public art by and celebrating African Americans in New York, covering both the past and the present. Sylvia introduced me to many artists I did not know previously, and also showed me things I had heard about but never seen." -Lahring
"Just right amount of background/history on artists as well as subjects. Presenter able to deliver information with completely neutral tone and no hint of judgement ( this is amazing in today's world) yet still exhibited passion for the subject." -Sherle
"I loved seeing all these art works installed long after I had moved away. I'm so glad it was virtual, since I am no longer able to walk very far. I look forward to seeing this presentation again." -Naomi
Disclaimer
By attending a New York Adventure Club experience, you accept our terms of service.
Categories: Virtual, Art & Entertainment
About the organizer
NEW YORK ADVENTURE CLUB | Unlock Your City
We give you insider access to the city's best-kept secrets. But we're so much more than a tour company.
WHO WE ARE
We are a community-driven club that curates the most unique experiences in town, with a focus on history and storytelling. We show you a city you never knew existed, and offer a community you can't live without.
You won't find our special-access tours and exclusive events anywhere else. Think after-hours tours of New York City's most celebrated spaces, themed parties in unexpected locations, and weekend excursions to incredible destinations. All of our events end with social hangouts so you can meet people who love exploring as much as you do.
THE 'CLUB' IN NEW YORK ADVENTURE CLUB
Our current community is more than 50,000 members strong and includes everyone from recent NYC transplants to lifelong residents. Whatever borough you're from (or city or country, for that matter), we'll make it easy for you to take full advantage of the unique places and great people this city has to offer.  
Subscribe with our newsletter to get the inside scoop on the city's most interesting events.
 Visit our website to see our full line-up of fun experience.
"Don't be boring, go do something"
New York Adventure Club