AFP-NC July Day of Action Charlotte

Saturday, July 12, 2014 from 9:30 AM to 8:30 PM (EDT)
Event Details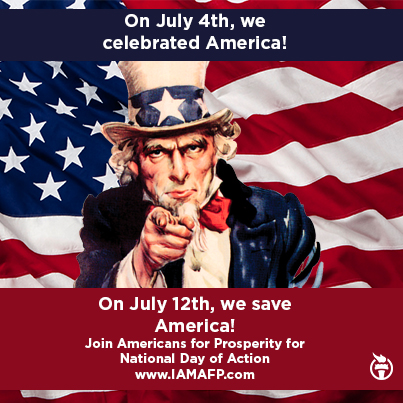 Join us Saturday, July 12th for our Day of Action in Charlotte featuring some friendly competition with other teams across the state and a chance to win airfare and a conference pass to DAD 2014!*
We will get started at 9AM with some brief instructions and then door knock from 10AM -1PM.
After enjoying a FREE lunch, we will hit the streets again and door knock from 2PM - 6PM.
A FREE dinner will be provided at 5PM and then we will conclude with two more hours of door knocking and phone banking from 6PM - 8PM.
Stay the whole day or pick the time that works best for you!
By attending this Americans for Prosperity event, you irrevocably consent and authorize AFP and its affiliates, related companies, and contractors, to record, film, photograph, or capture during the event and related events your likeness or image in any media whatsoever and to distribute, use, broadcast, or disseminate into perpetuity such media for any purpose whatsoever without any further approval from or any payment to you. The images in all media will constitute AFP sole property.
*Official Rules for the Americans for Prosperity North Carolina National Day of Action Contest
NO PURCHASE OR PAYMENT OF ANY KIND IS NECESSARY TO ENTER OR WIN THIS CONTEST. A PURCHASE WILL NOT IMPROVE CHANCES OF WINNING.

Rules forContest: By participatingin this Contest, Participants agree to be bound by these Official Rules and the final decision of the Contest. Decisions by Americans for Prosperity (AFP) are binding and final in every respect.

Eligibility: Americans for ProsperityNorth Carolina's National Day of Action Contest is open to all legal U.S. residents physically residing in the United States. Participants must be at least the age of fourteen (14) years old. This Contest is subject to all applicable federal, state and local laws. Void where prohibited.

PERSONS WHO ARE MINORS (GENERALLY, UNDER THE AGEOF18) SHOULD GET THE PERMISSION OF THEIR PARENT OR LEGAL GUARDIAN PRIOR TO ENTERING THE CONTEST. BY PARTICIPATING, YOU (IFA MINOR, YOUR PARENT OR LEGAL GUARDIAN) AGREE TO THESE OFFICIAL RULES AND ALL DECISIONS OF SPONSOR, WHICH ARE FINAL AND BINDING IN ALL RESPECTS. IF MINOR IS THE WINNING PARTICIPANT IN THE CONTEST, THE PARENT OR LEGAL GUARDIAN OF MINOR MUST EXECUTE A RELEASE ON BEHALF OF MINOR TO ATTEND THE DEFENDING THE AMERICAN DREAM CONFERENCE USING THE PRIZE.

To participate in this Contest, Participants must appear and register during theContest Period at either a designated AFP sign up location or register online at iamafp.com. There will be two winners, (1) the individual who made the most verified and completed phone callsand (2) the individual who made the most verified and completed door knocks, during the Contest Period. The maximum value of each prize is $710 and is not redeemable for cash.

A Participant is limited to one prize from AFP from this Contest and any other simultaneous AFP Contest. Employees, contractors, subcontractors, agents, board members, and any other individuals otherwise compensated by AFP or any of its affiliates or subsidiaries and the immediate family members of those individuals are not eligible to participate in this AFP Contest. In no event will AFP be liable for more prizes than outlined in theContest Details. Prizes are non-transferable and non-negotiable.

AFP is not responsible for anyproblems, bugs, or malfunctions Participants may encounter when participating in AFP's Day of Action and its related technology.

ContestPeriods: The Contest Period is July12, 2014, beginning at 9:00 a.m. in the Participant's
local time and concluding at 8:00 p.m. in the Participant's local time.

ConsumerDisclosure: A total of two prizes are available under this contest. All prizes will be awarded in AFP's sole discretion and will consist of one conference package to AFP's 2014
Defending the American Dream Summit being held in Dallas, Texas on August 29 and 30, 2014.
The package will consist of one conference pass and a flight voucher up to$550. Participant will be responsible for lodging, meals, and local transportation. Sponsor will not be responsible for reimbursement of any expenditure made by Participant or any accompanying guests to attend the Defending the American Dream Summit. The maximum value of the prizeis $710 and is not redeemable for cash.In the event of a tie after determination of the winners, Sponsor may elect to award identical prizes of the same value.

DeterminationoftheWinner: The winners will be selected from among all eligible
Participants during the Contest Period. The determination of the winner will occur no later than
72 hours after the completion of the Contest Period. The Participants will be chosen in AFP's sole discretion by reviewing its records to determine which Participant made the most phone calls, as determined by are view of theSponsor's phone system to verify the number and accuracy of calls made by the Participant, and which Participant made the most door knocks, as determined by are viewof the Sponsor's door knocking data to verify the number and accuracy of the door knock contacts made by the Participant. The odds of a Participant becoming a prize winner will vary depending on the total number of entries received during the Contest Period. AFP will contact winner through information provided during Participant's registration.

Publicity: Sponsor reserves the right to use for publicity purposes prior to,during, or after the Contest Period, in any media, the Participant's name, likeness, and city name throughout
When & Where

Morrison Family YMCA
9405 Bryant Farms Rd
Charlotte, NC 28277


Saturday, July 12, 2014 from 9:30 AM to 8:30 PM (EDT)
Add to my calendar
Organizer
Americans for Prosperity - North Carolina
AFP-NC July Day of Action Charlotte