| | |
| --- | --- |
| AFP FL: Patriot Days at the Capitol - February 15 and 16, 2012 | |
Event Details

 is proud to sponsor
Patriot Days at the Capitol
Featuring "The Rally in Tally"  
A coalition of Tea Party and Patriot Organizations from across the State committed to Limited Government, Fiscal Restraint, and Free Markets
**Americans for Prosperity - FL will be providing buses for patriot activists for this event as well as dinner on the 15th. The only cost each individual will be responsible for is the cost of his/her hotel room (we have made sure to find hotels where the rooms are all reasonably priced). You will need to book your own room and it is imperetive that you book at the hotel your bus has been assigned to. Please do so ASAP, as the cut-off dates vary between the hotels (see table below).
Once you sign up for your bus on this website, AFP will be contacting you to make sure you have reserved a room at the proper hotel. Each bus will be dropping off and picking up from its designated hotel ONLY. Please feel free to pair up with another member of your group and split the cost. Below are the hotel details for each bus.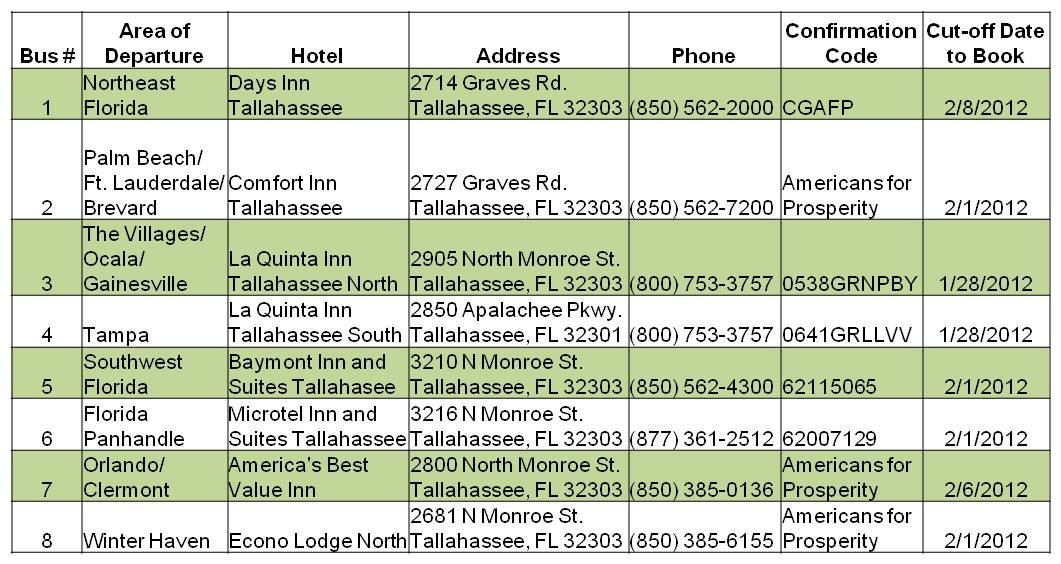 Please note, when booking your room, you will need to give them the correct confirmation code. (i.e. if you sign up for a seat on the bus coming from Jacksonville, you will need to reserve a room at the Days Inn Tallahassee using the code "71331593" in order to receive our exclusive group rate, and so on). 
Bus Pickup Locations:
*All buses will arrive in Tallahassee at 1:00 PM.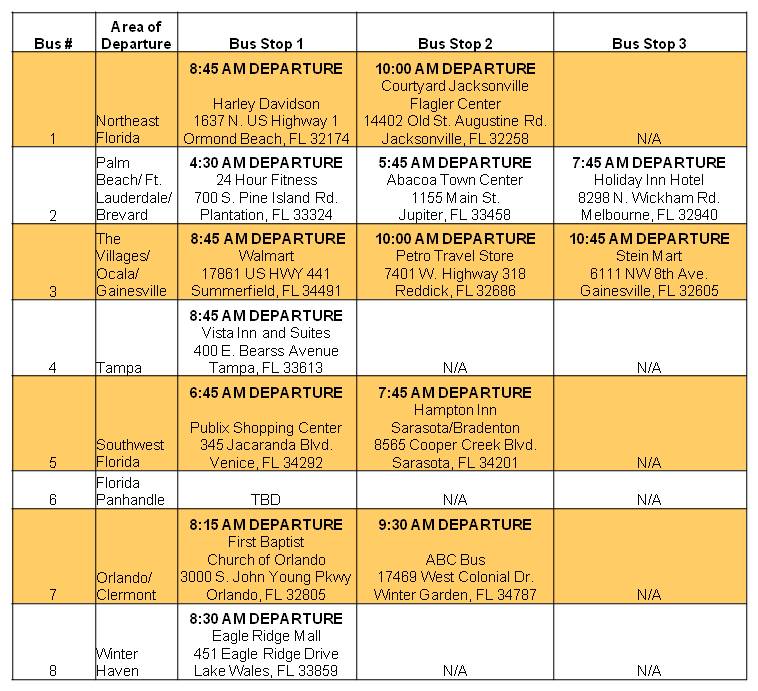 Below is the schedule for Patriot Days at the Capitol:
Wednesday, February 15th:
1:30 PM - Rally in Tally (A coalition of Tea Party and Patriot Organizations from across the State committed to Limited Government, Fiscal Restraint, and Free Markets), Old Capitol Steps
3:00 PM - 5:00 PM - Individual Meetings with Legislators, schedule your appointments ahead of time! You can find contact info for your legislators at http://www.flsenate.gov/Senators/Find
6:30 PM - AFP Reception and Dinner with Special Guest and Elected Officials, North Florida Fairgrounds, Building 2
               6:30 PM - Reception
               7:15 PM - Dinner
Thursday, February 16th:                  
8:00 AM - 12:00 PM - Breakout Sessions, the Old Capitol's Senate Chamber
 *Speakers will cover issues including the Constitution, Economic Freedom and the policies being addressed by the Legislature.
We hope you are as excited about this opportunity as we are. Please register for your bus and reserve your hotel room NOW! See you in Tallahassee!                                          
Organizer
Americans for Prosperity - Florida
Let's ALL Make a Difference!