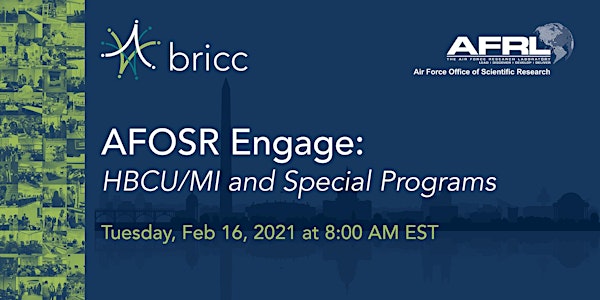 AFOSR Engage: HBCU/MI and Special Programs
AFOSR Engage: HBCU/MI and Special Programs
About this event
A webinar event for Historically Black Colleges and Universities and Minority Institutions (HBCU/MI) interested in working with AFRL:
Join us for a half-day webinar on Tuesday, February 16th, 2021— AFOSR Engage: HBCU/MI and Special Programs virtual event for HBCU/MI interested in working with AFRL.
The third webinar in our series will bring you a closer look at the Air Force Research Laboratory (AFRL) Research Enterprise. This event is an opportunity for researchers from HBCU/MI to learn about funding, partnership, and career opportunities available through AFRL and the Air Force Office of Scientific Research (AFOSR).
• Subject matter experts will be available LIVE to answer your questions and guide you to resources.
• Subject matter experts and AFOSR Program Officers will be on-hand for networking for up to one hour upon the conclusion of presentations and Q&A.
• Attendees will leave with a better understanding of how AFRL invests in the advancement of science and what program opportunities are available for HBCU/MI researchers.
• Get tips and resources from subject matter experts on applying for funding and building lasting relationships in the research ecosystem!
Instructions to join the Zoom Webinar will be shared with registrants on Friday, February 12th via an Eventbrite email.