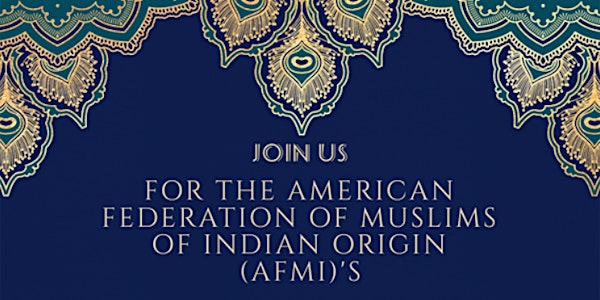 AFMI's 32nd Annual Education
Join us for AFMI's 32nd Annual Convention to celebrate our Indian Muslim heritage & efforts to make education accessible for Muslims inIndia
When and where
Location
Monty's Elegant banquets 703 South York Road Bensenville, IL 60106
About this event
The American Federation of Muslims of Indian Origin (AFMI) invites you to our 32nd Annual Convention on Saturday, October 22, 2022, at Monty's Banquet in Bensenville, Illinois, at 7 pm. This year's theme is; Our Stories Are Our Future, about the power of narrative to reimagine the future.
We will have the pleasure of hearing from a host of speakers from US & Indian politicians, activists, journalists, and academics exploring current dynamics.
For the last 32 years, AFMI has been at the forefront of working with communities and grassroots organizations throughout India to promote literacy and access to education for Indian Muslims. We work with educators to incentivize high academic ambition by providing scholarships for students in each state. These are awarded at our annual convention we hold in a different city in India every December. AFMI has been committed to building schools and making education attainable for hundreds of thousands of the most vulnerable throughout India.