Description
Dr. Emilie Gordenker, Director of the Mauritshuis and The Board of Directors of the American Friends of the Mauritshuis invite you to a private tour of:
Van Dyck: The Anatomy of Portraiture
Led by Stijn Alsteens, Curator, Department of Drawings and Prints, Metropolitan Museum of Art
Anthony van Dyck (1599–1641), one of the most celebrated and influential portraitists of all time, enjoyed an international career that took him from his native Flanders to Italy, France, and, ultimately, the court of Charles I in London. Van Dyck's supremely elegant manner and convincing evocation of a sitter's inner life—whether real or imagined—made him the favorite portraitist of many of the most powerful and interesting figures of the seventeenth century. This is the most comprehensive exhibition ever organized on Van Dyck's activity and process as a portraitist and the first major exhibition on the artist to be held in the United States in over twenty years. Through approximately one hundred works, the exhibition explores the astounding versatility and inventiveness of a portrait specialist, the stylistic development of a draftsman and painter, and the efficiency and genius of an artist in action. Read more…
To read a review in the Observer, click here.
For more Information, email: amolenaar@thenaf.org or call (212) 825-1221.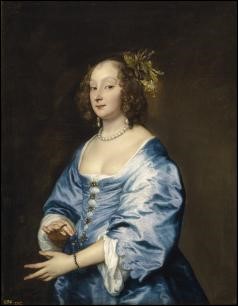 Anthony van Dyck, Mary, Lady van Dyck, née Ruthven, ca. 1640. Oil on canvas. Museo Nacional del Prado