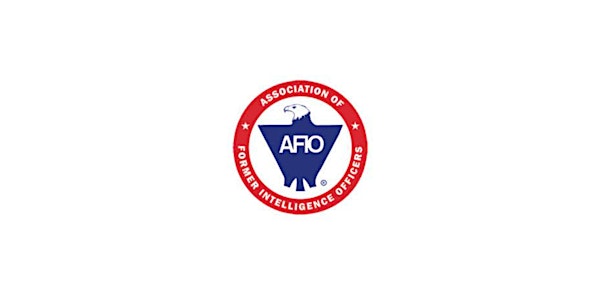 AFIO San Francisco Presents: Cpt. Richard E. Hanson on CIA in Vietnam
Topic: CIA Operations in Viet Nam and the use of CORDS "Civil Operations in Revolutionary Developments Support"
Date and time
Thursday, April 13 · 11:30am - 2pm PDT
Location
Basque Cultural Center 599 Railroad Ave South San Francisco, CA 94080
Refund Policy
Contact the organizer to request a refund.
Eventbrite's fee is nonrefundable.
About this event
2 hours 30 minutes

Mobile eTicket
Topic: CIA in Vietnam
Speaker: CPT. Richard E. Hanson, ret.
Date: Thursday, April 13, 2023
Location: Basque Cultural Center, South San Francisco, CA
Time: 11:30am no-host cocktail; 12 noon (Pacific) meeting starts
Registration and pre-payment required:
Speaker Bio:
CPT. Rich Hanson was raised in Billings, MT. Rich was a Boy Scout, a fisherman, hunter, and mountain trekker. He graduated high school, joined the US Army in 1965 and undertook Basic and Advanced Infantry training. He was invited to test for Officer Candidate School and completed OCS in March 1967. While serving in the 2nd of the Ninth Infantry in Korea, he was recruited by a CIA Officer for Cambodian language training with a guaranteed assignment to Special Forces upon successful completion. On Rich's 21st Birthday, he was given orders to Jump School and then to the "Crowell Collier Institute of Continuing Education", where he studied and learned for 47 weeks. His instructors were all Native and cohorts in the Khmer Kampuchea Krom, a large population of Cambodians living in South Viet Nam. All instructors were agents of CIA.
Rich was assigned to the 1st Special Forces Group on Okinawa in July 1969. He served as an Operations Training Officer until late December, when he volunteered for, and was accepted for assignment to CORDS, "Civil Operations in Revolutionary Developments Support". CORDS was a CIA group of Special Operations - some Unilateral (US Led).
During his time with CORDS, Rich was a CORDS Team Leader, with a Lieutenant and six experienced NCOs on his Team. He operated in Chau Doc (An Giang Province) in the Mekong Delta area. Rich survived a helicopter shoot down, severely injuring his spine. He returned to duty and eventually earned a Purple Heart, the Combat Infantry Badge, and the Silver Star in various combat actions. Rich also completed 11 Missions for CIA – all Top Secret at that time. After several years, He was invited to Langley and recognized for his participation in a very successful bomb strike in the Seven Mountains area, where over 300 NVA regulars were killed, confirmed by aerial photography.
After his service, Rich attended Golden Gate University on the GI Bill and earning a BA in Human Relations. He enjoyed a successful career as a Healthcare Analyst and Plan Designer. He has served as President of the AFIO San Francisco Chapter.
Rich is now a disabled Vet, and lives with his Wife Lelan in San Francisco.
About the organizer
The Association of Former Intelligence Officers (AFIO), a 501c(3), was incorporated in 1975 as a non-profit, non-political, educational association for current and former intelligence professionals and supporters of the U.S. intelligence community. The Andre LeGallo San Francisco Bay Area chapter was created as the local chapter of the Association of Former Intelligence Officers and meets regularly, featuring speakers on timely intelligence and national security topics.
AFIO Chapters are fully autonomous groups supported and chartered by AFIO National Headquarters to conduct activities in consonance with current AFIO by-laws, principles and educational objectives. Through meetings, publications and scholarships, chapter members and Associate members serve to maintain and strengthen professional and collegiate bonds.
AFIO members subscribe to the US intelligence community's core values of patriotism, excellence, integrity, dedication and loyalty. By understanding the history of intelligence from its ancient world underpinnings to twenty-first century wizardry, AFIO's key objectives and principles are to support today's needs and foster forward thinking for:
* A strong and responsible national intelligence establishment able to manage growing threats and issues in today's globally intertwined environment.
* Understanding of the intellectual, political, business and public communities for an effective and cohesive national intelligence infrastructure.
* Strategies in intelligence operations that support leaders at the local, state and federal levels as they make timely security decisions.
* Stimulation of interest in the career needs of US Intelligence and its contractors, among a wide range of students at high schools and universities around the country.
* Execution of effective national policies that advance the defense and security of the country, its citizens and its allies.