About this Event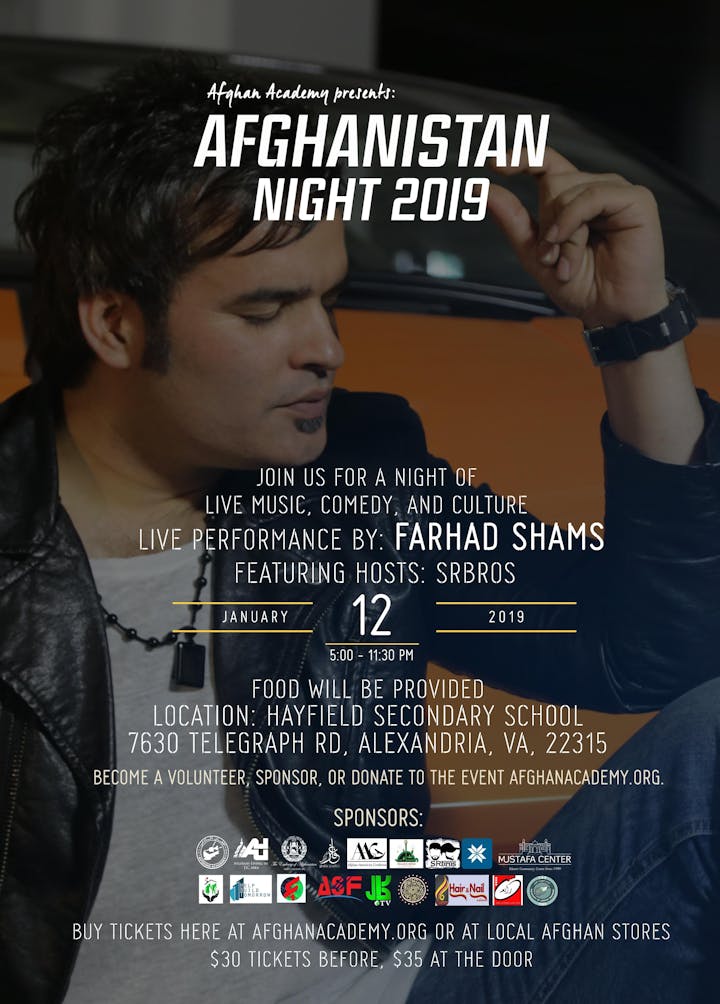 ***THIS EVENT IS POSTPONED. A new date will be selected.
Fairfax County has shut down all public schools due to bad weather therefore, AFGHANISTAN NIGHT 2019 IS POSTPONED. Please stand by for the rescheduled event date. We greatly apologize for any inconvenience this postponement is causing.
سلام به تمام افغانهای مقیم ایالت ویرجینا و حومه!
نسبت مسدود شدن مکاتب ناحیه فیرفکس به سبب خرابی هوا، برنامه شب افغانستان که قرار بود به تاریخ ۱۲ جنوري منعقد گردد تعویق گردید. منتظر تاریخ جدید تان از همین صفحه باشید. سپاس
په ویرجینیا کې ټولو میشتو افغانانو ته په ډېرې خواشینۍ سره خبر ورکوو چې د خرابې هوا له کبله د فیرفکس د سیمې ټول مکتبونه تړل شوي چې له وجې یې د افغانستان د شپې برنامه هم وځڼډیدله. په نږدو کې به د دغې برنامې نوې نیټه له تاسو سره شریکه کړو. مننه
Please refer to the links below for FCPS closure details:
https://www.fcps.edu/
https://content.govdelivery.com/bulletins/gd/VAEDUFCPS-227ab40
————————————————————————————————
Please join us for an unforgettable night promoting the Afghan culture!
***Event will include the following:
-Special guest co-hosts: SRbros Entertainment
-Traditional Tarana and Attan Dance
- Fashion Show
-Talent Show
-Afghan Success Stories
-Comedy Skits
-Food
-Vendors
-Non-Profit Organization Spotlights
-Live performance by well-known artist Farhad Shams!
Pre-sale tickets for adult/children tickets are $30. At the door, the tickets will be $35 for adult/children. All tickets will be verified at the event entrance.
Due to Fire Marshall standards, no strollers will be allowed at this event.
Feel free to reach out to AfghanistanNight2019@gmail.com if you have any questions.