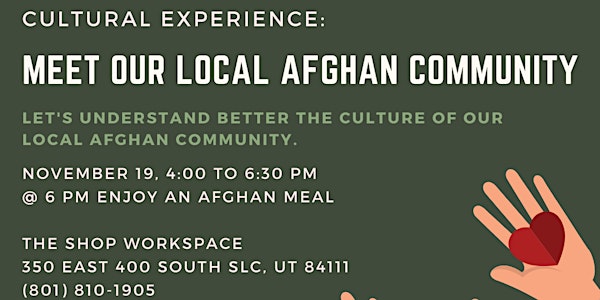 Afghan Cultural Experience, meet our local community (current residents)
Location
The Shop Salt Lake City
350 East 400 South
Salt Lake City, UT 84111
Sales Have Ended
Registrations are closed
Thank you for joining us in solidarity to welcome our Afghan community to Utah. We are so excited to learn more about Afghan culture with you. There is a suggested donation of $10 per person for the meal. You can donate via Venmo, to help out: www.venmo.com/u/Christ-Scientist-SLC ( last 4 of phone number is 9552 ) info@cssocietyslc.org 801.810.1905 P.S. You are welcome to come back to your registration and make changes in the future.
Cultural Experience! Meet our local Afghan community (current residents)
About this event
Utah is anticipating about 800 new people from Afghanistan. A couple dozen families have already arrived to our beehive state from the current exodus out of Afghanistan.
We want to help them feel welcomed, accepted, and loved as they arrive in Utah.
Our vision is that every Afghan refugee walks into their new home here in Utah with a spice kit on their kitchen counter. Spices means so much to the Afghan culture, and we want to help them feel comforted.
We are collaborating with the Utah Afghan Youth collective, Utah Muslim civic League, the Baskerville Institute, local Afghan immigrants, Catholic Community Services, the International Rescue Committee, Utah residents, and numerous local businesses for this event.
Agenda:
4:00 to 5:00 pm spice kit assembly service activity.
5:00 to 6:00 pm Afghan Cultural immersion talks and activities
6:00 to 6:30 pm Afghan cuisine served ($10 per person suggested donation)
We add a personal touch to the simple yet often overlooked needs of these refugees.
We interviewed several of our friends who are immigrants or refugees, and asked them questions about what they really needed and wanted when they first arrived in the US?
The one consistent answer that they all shared was
"Spices and Tea"
So we all agreed to get them spices. A of November 8, 2021 we have delivered 55 spice kits to our incoming Afghan families.
Check out the list of donations needed by clicking here:
copy and paste: https://tinyurl.com/care-kit-donations-UT-spice
***Update Catholic Community Services, and the International Rescue Committee storage is full, so The Shop workspace SLC has agreed to store donations until further notice.***
Donate via Venmo, so that we can purchase new spices, teas, tea sets, jars, and labels:
www.venmo.com/u/Christ-Scientist-SLC
(last 4 of phone number is 9552)
100% of all donations are going towards this project for the Afghan refugees. Any excessive donations beyond gifting spice kits, tea, tea sets, and personal care kits will be donated to Catholic Community Services at the completion of this project. All donors will receive a donation receipt for tax purposes.