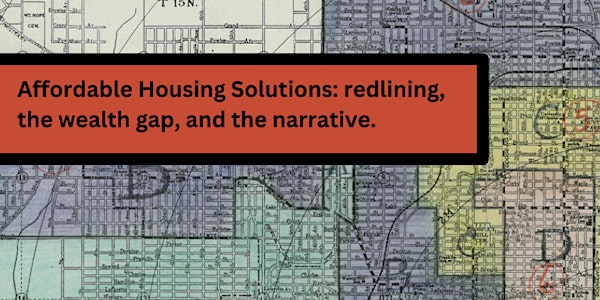 Affordable Housing Solutions: redlining, the wealth gap, and the narrative.
Join us for an afternoon of learning and exploration of solutions in the affordable housing ecosystem, including the impact of redlining.
When and where
Location
Barbara Weitz Community Engagement Center 6400 University Drive South Omaha, NE 68182
About this event
Documentary Screening:
Following the premier release of Affordable Housing: the crisis in Omaha, a documentary from Digital Moxie, a panel discussion will commence. Tim Kenny will facilitate a discussion on the reality of housing instability in Omaha, joined by the following guests:
Alicia Christensen (Together)
Nicole Engels (City of Omaha)
Stephanie Hoesing (Omaha Public Schools)
Erin Feichtinger (Women's Fund)
Featured Speakers:
Terri Crawford. J.D.: Addressing Redlining through Service Learning and Community Engagement initiatives at University of Nebraska at Omaha.
Sara Alvarado and Tiffany Malone of Own It (Madison WI): Challenging the system, changing the narrative, and breaking barriers: creating a movement in the real estate industry for Black wealth
Robin Rue Simmons (Evanston IL) : Solutions Only" leadership: the model to advance local reparations policies.
Front Porch Investments' Greenlining Fund: an opportunity to provide intentional reinvestment and direct resources to create or maintain homeownership in areas of historical disinvestment, through redlining or other disadvantages.
The event will offer a Q&A session with the speakers, and conclude with an optional tour of the UNO CEC's Undesign the Redline exhibit.
The Undesign the Redline Exhibit is a blueprint for deconstructing our most deep, systemic and entangled housing and public policy crises. The Undesign the Redline exhibit is presented as part of the Addressing Redlining through Service Learning and Community Engagement initiative spearheaded by Terri L. Crawford, JD, and will be housed at the CEC. Undesign the Redline explores the history of structural racism and inequality from 1938 Redlining maps until today, and how the community at large can come together to undesign these systems with intentionality.