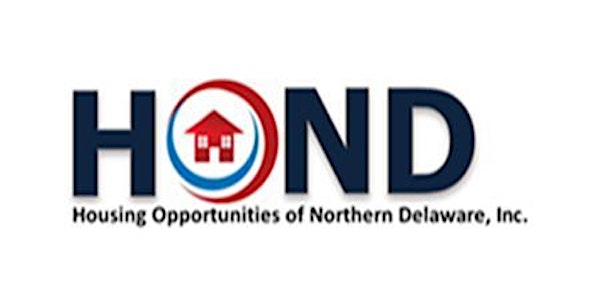 "Affordable Housing Matters: "Stabilizing Our Neighborhoods and Building We...
Location
DoubleTree by Hilton Hotel Downtown Wilmington - Legal District
700 North King Street
SUITE 1001
Wilmington, DE 19801
Description
Housing Opportunities of Northern Delaware, Inc. (HOND Inc.) would like to invite you to participate in its' 35th Annual Fair Housing Observance & Awards Luncheon being held from 12:00 PM until 2:00 PM on Friday, April 20, 2018 at the Doubletree by Hilton Downtown Wilmington located at 8th and King Streets in Wilmington Delaware 19801.
This year's theme is "Affordable Housing Matters: "Stabilizing Our Neighborhoods and Building Wealth through Homeownership". Vernita L. Dorsey, Senior Vice President, Director of Community Strategy, WSFS Bank, will be receiving the Andrew F. Turner Award. She is being recognized for continuing to create partnerships with non-profit organizations as they continue to strengthen, maintain, safe, and productive neighborhoods with diversified housing for all Delawareans. Carrie S. Casey, Director, Housing and Community Development Division, Community Services Department, New Castle County, will be receiving the Leon N. Weiner Award. She is being recognized for outstanding leadership in seeing the vision of diversified community of ethnically and culturally for New Castle County residents.
Under her direction, her division has completed Neighborhood Stabilization Program homes for the low, moderate and middle income families, neighborhoods have been diversified with the help of New Castle County with the Inclusionary zoning for new housing development; She is also a key staff person helping to development the Route 9 corridor projects, She also serves on the DE State Fair Housing task force.
Our honorees have shown commitment to eliminate and prevent housing discrimination in our neighborhoods.
HOND's partners and Board of Directors are working to make a difference in Fair Housing .We need your help to continue our work. We request your attendance as we recognize our honorees, who have volunteered years of service providing affordable housing in Delaware.
HOND's mission is to promote fair and equal access to housing for all Delawareans. Now more than ever, HOND's advocacy role is crucial for those families who face discrimination in their homeownership choice. HOND has assisted families in filing fair housing complaints with the Delaware Division of Human Relations. HOND has provided services for more than 350 families. The Fair Housing Services includes: 20 Fair Housing Law Forums; Fair Housing law Education to each client served., who participates in HOND"s program.
Please take a moment to consider being a Sponsor and/or place an Ad in our program booklet. This event is an annual fundraising event. Proceeds we receive from this event contribute our operating budget. We can continue to serve (250) families for first-time homeownership and mortgage foreclosure and default.
A Sponsorship and Advertisement form is attached for your consideration. If you need additional information about the 34th Annual Fair Housing Observance & Awards Luncheon, please contact Gladys Spikes @ 302-429-0794 or spikes@hond.org &cc:admin@hond.org
The deadline date to receive sponsorship and/or ad request is Friday, April 6, 2018. Also, tickets are available @$55.00.