Affordable Housing, Community Development, and the Impact of Regulation
A dynamic webinar with some of NY's premier thought leaders on afforable housing and community development.
About this event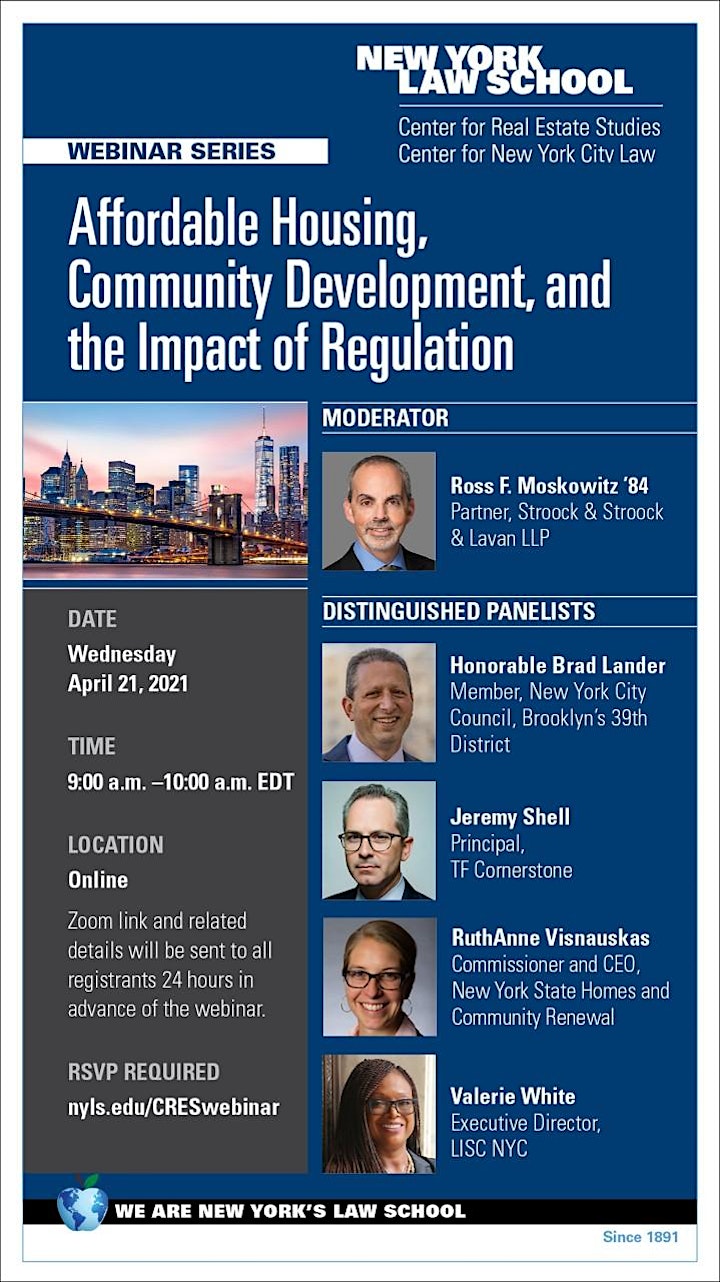 Join us for this important discussion on Wednesday, April 21, 2021 at 9:00am EDT. Registration is complimentary and required. The Zoom details will be circulated to all registered attendees 24 hours in advance of the program.
Moderated by: Ross F. Moskowitz '84 - Partner, Stroock & Stroock & Lavan LLP
Distinguished Panelists include:
Honorable Brad Lander - Member, New York City Council, Brooklyn's 39th District
Jeremy Shell - Principal, TF Cornerstone
RuthAnne Visnauskas - Commissioner/CEO, NYS Homes and Community Renewal
Valerie White - Executive Director, LISC NYC
Description: New York City is facing an affordable housing crisis that has been further exacerbated by the pandemic. More generally, there is a need to plan for and foster an economically vibrant, socially vital, and equitable future. A number of re-zonings that will enable mixed-used redevelopment have been approved while others continue to stall. As the pandemic surges and the waiting is extended, real estate investor decisions are shifting and housing supply and affordability are being impacted. Moreover, legislative proposals being floated by the new national administration and the candidates at the local level are gaining traction.
During the panel, we hope to touch on a broad scope of issues, including, among others:
· What is the effect of land use and other regulatory changes on real estate investment decisions and on locational choices for developers and owners?
· How do we build a more equitable and accessible city?
· What is the role of the private citizen and the private sector in the decision-making process?
· How might the city's neighborhoods look different in the coming years?
· How can local government improve this process?
Organizer of Affordable Housing, Community Development, and the Impact of Regulation