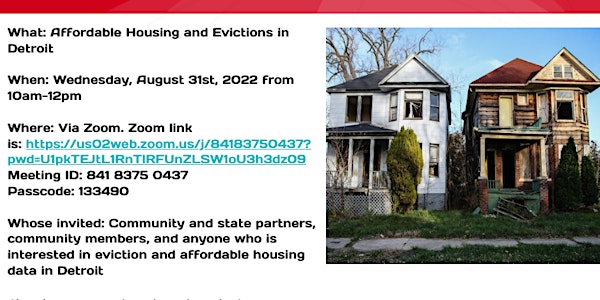 Affordable Housing and Evictions in Detroit
Institute for Population Health, Inc.Healthy Start Detroit invites our community members to participate in our Community Action Network
About this event
On Wednesday, August 31th, 2022, Institute for Population Health (IPH) would like to cordially invite mothers and fathers of Detroit, IPH's community partners that serve Detroit clients, and those interested in understanding Eviction and Affordable Housing data in Detroit to come and attend our Community Action Network meeting. We have special guest speaker, Dr. Alexas Eisenburg(she/they).  
Alexa Eisenberg is a postdoctoral research fellow with Poverty Solutions. Their research has focused on the injustice of racialized housing policies, financialization, and austerity – especially as these structures manifest through mass tax foreclosures, evictions, speculative bulk-buying, and slum-lording.
They have years of experience integrating interview data, administrative property records, and community-based knowledge to understand how the implementation and enforcement of housing policies impacts housing and health justice in Detroit.