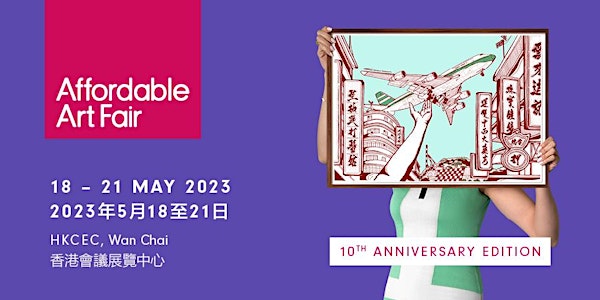 Affordable Art Fair Hong Kong 2023 | 18-21 May
Affordable Art Fair Hong Kong 10th Anniversary Celebration! 第十屆藝博會慶祝十週年!
By Affordable Art Fair Hong Kong
Location
Hong Kong Convention And Exhibition Centre Hall 1E Wan Chai Hong Kong
About this event
3 days 6 hours

Mobile eTicket
About Affordable Art Fair 10th Anniversary
(中文版本隨英文版本之後,請仔細閱讀注意事項。)
Affordable Art Fair Hong Kong Turns 10!
10 years ago, Affordable Art Fair sets its foot in Hong Kong. One decade later, we are honoured to return once again to HKCEC, continuing our decade-long mission to showcasing art in Hong Kong, with all pieces ranging from HK$1,000 to $100,000.
No matter if you are looking for a fun day out, an artwork to hang at home, or art therapy-themed workshops, we sure have something for you!
Opening hours
Opening Night
Thursday 18 May, 4pm - 9pm (Fair door closes at 8.45pm)
Public Opening
Friday 19 May, 11am - 8pm (Fair door closes at 7.45pm)
Saturday 20 May, 10am - 7pm (Fair door closes at 6.45pm)
Sunday 21 May, 10am - 7pm (Fair door closes at 6.45pm)
Family Morning (bundle ticket for 2)
Saturday 20 May, 10am - 12pm
Sunday 21 May, 10am - 12pm
Ticket types
Opening Night & Fair Pass: HK$320
Public Opening: HK$180
Public Opening with Family Bundle (2 tickets or above): HK$165
Public Opening with Concession (Citizen 65 years old or above OR full-time students): HK$135
Ticket discount
Early bird discount (25% off): 9 March - 23 March
Note:
To avoid disappointment, we recommend purchasing your tickets in advance.
Only when the fair is cancelled or postponed, we will issue 100% refund. Refunds and exchanges due to other reasons are not available for this event.
If you have purchased an Opening Night ticket but cannot attend on Thursday, you can use the same ticket to attend the fair on either 19, 20 or 21 May.
Children under 16 are free to enter the fair with an adult with an invitation or a ticket.
Ticketing sales will be closed 30 minutes before the end of each time slot.
The door of the fair will be closed 15 minutes before the end of the last time slot.
Visitor with disability and one company is free to enter the fair. Please email hongkong@affordableartfair.com to arrange entry.
Concession tickets are available for citizens over 65 years old or full-time students ONLY.
Please make sure you have purchased a ticket or redeemed an invitation before registering for tours or workshops.
Ticket or invitation holders can re-enter the fair unlimited times on the same day.
If you need to purchase tickets for a large group (>20 people), please get in touch with us at hongkong@affordableartfair.com
關於展會
香港藝博會慶祝十週年!
十年前,藝博會紮根於香港。十年後的今天,我們很榮幸再一次登臨香港,在香港會議展覽中心呈現包羅萬有的當代藝術作品。無論是傳統水墨、抽象畫、雕塑、限量印刷品或攝影作品,我們展出的藝術作品價格都僅在HK$1,000 到 $100,000 之間。
無論你需要一個精彩的週末,正尋找一件添置家室的藝術品,抑或想參與藝術主題的工作坊,我們都準備了精彩紛呈的活動任您參與。
一同在香港Affordable Art Fair了解、開展或延續你的藝術收藏之旅吧!
開放時間
開幕之夜
5月18日(星期四),下午4時至9時(晚上8時45分停止入場)
公眾開放
5月19日(星期五),上午11時至8時(晚上7時45分停止入場)
5月20日(星期六),上午10時至晚上7時(晚上6時45分停止入場)
5月21日(星期日),上午10時至下午7時(下午6時45分停止入場)
家庭歡樂時段 (二人同行時段優惠)
5月20日(星期六),上午10時至中午12時
5月21日(星期日),上午10時至中午12時
門票類別
開幕之夜及藝博會通行證(全價): HK$320
公眾開放(全價): HK$180
公眾開放家庭票(2個或以上): HK$165
公眾開放優惠票(65歲以上長者或全日制學生): HK$135
門票折扣
注意事項
為免向隅,我們建議盡早購票。
除非本節目須被取消或延期,否則將不會受理任何退款或換票事宜
如果你已購買開幕之夜門票但未能於5月18日(星期四)進場,你可以使用同一門票於5月19日至21日任何時間到訪展會
16歲以下小童由已購門票或持邀請函成年人陪同下免費進場
門票將於每個時段完結前30分鐘停止。
藝博會將於每天最後時段完結前15分鐘停止來賓入場。
傷健人士及其同行人士免費進場,請電郵至hongkong@affordableartfair.com進行安排
優惠門票僅適用於65歲以上人士或全日制學生
報名導賞團或工作坊前,請確保你已購票或換領邀請函
已購買門票或持邀請函者可無限次進出藝博會
如你需要購買多於20張門票,請電郵至hongkong@affordableartfair.com