AFFAIRS OF THE HEART

Saturday, March 3, 2018 from 6:00 PM to 11:00 PM (EST)
Event Details
AFFAIRS OF THE HEART
8040 Lone Star Road | The Eagle's Nest | Jacksonville, FL 32211
Saturday, March 3, 2018, from 6:00 PM to 11:00 PM (EST)
 The purpose of this fundraising gala is to support our Weed-Seed-Feed
Youth Preventive Program for 2018.
This Purpose Journey Youth program is designed to educate, empower, create self-supporting individuals while helping to eliminate poverty, violence, and abuse.    At this family and community gala, we will introduce you to our program(s), while having some fun!  
Our programs are not meant to keep a group depended but self-sufficient, empowered and thriving!  We can not do it alone and nor can our kids.  Become a change agent, today.  All are welcome to support the cause and make a difference in creating the new leaders and mentors for tomorrow. 
This is a Call to Act!!
---
Jacksonville Finest will be there:
Emcee:  Christian Comedian FunnyBone Harris
Live entertainment:  Christian Comedian FunnyBone Harris and  Recording Artist Cousin Supp will be there, along with a live funky band – The 7 Street Band (Jazz) while helping our kids at the same time with this red-carpet affair of the heart event.
VIP Ticket Donation Include Hors-d'oeuvres, Dinner, Dessert, Drinks, Live Music, Comedy, and Singing/Poetry.  Our sponsor Forward Pressed is giving every VIP ticket holder a signed copy of their two newest transformational books. 6 pm to 11 pm.
Night Out Ticket Donation - Live event and fun (Reduce Tickets): Drinks, Live Music, Comedy and Spoken Word Poetry/Singing/Rap.  7:30 pm to 11 pm.
Donations: $ 10.00 to $50.00   -  No tickets at the door.
You can sponsor a kid for the summer program by donating school supplies, cost of tutoring, courses, program kids activities or custom tee-shirts, etc.  We will keep you informed of your donation and place your name, logo on our website, pages, and program guide for the event! You can sponsor books to Veteran Affairs, and any portion of the event.  If you sponsor this year program, we will list your company on our youth program and t-shirts also! 
Raffle Donation Fundraiser items: Invicta Men's Watch, Crystal Candle Stick Pillars w/candles, A Cruise for two, and so much more
Door prizes will also be drawn.
Dress is semi-formal, requested colors are white, ivory, black, and navy (any of these colors or combination thereof)
Photographer station will be available by Sam Roberts.
Please be on time as we have a jam-packed evening planned!
If you are unable to attend, donations are greatly appreciated.   Special recognition will be given; shhh this is a surprise!       

Looking forward to seeing you at the event!   
Seating is limited.
     Get your ticket now!     
*all adult beverages will be served to all VIP's.   Night Out Adult - 2 adult beverage will be available.    Early cut off of adult beverage will be implemented as needed.   An adult is age 21 and over. 

Non-adult beverages will be served until the end of gala!
** all tickets are donations.  Thank you so very much!
*** must be present to participate in raffles.  Raffles are $5 per ticket donation.  Must be present to win!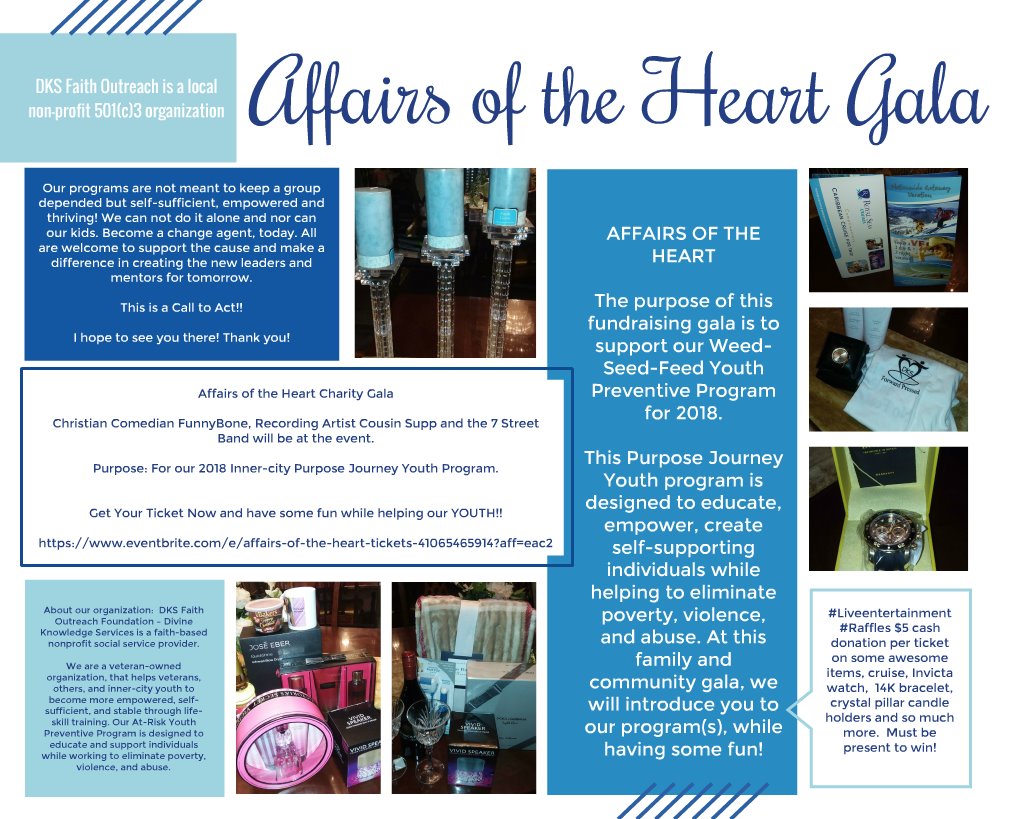 ---
Sponsors by:  Forward Pressed - (services, raffle items, and donation), Vivian Harden - (donation, books to Harden's Helping Hand), Felecia Kiser - (food and service), Mother and Daughter Faith Trust Ministry - (vacation and cruise), Hard Truth, and Cousin Supp - (services), Made In His Image Photography - (2 mini Photography Sessions), Christian Comedian - FunnyBone Harris (service), Tkeyia Williams - (VIP grab bags), Give Praise Properties (service), Sam Roberts (painting donation), Willie, Thornton (Men stainless steel ring - raffle item), PFM Group LLC (door prize - ladies watch donation), and Carolyn Muse - Mary Kay (door prize - cleanser and lotion donation)
When & Where

8040 Lone Star Road
The Eagle's Nest
Jacksonville, FL 32211


Saturday, March 3, 2018 from 6:00 PM to 11:00 PM (EST)
Add to my calendar
Organizer
  DKS Faith Outreach Foundation
(Divine Knowledge Service)
---
We were created by Veterans to help Veterans, others, and our Inner-city Youth to become more empowered, self-sufficient, and stable through life-skill training.   We are a Faith-based Nonprofit Social Service Provider, designed to help create a relationship with Communities, Churches, and Businesses, meeting the needs of human suffering and abuse. We are compelled to make a difference though healing, empowerment and finding solutions to improve our society.  A 501(c)(3) organization.  We are part of generations born and raised here.  We are the Moses effect that has set out to make a difference.