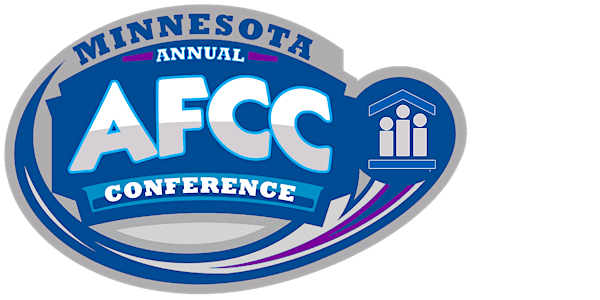 AFCC-MN Annual Conference Re-Cast - 12/8 and 12/9
This event is a re-cast of our Annual Conference in July where we had teamed with Overcoming Barriers to present "What To Do When a Child Re
Refund Policy
Contact the organizer to request a refund.
Eventbrite's fee is nonrefundable.
About this event
ONE TIME RE-CAST!
Link to RE-CAST Conference Web Page
Please join AFCC-MN for a special 2-day Re-Cast, Dec. 8-9, 2022!
Minnesota Board of CLE: 9.25 CLE credits pending.
Minnesota Board of Psychology: approved for 10.0 CE hours .
Minnesota Board of Marriage and Family Therapy: 9.25 CE credits approved (3.5 ethics)
Minnesota Board of Social Work: approved for 9.25 CE hours.
For our Annual Conference, we are teaming with Overcoming Barriers to present "What To Do When a Child Resists or Rejects a Parent: Building a Tool-Kit for Professionals."
Some of the most difficult cases we face occur when a child resists or refuses to spend time with a parent. As we've learned, "conventional wisdom" about how to handle these cases typically does not work. This program provides an overview of what makes these cases different, and why they can be so challenging. It is designed to help attorneys, clinicians, judicial officers, and ADR providers learn how to work with these families, and with one another, more effectively when these difficult family dynamics are present.
Presenters are a multidisciplinary team, including a judicial officer, an attorney, and a clinician, who use a variety of teaching methods, including immersive break-out sessions, designed to help participants develop professional "tool-kits" to manage these difficult cases.
We are excited to offer this important information, and hope you can join us. Please watch this space for more details as we continue to collaborate with Overcoming Barriers to develop this program!
Why are we talking about Resist and Refuse Dynamics?
Cases in which a child resists or refuses contact with a parent are some of the most difficult cases we face in family law.  Because these family system dynamics are so complex, they can be confounding (and exhausting) for every professional who touches them, from attorneys to mental health providers, judicial officers and guardians ad litem, to parenting consultants, and mediators. These cases can take up a disproportionate amount of time and resources on all of our caseloads, and anecdotal information suggests they are becoming increasingly common.
The forces driving these cases are powerful, and are usually set into motion long before parents come to your office (or your courtroom). There is a tendency for different members of the family to identify a single cause for the problem, and they can offer mountains of data supporting their perspective. For the decision-maker, this data can seem inconsistent, contradictory, and confusing. The reality is often much more complex and nuanced than the story any single member of the family can tell. To address these complex family dynamics, interventions have to involve the entire family system.
No matter what your role is with these families, you need to be able to understand what is going on with the whole family system - not just what your client can tell you. AFCC-MN has invited Overcoming Barriers to our Annual Conference this year to share skills and strategies gleaned over the years providing intensive interventions with these families.
What is "Overcoming Barriers" and what do they know?
Overcoming Barriers (OCB) is a 501 c 3 that is dedicated to Rethinking Parent Child Contact problems. We've worked to take the "im" out of impossible through our efforts to impact these difficult, challenging and complex family dynamics. We're addressing this from a multi-pronged vision of:
Professional development, consultation and training
Education to advance the field of knowledge
Awareness of innovative approaches for these families
Effective and accessible family-centered programs
We are committed to finding innovative ways to help families where a child(ren) is resisting or rejecting contact with a parent.
The brilliant minds associated with Overcoming Barriers from its founders to its current Board and Advisory Council (Meet our Team here) are the thought leaders in the field of Resist Refuse Family Dynamics.  OCB, best known for its original signature Family Camp program, has evolved and grown into an educational and training organization, providing resources such as online courses and publications for families, and family law professionals.
With the decades of experience of our team and our work with families immersed in the camp setting we understand the importance of training professionals to identify and work with families locally and early.  The OCB to Go program was developed to do just that.  
With a panel consisting of a Judge, Lawyer and Mental Health Professional, OCB provides program participants the opportunity to see the whole picture of best current practices in supporting families in strained parent child situations and the children who are caught in the middle of the parents' conflict.
Watch the interview with Attorney Truax and the clinical founders of OCB to learn more about our genesis and evolution.
AFCCMN 2022 Conference Speaker Bios
Hon. Marjorie Slabach
Marjorie Slabach, JD, is a Certified Family Law Specialist and retired San Francisco Superior Court Commissioner in the Unified Family Court. She is now a Private Judge focusing on case management and settlement conferences, although she has also heard trials where necessary. Prior to her tenure on the bench she worked with teenagers as an English teacher for many years. She then chose to become a lawyer to represent parents and children. Marge is a frequent lecturer and panel member educating attorneys and judges in the area of family law. She is a former board member of the California Chapter of the Association of Family Court Conciliation where she headed a task force to explore alternative models for serving families in the court system. She is a past President of the Board of Directors of the non-profit agency Overcoming Barriers, an education and service program that intervenes with high conflict families where a child is at risk of losing a relationship with a parent. She was named the 2010 Judicial Officer of the Year by the Family Law Section of the State Bar of California, the 2008 Judicial Officer of the Year by the Northern California Chapter of the AAML, the 2013 recipient of the Association of Certified Family Law Specialists Outstanding Service to Family Law Award, the AFCC-CA 2018 Drown Award, and the 2018 C. Rick Chamberlin Award from the AAML NorCal.
Louise Truax, JD
Louise has practiced family law throughout her career. She is currently a founding partner in the firm of Reich & Truax, PLLC in Southport, CT. Louise is a member of the American Academy of Matrimonial Lawyers (AAML). As a member of AAML, she is served on numerous committees regarding child custody issues, served as Treasurer and CLE chair for the national organization in 2014, culminating in the receipt of the Fellow of the Year Award. Louise is the General Editor of Connecticut Family Law, a publication of LexisNexis. Attorney Truax frequently lectures both in Connecticut and across the country regarding family law and child custody issues. She is currently the President of Overcoming Barriers.
Robin Deutsch, PhD, ABPP
Dr. Robin Deutsch, is a founding member of Overcoming Barriers. In 2012 she founded the Center of Excellence for Children, Families and the Law at the William James College. For over 20 years she was the Director of Forensic Services and Training at the Children and the Law Program in the Department of Psychiatry at Massachusetts General Hospital and from 1990 until 2012 she was on the faculty of Harvard Medical School, most recently as an Associate Clinical Professor of Psychology. Dr. Deutsch is Board Certified in Couples and Families (ABPP-CF) and a Fellow of the American Psychological Association. Dr. Deutsch practices as a Parenting Coordinator, mediator, reunification specialist, and consultant. She teaches extensively to udges, lawyers, mediators, and mental health groups in the US, Canada, Asia and Europe. She has consulted to the Family courts of Massachusetts, Connecticut and Indiana and has published extensively on issues related to attachment, co-parenting after divorce, high conflict divorce, parent-child contact problems, parenting plans, and Parenting Coordination. She is the co-author of 7 Things Your Teenager Won't Tell You: and How to Talk about Them Anyway (Ballantine, 2005, 2011) and co-editor with Abigail Judge, Ph.D. of Overcoming Parent-Child Contact Problems:Family -Based Interventions for Children's Resistance, Rejection, Alienation (Oxford University Press, 2017)