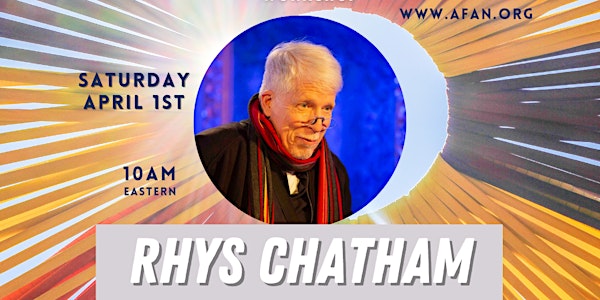 AFAN COMMUNITY WORKSHOP: Rhys Chatham
Astrological House Division and the symbolism of the celestial circles.
Date and time
Saturday, April 1 · 7 - 8:30am PDT
About this event
1 hour 30 minutes

Mobile eTicket
Rhys Chatham explains how the major house division systems are calculated in a way that does not require any math.
Rather than advocate the use of one house system over another, we will simply compare them and look at the various celestial circles they are based on, reflecting upon the symbolic implications of each of them and how they might impact on chart interpretation. We'll discuss what distinguishes one house system from another, allowing you to make informed choices on which ones to use, for what, and when.
In this talk we will cover the ecliptic-based (whole sign, equal and Porphyry), space-based (Meridian, Regiomontanus, Campanus), and time-based houses (Alcabitius, Koch and Placidus).
Rhys Chatham – STA DipH, AFAN, MAPAI – is a professional astrologer based in Paris, France, with clients from all over the world. He studied 20th-century astrology with Charles and Vivian Jayne in the late sixties and seventies and, more recently, has been immersed in the practice of traditional astrology, having studied Hellenistic astrology with Chris Brennan, Renaissance astrology and magic with Christopher Warnock, and advanced horary study at the School of Traditional Astrology.
Rhys is also a hermetic kabbalist and has been a member of various lodges in the U.K. since the year 200O. You can learn more at https://rhysastrology.fr/